The Trailer For Amy Poehler's Netflix Movie Teases The 'SNL' Reunion You've Been Waiting For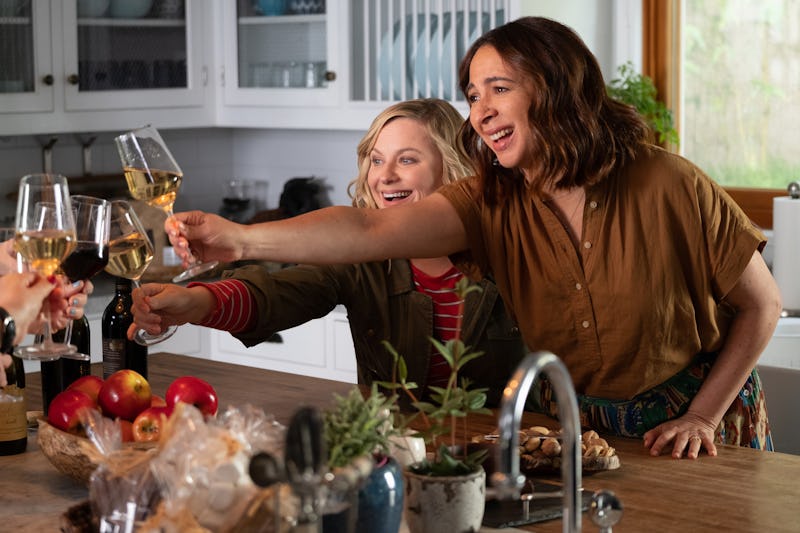 Colleen Hayes/Netflix
Arguably, Tina Fey and Amy Poehler go better together than even classic combos like peanut butter and jelly, or James Bond and a shaken martini. Whenever they team up for a project, whether it be Baby Mama or hosting the Golden Globes, it turns into an instant classic. Their new Netflix film, directed by Poehler herself, is sure to be no exception. The trailer for Amy Poehler's Wine Country is finally here, and it looks as hilarious as you'd imagine a Tina and Amy film set in wine country to be, but with a heartwarming message about true friendship.
Alongside Poehler and Fey, Wine Country also stars fellow fantastic comedians (and SNL alums) Rachel Dratch, Maya Rudolph, Ana Gasteyer, Paula Pell, and Emily Spivey in what might be the best female ensemble since Bridesmaids. The movie, as many of the best comedies do, centers around a huge girls trip. This one is in honor of Rebecca (Dratch), who is celebrating her 50th birthday. Her friend Abby (Poehler) plans a getaway to Napa Valley with their longtime friends, including Catherine (Gasteyer), Val (Pell), Jenny (Spivey), and Naomi (Rudolph), where reckless debauchery and a high number of hilarious hijinks ensue, of course. We would not accept anything less.
But copious amounts of alcohol can only let you have so much fun. As the Netflix description reads, "real world uncertainties intrude on the punchlines and gossip, and the women begin questioning their friendships and futures."
Wine Country marks a major reunion for all of the ladies in the cast, who all were a star and/or writer for Saturday Night Live starting in the early 2000s. The former co-workers have remained friends both personally and professionally since leaving the famed variety show, working together on a multitude of amazing projects, including Poehler and Fey's Sisters, written by Pell.
As it turns out, Poehler did not have to look too hard to find inspiration for Wine Country, for which Spivey and fellow SNL alum Liz Cackowski wrote the screenplay. The new movie is loosely based on an actual trip to Napa that the ladies took in real life to celebrate Dratch's 50th birthday, as well as another jaunt to Palm Springs for Gasteyer's big 5-0. While the movie is not a fact-based documentary, and the ladies do not play themselves, each character is based on that actor's real-life quirks and built to showcase their individual comedic skills, as Poehler said to Vanity Fair.
Poehler told Vanity Fair that she thought these trips could make for a great film "not only because these are the greatest, funniest performers," but because genuine, long-lasting friendships like theirs are something that is not highlighted often enough in the entertainment world. "There's just not enough films that take full advantage of what it's like to be our age and to be around women that have known you for a really long time but aren't competing for the same job or the same guy," she said.
Luckily, you won't have to wait long to see all of your favorite SNL ladies back on your screen. Wine Country premieres on Netflix on Friday, May 10, so make sure to stock up on your preferred wine of choice before tuning in.