"Amy Schumer Is In Jail" & Other Lies The Star Is Fed Up With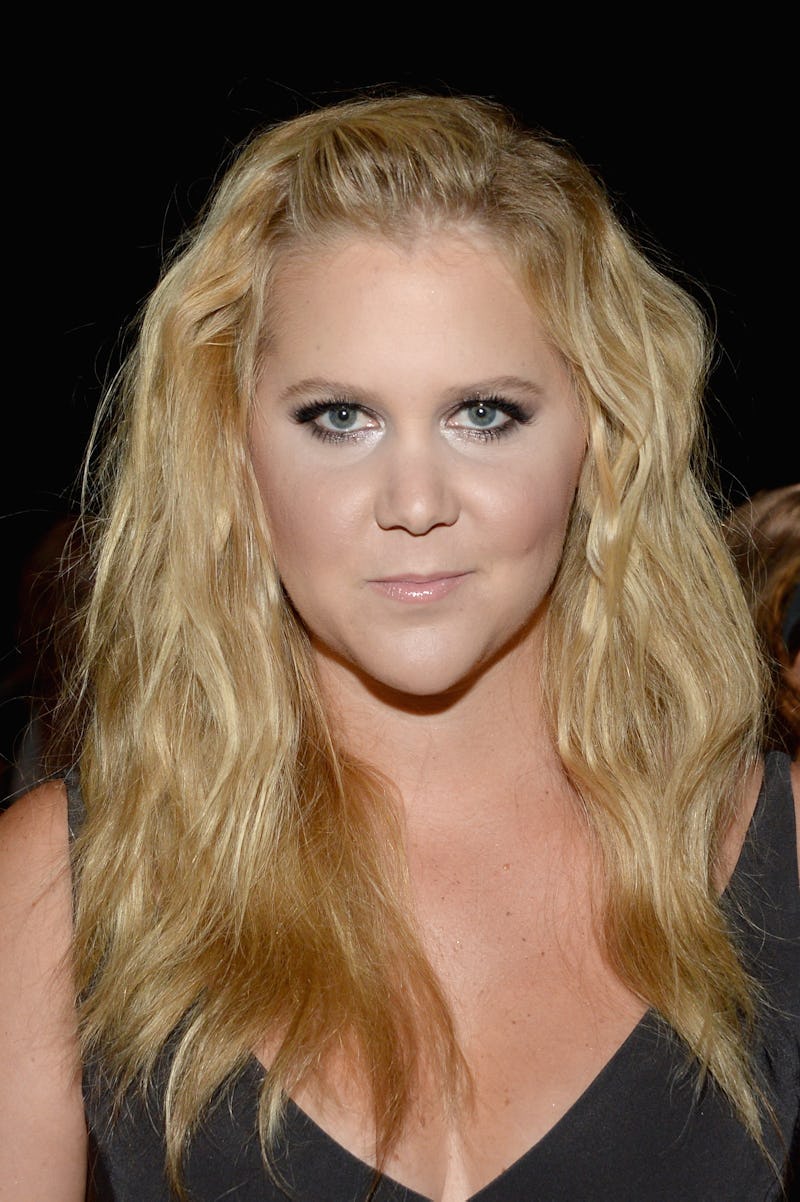 Ben Gabbe/Getty Images Entertainment/Getty Images
Amy Schumer is sitting in jail after she punched someone in the face. This isn't true, actually, because Amy Schumer is sitting across from me on a long, plush couch in a sun-soaked bungalow on the beach in Santa Monica. She's wearing a navy blue track suit, her hair coiled in a high pony-tail that twists down her neck. She leans towards me, her eyes narrow, and she brushes a manicured hand across my face. Is Amy Schumer going to kiss me?
"I'm not trying to be romantic," she says, "but you have a hair." She pulls at a blonde tendril twisted around my eyelash. Amy Schumer isn't in jail — she's here, with me — helping a girl out. But according to the 35-year-old comedian, unpredictable media tabloids make her fearful that some fans may actually believe she's behind bars for delivering a black eye.
"I want the truth to be out. I'm scared of things that aren't true becoming facts to people," she tells me during the Los Angeles press day for her latest, Snatched, in theaters May 12.
It's a fear that makes a lot of sense. Schumer is, by almost any measurement, one of the most successful comedians in recent years. She's the creator and star of Comedy Central's Inside Amy Schumer (renewed for a fifth season), she wrote and starred in 2015's Trainwreck, which brought in more than $30 million its opening weekend and marked director Judd Apatow's second biggest debut ever. And last year, she became the first woman to crack the top 10 list of highest paid comedians (she came in at number 4, according to Forbes.) She's a comedic Goliath, and with such success inevitably comes critics slinging stones.
"There are articles that say I am in jail because I punched someone in the face. These straight up lies get generated from people who are actively trying to hurt [me]," she says. "And they're like, 'Don't respond,' because that makes it a bigger story. But I'm like, 'It's just straight up untrue.'"
A quick Google search for "Amy Schumer in jail" renders a startling amount of results, almost exclusively from self-proclaimed conservative websites. One headline, from the thelastlineofdefense.org, reads, "BREAKING: Melania Trump Attacked In NYC – Angry Liberal Amy Schumer Behind Bars." Another, from redherald.com states, "Amy Schumer Goes From Red Carpet To Jail After Threatening Trump On Live TV."
Yet I can attest that Schumer is not in jail for attacking or threatening Trump or his wife. It seems that more than anything, these headlines might be a form of untruthful, wishful thinking.
Schumer, who is perhaps best known for her perverse yet empowered, anything-goes style of comedy, isn't making many jokes today. She's approachable, modest — almost vulnerable. She listens intently and speaks softly in return. It's a bit startling: The woman sitting across from me is worlds away from the larger-than-life characters she embodies on stage and screen. It's difficult to imagine the "delusionally confident" — as she calls herself — Schumer, who converses openly about the details of her sex life to millions, feels the intimate sting of a critic's pointed rhetoric.
"I'm someone who really cares about justice and honesty," she says. "So that's my fear — people believing things that aren't true. It's out of your hands. I am out of my own hands. People's perception of me is, to a certain extent, out of my hands. It's just not true. It's hard."
Schumer can't stomach false headlines about her career and personal life, but there is one thing she says she embraces, even if it's seemingly negative: well-written criticism. "I really like great writing and people who are good at what they do, and that doesn't mean I'm getting all compliments. I've been written about in [ways] that make me learn more about myself," she says, referencing a New York Times article by Jason Zinoman, in which he refers to her as "melancholy."
"I think at the time, I was. We all have our days, but I was spread so thin at the time and I was like, 'Oh, that's funny. I didn't think of myself in that way.' But then once someone says it you're like, 'Hm. I could see that.'"
Not all critiques are unhealthy, and one such piece of criticism successfully swayed Schumer to alter her on-stage comedy routine. "Somebody wrote about my stand-up... they felt like I was doing too many tags," she says, explaining that a "tag" is when a joke is added to the end of another joke without a new set up. ("Sorry if I'm mansplaining this to you," she jokes.) "When you tape a special, you get this big laugh, then it's kind of over. So for you to tag it, it's like that moment has already passed. That was some criticism about me. I agreed with it, took it as constructive, and tried to learn from it."
Despite criticisms — whether truthful observations or "straight up lies" — Schumer wants you to know the truth about her, and she's discovering her own truth in the process. In a recent Entertainment Weekly cover story, Schumer's co-star Goldie Hawn said Schumer "speaks up for what she believes in." I was curious to know what Hawn meant. Sure, we know Schumer is an activist for gun control, we know she's an outspoken feminist — but how does what she holds dear translate to Schumer's every day world working, on set, in the interior moments the press may not be privy to?
Schumer thinks for a moment, smiles, and explains. She recalls filming a scene from Snatched in the Hawaiian jungle, where extras were filming with bare feet. "I was like, 'Are we going to see their feet? Can they put their shoes on?' It's just looking out for each other. I put myself in other people's shoes."
It seems that to Schumer, with great star power comes great responsibility. "If someone says something to you that makes you uncomfortable, you have a responsibility to say something. I'll be the one to say the thing without being afraid of annoying people or if I'm going to be liked."
It's no secret that women, especially female actors, struggle with being "liked," being taken seriously on set, and speaking their minds without fear of being ignored, belittled, or labeled as petty or a diva. According to Schumer, the ramifications of speaking up as a woman in Hollywood can be cruel and long-lasting. Fighting for the truth about herself in turn means fighting for the truth about all women, she says.
"It's so easy to blame something on, 'Well, yeah, she's a crazy actress.' How many actresses do you hear about where people are like, 'Oh, she's crazy.' She's probably not, and she probably just made a suggestion. It's only a matter of time before people are like, 'She's hard to work with.' And it's like, no, I'm not hard to work with. I'm really great to work with. I just expect to be treated like a person, and I expect you to treat everybody equally."
According to The Women's Media Center, the number of women working behind-the-scenes in film over the past two years has reached new lows. With women composing only 17 percent of directors, writers, producers, executive producers, editors and cinematographers in 2015 and 2016 — the film industry is anything but equal.
"I do have something to say and my voice is worth hearing. I speak up because as a woman in this business people are looking to vilify you."
But Schumer refuses to play the bad guy. After all, she's not sitting in jail for punching a stranger in the face — she's here, with me — verbally slaying the hell out of the patriarchy.