Anastasia Beverly Hills Just Announced Its First New Product of 2018 & Fans Are Hyped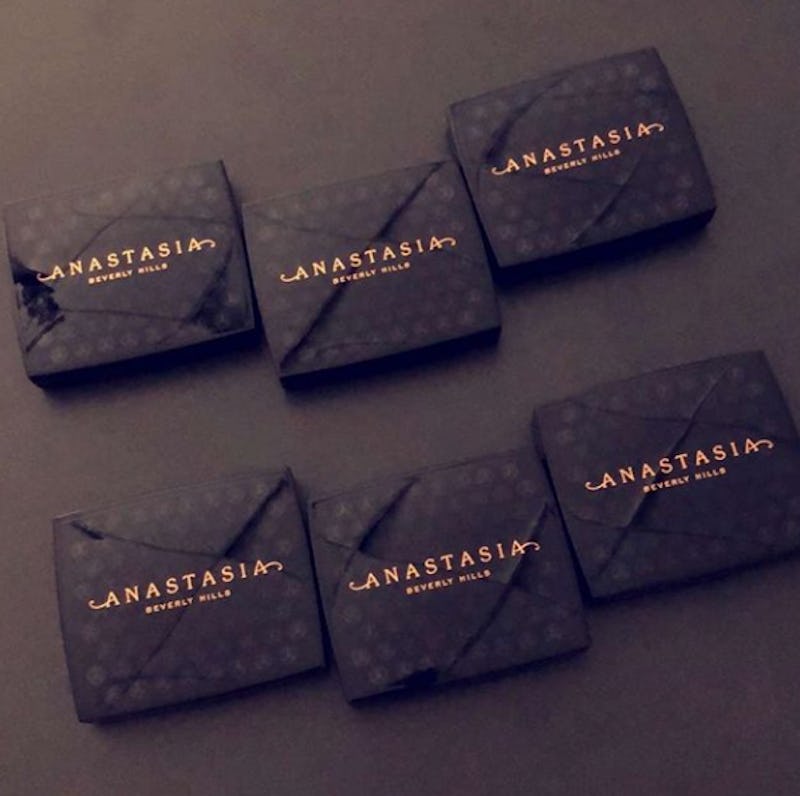 Trendmood/Instagram
New year, new you, and the 2018 version of you is going to be significantly more bronzed. Especially considering that Anastasia Beverly Hills is launching six bronzer shades for the first time, ever. Prepare your cheekbones for a sun-kissed glow, because these shades sound like they're going to be taking over every makeup bag in the nation. Anastasia Beverly Hills is one of those brands that has a devout cult-following, and its fans wait with bated breath for the next product drop. Their eyeshadow palettes are fire (just thinking about the Renaissance palette makes one want to do prayer hands,) their eyebrow pencils have the ability to transform your arches into majestic unicorns, and the brand's Glow Kits make you look lit from within. So you can only imagine how perfect these bronzers are going to be.
The news dropped on the brand's president, Norvina Claudia Soare's, Twitter and Snapchat accounts. She wrote on Twitter, "I'm so excited about bronzers. 6 shades coming. Excited about the undertones, I always struggle with bronzer shades being too red, or too cool toned that they look muddy on. My shade is Rich Amber which is a neutral honey."
There are going to be six different matte hues, and they sound like they're going to be warm and sun-kissed, veering away from cool tones and red shades.
On Snapchat the announcement was a little different, where it appeared that Soare was wearing one of the hues on her cheeks, obstructing the view a little with an angel filter. True to what she promised, the shade was a warm, subtle bronze that looked less like a contour and more like a flush.
At around the same time, Instagram account Trendmood1 shared a sneak peek of the actual products, snapping a photo of the bronzer packaging. There was no peek at the actual shades though, only making fans all the more antsy to learn more about it.
After the announcement, Soare also stuck around on Twitter and answered some questions posed by fans. One beauty enthusiast asked if the range of colors will be inclusive for all skin tones, and if the collection will work on darker skin colors. She answered that they will be. Soare wrote, "Yes, the range goes from fair to deep, and I'm considering this to be the launch of a category, having the opportunity to launch more shades to suit the widest variety of undertones, which is the trickiest part with bronzer (I think.)"
It sounds like the brand is already looking forward to launching even more shades, so if during the first launch you don't find a bronzer that works with your specific undertone, there will be more options on the horizon.
Another follower asked if these will sport the same formula as the popular contour kits, and Soare answered that they are creamier and more pigmented, giving you a deeper color payoff.
Other users jumped into the thread to share their general excitement, writing how they couldn't wait to test out the products themselves.
Others wrote that they loved the contour and glow kit colors, so the bronze shades are probably going to exceed expectations much in the same way.
Some people were pumped that a brand was focusing on creating hues that weren't cool toned and that turned your skin grey or muddy.
Some were doing prayer hands that the orange.reddish hue wasn't going to make an appearance in the collection.
Some followers wrote that they gave up on using bronzer all together since they could never find the proper shade, so this launch is a godsend.
The one downside of this announcement is that you won't be able to test drive it for another couple of months. The products will hit Ulta, Sephora, Macys, and Dillards in the beginning of March, so you still have to wait three months. But at least that will give you some time to save up your money!