This Is Why Andrew Lincoln Is Really Leaving 'The Walking Dead'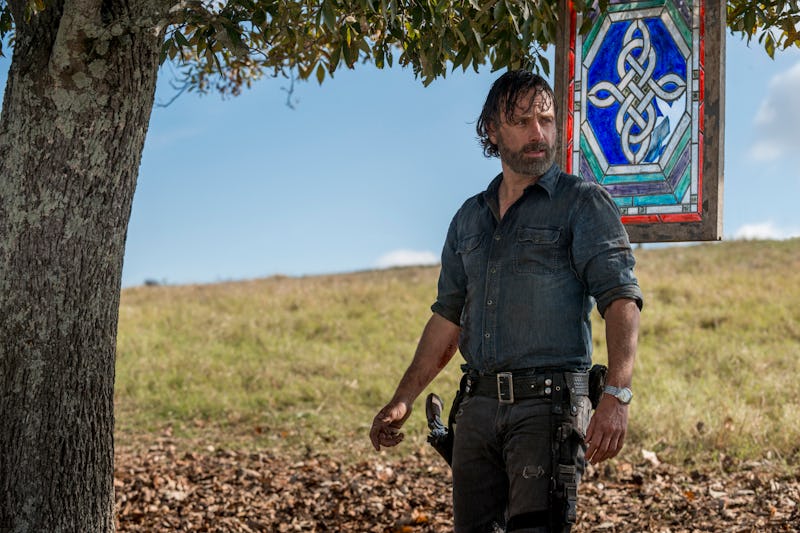 Gene Page/AMC
What would The Walking Dead look like without its sheriff, Rick Grimes? That's a question that fans will eventually see answered by the end of Season 9. During a San Diego Comic-Con panel earlier this month, Andrew Lincoln confirmed his departure from The Walking Dead, as per The Hollywood Reporter, revealing that the ninth season will, in fact, be his last. The actor didn't go into any further detail on the matter regarding exactly when and how it'll all take place, however, Lincoln's reason for leaving The Walking Dead has now also been divulged and it's enough to warm your cold, dead, zombie-loving heart.
"I have two young children, and I live in a different country, and they become less portable as they get older," Lincoln explained during a recent segment of EW Radio. "It was that simple. It was time for me to come home." The actor is referring, of course, to the fact that he and his family live in England, while The Walking Dead spends at least half of the year filming in Georgia. That's a long time to be away from your loved ones, so while his exit from the series is sure to leave a zombie-sized hole in our hearts, it's totally understandable why he's made this decision. It's for the good of his family and for that, none of us can really fault him.
For his part, Lincoln appears to be very happy with his decision to leave the show, though he did admit during the same chat with Entertainment Weekly that saying goodbye to all of his coworkers and seeing all the fans at Comic-Con is definitely taking an emotional toll on him. "Completing the show was like releasing air finally," Lincoln stated. "And it was very satisfying the last two episodes in particular. But doing a panel and having to talk to [thousands of] people in Hall H and then have all my friends hug me at the end? The sh*t got real, is the truth of the matter."
But before Lincoln takes his final bow, there's still plenty of things Rick has to take care of. The Walking Dead Season 9 trailer shows yet another time jump into the future with Negan locked up in a cell and Rick describing to him how hopeful and prosperous the various communities are now that the battle with the Saviors is over. But being the smug guy that he is, Negan knows this peaceful atmosphere can't last forever. There's still a lot of bad blood (and history) among all of the groups, which may be something even the great Rick Grimes can't fix.
Loyalties will be tested, battle lines will be drawn, and zombies may prove once again not to be the biggest threat in this post-apocalyptic world. Either way, it's definitely looking to be an action-packed season with Alexandria's fearless leader at the center of it all. Right now, it's impossible to say how Rick's story will come to a close, but one thing's for sure — it'll definitely have a profound impact on the rest of the characters going forward.
The Walking Dead Season 9 premieres on Sunday, Oct. 7 at 9 p.m. ET on AMC.