Angela Bassett REALLY Wanted Her 'AHS: Coven' Character To Appear In 'Apocalypse'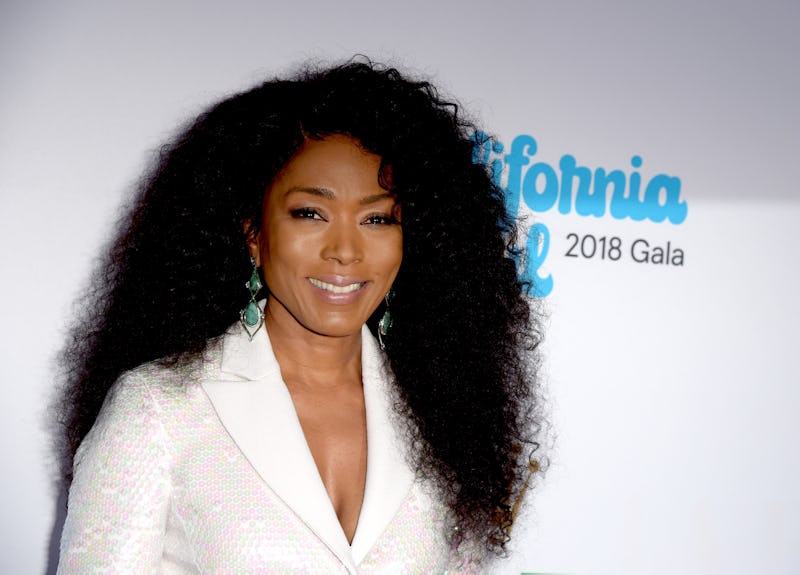 Kevin Winter/Getty Images Entertainment/Getty Images
If voodoo queen Marie Laveau's absence from American Horror Story: Apocalypse feels like the end of the world, Angela Bassett shares your disappointment. Bassett wishes her AHS: Coven character was in Apocalypse, according to The Hollywood Reporter. With the latest installment of the FX anthology series resurrecting several AHS: Coven witches, the Golden Globe-winning actor told THR that she has some thoughts about not getting to breathe new life into the sassy priestess.
"I have [Season 8] on my DVR, but I haven't seen any of it just yet," Bassett told THR at Hollywood Confidential's "An Evening With Angela Bassett" on Monday, Oct. 8. "But I mean, come on. Where's Marie Laveau? I'm even a little bit in my feelings that Marie didn't come back."
Sure, her once-immortal character was dismembered and had her soul snatched by Papa Legba at the end of Coven, but, so far this season, several once-dead characters — including Emma Roberts' Madison Montgomery and Gabourey Sidibe's Queenie — have made a comeback on Apocalypse anyway. Other actors also reprising their Coven roles this season include Sarah Paulson, Frances Conroy, and Taissa Farmiga. According to social media posts from AHS co-creator Ryan Murphy, Stevie Nicks will return in the Oct. 10 episode of Apocalypse, with Lily Rabe also slated to appear as well.
For Bassett — who went on to appear as Desiree Dupree in 2014's Freak Show, Ramona Royale in 2015's Hotel, Monet Tumusiime in 2016's Roanoke, and also directed an episode of last year's Cult — portraying the historically based character in Coven, was a labor of love. And though the onscreen depiction showed an evil side of Laveau, Bassett's research for the role helped her see the voodoo folk hero in a different light.
"I'm definitely a fan of Marie Laveau and New Orleans," Bassett gushed in a 2014 interview with Collider. "She had a mystique. She cared about people, but she was a proud woman ... She went to the jails and took care of people who were there on death row. She cared for the sick. She was a beautician. She was an entrepreneur. She touched everyone."
Either way, Bassett has plenty on her plate, as she's currently starring as Athena Grant in Fox's 9-1-1. Playing the role of an LAPD patrol sergeant allowed her to share the screen with fellow AHS alum, Connie Britton in the crime drama (also co-created by Murphy.) Although Britton will make a reappearance as Vivien Harmon in Apocalypse, the actor is not returning for Season 2 of 9-1-1. Bassett said that the door is always open for Britton to return, however.
"It is absolutely possible," she added in her THR interview. "We love Connie — Connie is family. She's a phenomenal actress and a delightful person, and if she has a free Tuesday, come on over and give it to us! Anytime she wants to — anytime we need her — she's there."
While no reason has been given as to why Bassett won't appear in Apocalypse, it could have something to do with the fact that Murphy is thrilled with her 9-1-1 performance. "I like her when she's emotional and I love it when she takes charge," he told the New York Post ahead of the series' Season 1 premiere earlier this year. "Putting her in a family drama along with a workplace drama merges those two things into one superstar package."
Viewers won't get a chance to see Laveau on Apocalypse, but one thing remains certain: Bassett will continue to give fans life, as she kills every role she decides to tackle.