Here's Why Connie Britton Won't Be Returning to '9-1-1'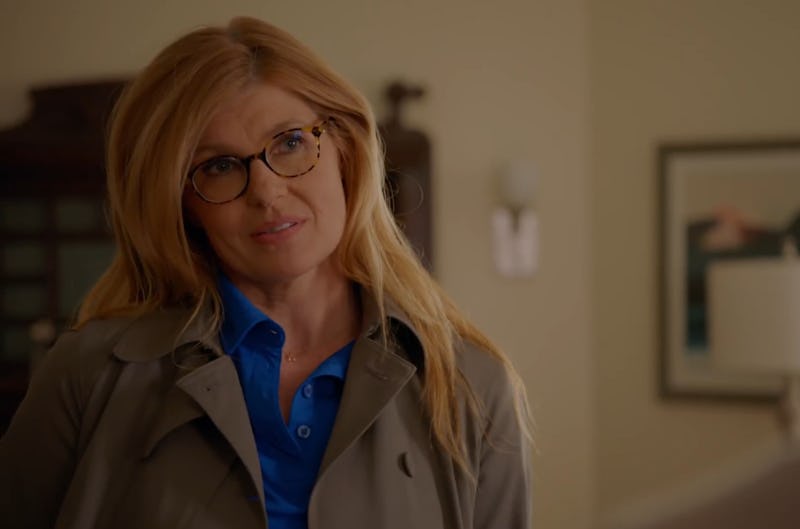 FX
If you ever have to dial 9-1-1, things probably aren't going too well for you. One thing that can make your situation a little better: Connie Britton on the other end of the line. Britton played Abby Clark in Ryan Murphy's emergency personnel thriller last season, handling distress calls as best she could. So will Connie Britton return for 9-1-1 Season 2?
Unfortunately for all Britton stans, there is no Abby to be found in the upcoming episodes of 9-1-1. This doesn't come as a total surprise — her contract was always for just one season, according to TVLine. According to the outlet's interview with Murphy in March, there is some kind of possibility for her to return as a guest star, but as a rule, Britton's character won't be a part of the regular cast.
"We're in the process of renegotiating her deal so she can come in and do a couple of episodes to keep her character alive," Murphy said earlier this year. "She really loves the cast and crew and she's very hopeful that that can happen. And, in the interim, we will be casting other parts in that call center. We're going after big names." Ultimately, a big name is what they got.
Jennifer Love Hewitt has joined the cast for Season 2, and her character, Maddie, who is main character Buck's sister, will take over where Britton left off within the 9-1-1 call center. The star gave a little bit of an introduction to her character at a Television Critics Association event, according to The Wrap.
"She has had a little bit of a tough time in her life in sort of an abusive relationship. She comes to her brother pretty broken and bothered by what's kind of happening in her life and needing to start over," she said. "Needing a place to maybe figure out who she really is and hopefully help other people. She was a nurse before and sort of through his guidance and brilliance becomes a 9-1-1 operator and is able to help people but stay in the same place, given her situation."
So, while there's really no telling if or when Britton will guest star on 9-1-1, the phones at her call center covered, even if viewers won't get the pleasure of seeing her answer them. It's clear that she saw the role as a valuable experience — she's said that her time on 9-1-1 challenged her as an actor. "As for 9-1-1, what I'm doing definitely feels difficult, which is essentially acting opposite computer screens," she said in an interview with Vulture from January. "I've had moments where I think, 'This is not my strong suit or comfort zone.' At the same time, boy is there a great challenge in bringing depth and life to the job of a 911 dispatcher."
Luckily, she's got other projects in the works, so you can still get your fix in other ways. Another of Murphy's iconic projects, American Horror Story, is ready to welcome Britton back with open arms. She was the matriarch of the Harmon family, on whom the first AHS installment, Murder House, focused. Now that Season 8 of AHS: Apocalypse, is introducing a Murder House/Coven crossover, Britton is slated to eventually make a reappearance. She might be phasing out of one Murphy project, but she's about to reprise a big role in another.