Angela Bassett's Role In Ryan Murphy's New Show Represents The Struggles Of So Many Women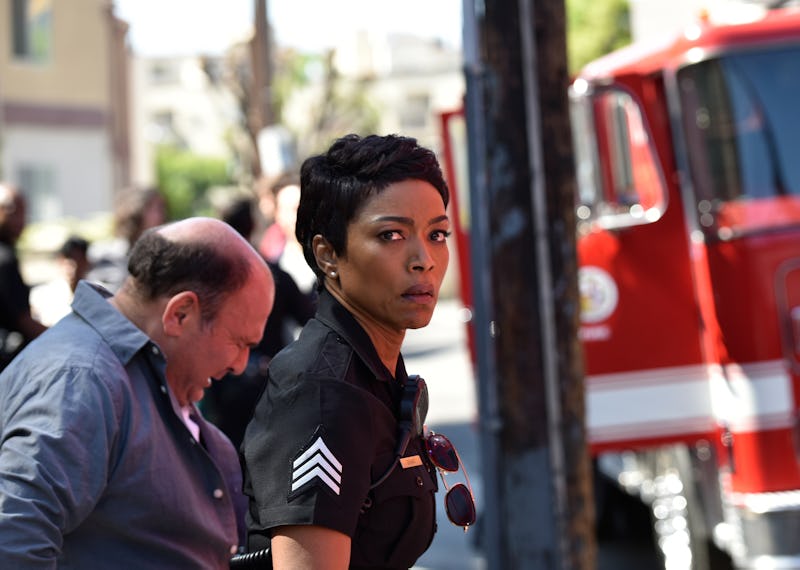 FOX
Ryan Murphy makes it a point to team up with extraordinarily talented women and create complex TV roles for them. That's exactly what he has done again with Angela Bassett in 9-1-1. While the premise of his new FOX show about first responders is more conventional than many of Murphy's other projects in recent years, the level of acting ability he has assembled will surely elevate the subject matter. And there's no better example of that than Bassett, who plays Field Sergeant Athena Grant with the Los Angeles police department (LAPD) when 9-1-1 premieres on Jan. 3.
The website for 9-1-1 says the series is based on "the real-life, high-pressure experiences of emergency response providers," but that doesn't mean that Bassett's character is based on a real person. Instead, Sergeant Athena Grant appears to be a character created just for the show. Murphy told the New York Post that the cases depicted on the show come from actual 9-1-1 calls, but that he chose Bassett as the main character because of her acting skills. "I like her when she's emotional and I love it when she takes charge. Putting her in a family drama along with a workplace drama merges those two things into one superstar package," Murphy said.
A police sergeant is a supervisory role, and, based on statistics of U.S. law enforcement, Bassett's character would be something of a rarity since Sergeant Grant is a black female supervising officer. Female police officers are still not as common as male police officers — and women in leadership positions within police departments is an even less frequent occurrence. The Bureau of Justice Statistics reported that in 2013, about 12 percent of local police officers were women and 9.5 percent of female officers work in first-line supervisory positions. Only 3 percent of police chiefs were female. Pew Research Center conducted a survey of nearly 8,000 U.S. police officers and reported in 2017 that 43 percent of female officers think "men in their department are treated better than women when it comes to assignments and promotions."
But you can find examples of female police officers as sergeants in real life. For instance, in Troy, New York, the police department promoted its second female sergeant ever in September 2017. In Clarkstown, New York, police officer Alice Laschet became the third female sergeant of the department in its 156-year history as of December 2017. In Upland, California, the police department promoted its first-ever female sergeant in March 2017.
Los Angeles, where 9-1-1 takes place, has been progressive when it comes to women in their police force. In March 2017, the Los Angeles Times reported that Los Angeles county boasted seven female police chiefs. And the LAPD had the very first female police officer in the U.S. in 1910.
The LA Times reported that the LAPD has made a conscious effort to add more women in the last two decades because of the beating of Rodney King. As documented in another Murphy show, The People V. O.J. Simpson, the 1992 Los Angeles riots occurred because police officers were acquitted after they were caught on video repeatedly beating King. After the King incident, but before the riots, the L.A. mayor ordered an independent citizens panel, called the Christopher Commission, to look into police brutality in the LAPD. The LA Times reported in 2017 that a key recommendation from the commission was "hiring more female officers."
The Atlantic did a report on how hiring female police officers could help when it comes to minimizing violent incidents with officers. And Stanford law professor David Sklansky claimed to the LA Times that women can bring a different set of problem-solving skills to police departments. "Policing was and in many ways is held back by a culture of insularity and machismo, and diversity brings new and more creative thinking about what policing should look like," Sklansky said. In its article entitled, "Could more female police lead to safer communities?" CNN reported that the National Center for Women and Policing found, "The average male officer is 8.5 times more likely to have an excessive force complaint against him than a woman."
As both a woman and person of color in the LAPD, Bassett's character will most likely face struggles not experienced by her white, male co-workers. But, her inclusion in the show is indicative of the upward swing of diversity in the force. The Bureau of Justice Statistics reported that 27 percent of local police officers were members of a minority group in 2013 compared to only 15 percent in 1987. (There are no statistics available for specifically female officers who are also a member of a minority group.) It also appears that black women in leadership roles in police departments have also improved in recent years. In North Carolina in September 2017, six of the police chiefs of major cities were black women.
You can bet that based on the experiences of real-life black women in the police force that Sergeant Athena Grant has worked incredibly hard to earn respect in her job. And while Bassett is portraying a fictional character in 9-1-1, take heart knowing that there are a growing number of brave and inspiring women helping out in the real world.