Angela Merkel Stepped Down From Party Leadership To A 10-Minute Standing Ovation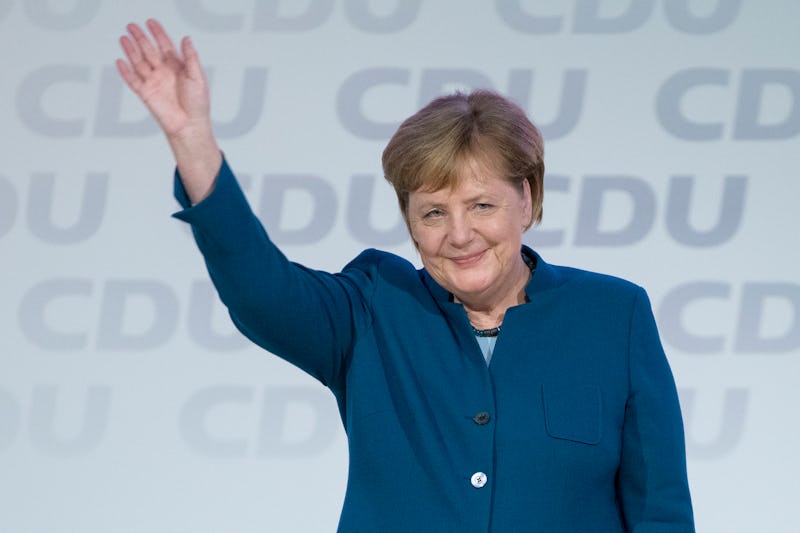 Thomas Lohnes/Getty Images News/Getty Images
German Chancellor Angela Merkel has made it clear she won't make another bid to remain the country's head of state; instead, she'll hand over power in 2021 to complete a 16-year tenure. The first step towards that end occurred on Friday, when Merkel retired from leading the Christian Democratic Union party (CDU). Teary-eyed, she received nearly 10 minutes of applause as she said goodbye, according to Reuters.
Merkel has chaired the CDU since 2000, five years before she became chancellor. Whoever replaces her — the party plans to choose a successor later on Friday — will be widely seen as the front-runner to become Germany's next chancellor, according to Time. Reuters reports that this initial leadership transition will allow the next CDU chair to "build a profile" before running for office in 2021.
"It is now the time to open a new chapter," Merkel told the audience on Friday to finish her farewell address, according to NBC News. "It was a great pleasure for me. It was an honor." As she stepped away from the podium, the crowd rose to its feet and brandished signs reading "Danke Chefin" — German for "Thanks, Boss."
Minutes in, the applause showed no sign of stopping. She repeatedly got to her feet to walk around the stage, wave, and sit back down, but the crowd just carried on. Eventually, she tried to usher the audience to take its seats, but people wouldn't stop clapping until they'd honored her for nearly 10 minutes.
In her speech, Merkel reflected on her years as the party's chair and looked ahead at the future, declaring that the CDU must be "well-equipped, motivated, and united" to face its next challenges, per the Guardian. She referenced the recently-deceased President George H. W. Bush, whose funeral she attended on Wednesday, and paid tribute to his work with Chancellor Helmut Kohl to reunite Germany after the Cold War, per the BBC.
NBC reports she also made some cautionary remarks that seemed to reference President Donald Trump. She said it would be CDU's job to be resolute in the face of an era of "reducing international cooperation to the principles of deal-making" and "growing renunciation of multilateralism."
Merkel's preferred choice for her successor is Annegret Kramp-Karrenbauer, the CDU's general secretary and a moderate liberal, according to the Independent. Merkel has been backing her for months and subtly praised her again on Friday during the goodbye speech.
"We have fought against strong headwinds before," Merkel told the audience. Referencing Kramp-Karrenbauer's leadership role in achieving an electoral victory for the CDU in 2017, she added, "I only need mention the election success in Saarland last year when, despite the predictions, we won over 40 percent of the vote."
Kramp-Karrenbauer's main opponent is Friedrich Merz, a corporate lawyer who has argued in favor of pushing the party to the right, according to NBC. In contrast to Merkel's longtime (though recently abandoned) policy of keeping Germany's borders open for refugees, Merz says that the country should rethink its constitutional right to asylum. Jens Spahn — the country's health minister — is also running for CDU chair.
Party delegates will vote on their next leader later on Friday. Polls show Kramp-Karrenbauer ahead, according to Reuters. The winner will take the reigns from Merkel, ending her 18 years at the head of the party.