Angela Merkel's Husband Planned To School Ivanka & Melania Trump On Climate Change, Literally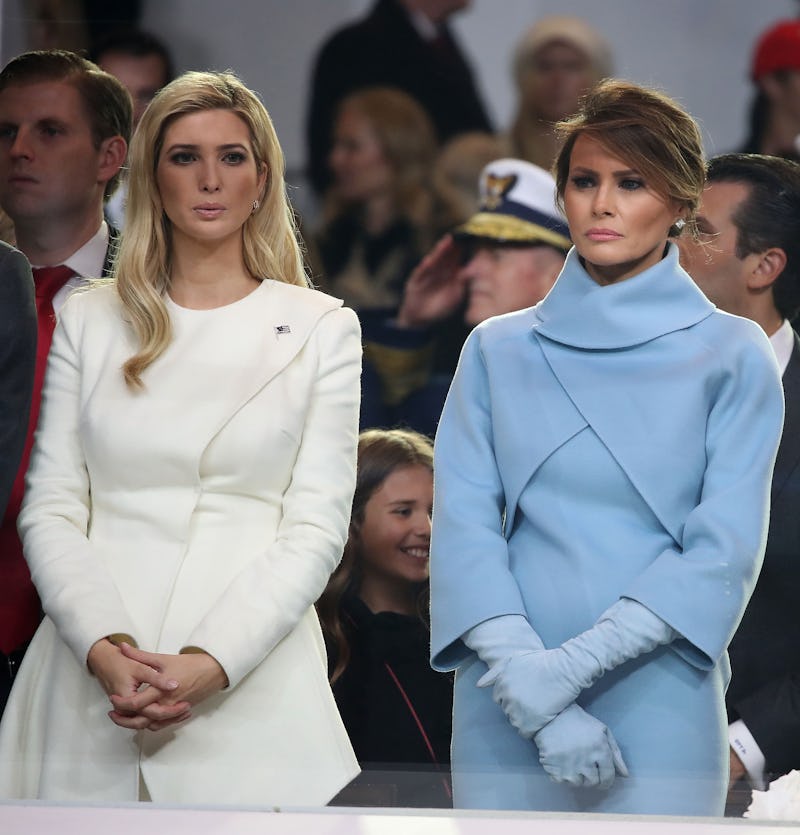 Mark Wilson/Getty Images News/Getty Images
President Trump traveled to Hamburg, Germany, for the G20 summit this week, with his daughter Ivanka and First Lady Melania in tow. As Trump met with world leaders, German Chancellor Angela Merkel provided an itinerary of activities for Ivanka and Melania, which included a climate change lab tour courtesy of her husband, Joachim Sauer.
Alas, the two did not attend. Ivanka was not planning to make the visit (though she had been invited) while Melania was unable to go after anti-capitalist protesters surrounded her hotel and clashed with police. Bloomberg reported that the tour of the German Climate Computing Center, which models the effects of climate change using supercomputers, was for all of the G20 leaders' spouses, but the German G20 hosts ultimately canceled the visit after protesters disrupted the beginning of the summit. Yet, the fact that this particular activity was proposed signifies just how significant climate change will be at this year's summit.
Climate change is a particularly contentious issue at this year's G20 summit, in light of Trump's decision to withdraw the United States from the Paris climate agreement. Indeed, many G20 leaders are reportedly using their time at the summit as an opportunity to urge Trump to reenter the agreement. Trump had other priorities, however; he made headlines on Friday when he reportedly missed part of a G20 climate change session to meet with Putin, though he did take the floor at the session first.
So, although Merkel's husband didn't explicitly say that he had suggested this lab visit to educate Melania — after all, the other G20 spouses were invited as well — it seems that he may have been subtly responding to the White House's position on climate change. Sauer, a physical and theoretical chemistry professor, generally avoids publicity, but the tour would have been an interesting opportunity to see him engage world leaders' spouses on a key issue.
Melania has not publicly indicated her position on climate change before, though Ivanka was rumored to have supported the Paris climate agreement. Merkel, however, has not been quiet about her convictions on the issue. Indeed, at this year's G20 summit, she is reportedly planning to create a strategic climate alliance with Russia and Saudi Arabia in order to isolate Trump and the United States. It is not at all surprising, therefore, that she and her husband wanted to engage everyone on climate change, and not just the other G20 leaders.