Angelina's Coming Back To The 'Jersey Shore' & You Need To See Her Hilarious Promo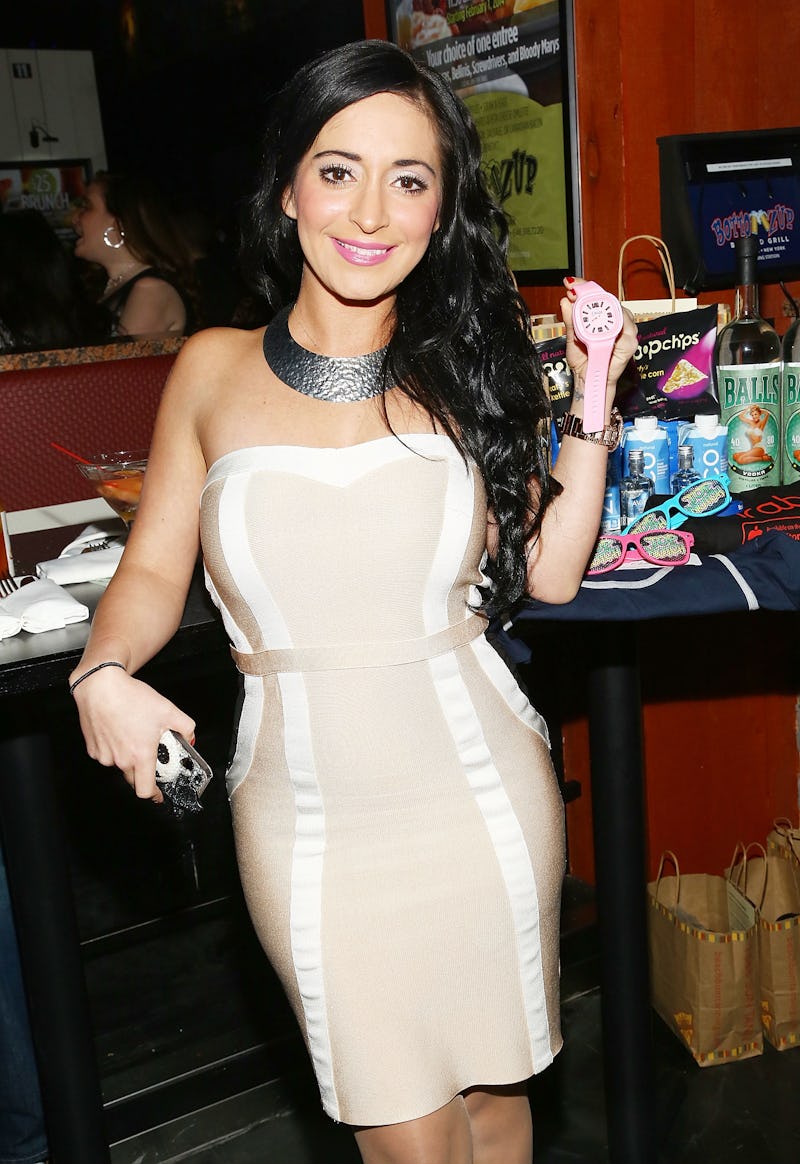 Astrid Stawiarz/Getty Images Entertainment/Getty Images
No Jersey Shore reunion would be complete without the self-proclaimed Kim Kardashian of Staten Island. That's right, Angelina Pivarnick is returning for Jersey Shore Family Vacation this spring, which might surprise some fans. After all, Angelina is better known for leaving the Jersey Shore rather than staying there. (She exited the show not once, but twice.) However, this Dirty Little Hamster is back, and there's video to prove it. Honestly, it's worth watching for The Situation's reaction alone.
MTV revealed the premiere date of the Jersey Shore reunion on Twitter — "Jerzdays are back, April 5th" — by teasing the return of a well-known castmate to the South Florida home where this reunion will take place. They never show her face, but when Mike "The Situation" Sorrentino opens the door, his face should say it all. "You still think I'm a Dirty Little Hamster?" she asks a stunned Situation, who just keeps saying, "Who sent you here?" before running away.
For those who didn't guess it was Angelina, she solved the mystery with a reported tweet, which she quickly removed: "I'm baaaaack b*tches!!" And she's clearly ready to pick up where she left off when she said goodbye to the show in Season 2. Hopefully, this time around, Jersey will be a better fit for Angelina — or, at the very least, less dramatic than the first two times around.
It wasn't by choice that Angelina originally left the show. After getting into a fight with her then-boyfriend, she skipped work and ended up getting fired. According to Us Weekly, the show required the cast to work, so no job meant no more Angelina. Not that she seemed to care at the time. "I just didn't want to work," she told Us Weekly. "I basically got fired. I didn't care. I left." She also added "If I could take back time, I would, but I can't," about her time in the house.
Despite this, Angelina returned for Season 2, which took place in Miami, only to leave in Episode 3 after getting into a physical altercation with Nicole "Snooki" Polizzi. Angelina said that the Jersey Shore cast was "fake", and Snooki didn't take kindly to that. As for why she left a second time, Angelina told MTV, "Enough was enough. I couldn't take the abuse anymore," and she wanted to head back home to family and friends who "really love me for who I am — so I'm just going to leave and be with those people." She went on to say that she "was definitely bullied" and she was the one "that everybody blamed for everything."
In her short time on the show, Angelina hooked up with Vinny Guadagnino – later saying she was a "fool" for doing so — slapped Paul "Pauly D" DelVecchio, and fought with basically everyone. But she told MTV the castmate she disliked the most was Sorrentino, who repeatedly mocked her by calling her "a trash bag" — she came to the house carrying her clothes in black garbage bags instead of suitcases — and a "hamster." (Hence why Angelina was shouting about hamsters in the Family Vacation teaser.)
Their animosity towards one another is probably why The Situation wasn't so excited to see her when he opened the door. And he'll be seeing a lot of her if she ends up sticking around the entire season — and that's a real if based on her history. Especially since rejoining the show means Angelina will be reuniting with Snooki, Deena Nicole Cortese, Pauly D, Jenni "JWOWW" Farley, Vinny, Ronnie Ortiz-Magro. (Sammi "Sweetheart" Giancola will not return, sadly.) So, it's basically, everyone who Angelina claimed bullied her eight years ago.
Hopefully, the cast is a little older and a little wiser now — Angelina is now engaged and works as an EMT in New York — and able to make this vacation one with many happy memories. But, with her just announced return, there's bound to be a little drama that will have fans reminiscing about the good ol' GTL days at the shore.