Anna Kendrick's Hilarious Tweet About 'Twilight' Proves She Really Was The Franchise's MVP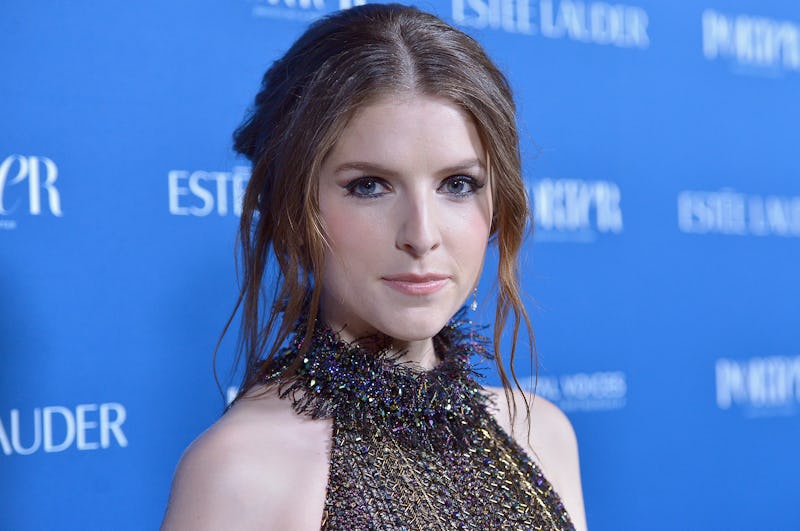 Charley Gallay/Getty Images Entertainment/Getty Images
She's been nominated for an Oscar, and she's become the face of the wildly popular Pitch Perfect franchise. But in 2008, Anna Kendrick was primarily known as Jessica Stanley, a quirky, small town gal from Forks, Washington. Those days really seem like they're a lifetime away now, which is probably why Anna Kendrick just remembered she was in Twilight, and let the world know it. Her tweet about coming to this realization is not only hilarious, it really applies to so many of life's situations outside of the Twilight universe.
On Monday, just five days after Twilight's big 10-year anniversary (yes, we're that old), Kendrick tweeted: "Holy sh*t. I just remembered I was in Twilight." Naturally, the Twitterverse's responses were mixed, but hilarious nonetheless. Fans have written back with tweets proclaiming that she's the best part of the movie, and pointing out she wrote an entire chapter about the experience in her book. Meanwhile, others, who are not so fond of Edward and Bella's dramatic love story, responded with comments like, @mistybangalore's "And yet we love you still...," while @stephanienelson tweeted: "sis we all try to forget."
Overall, though, people are finding Kendrick's tweet down memory lane nothing short of incredible. If anything, it's really a gift to the internet on a mediocre Monday afternoon.
And whether people loved or hated Twilight, it's hard to deny that Kendrick's tweet is applicable to so many circumstances in life.
With a single tweet, the actor has provided the internet with so much entertainment, and her fans are having way too much fun playing along.
As some fans pointed out, though, Kendrick actually mentioned Twilight in her 2016 book Scrappy Little Nobody. The book shared a similar sentiment expressed in the tweet. "For those of you thinking, Wait, she was in 'Twilight'?, I sure was!" she wrote in her book. "I was the sassy, awkward friend who broke up the relentless succession of intense stare-downs with musings on boys, tanning, and various school gossip. It was a sweet gig."
But her recollection of time on set suggested that it wasn't the most ideal experience, mostly because of the brutal weather conditions, as reported by The Washington Post. "Wet and cold is not an environment conducive to making friends," she explained in the book, describing the relentless cold in Oregon and Canada. "Imagine if the first four weeks of a new job were spent outdoors in the freezing rain."
Although Forks' setting looked idyllic, it seemed pretty miserable to work in. "Extreme cold messes with you. The elements don't discriminate," she wrote. "And no amount of 'you're getting paid to do this' matters when your body's basic survival requirements are in play."
Despite the trials she faced on the freezing cold set, it's pretty clear that Twilight was a pivotal chapter the actor's life. Still, those days are long behind her now, and Kendrick's busy making Twitter a better place, out of the rain and presumably in the comfort of her own home.