Anna Wintour's New Title Officially Makes Her Fashion Royalty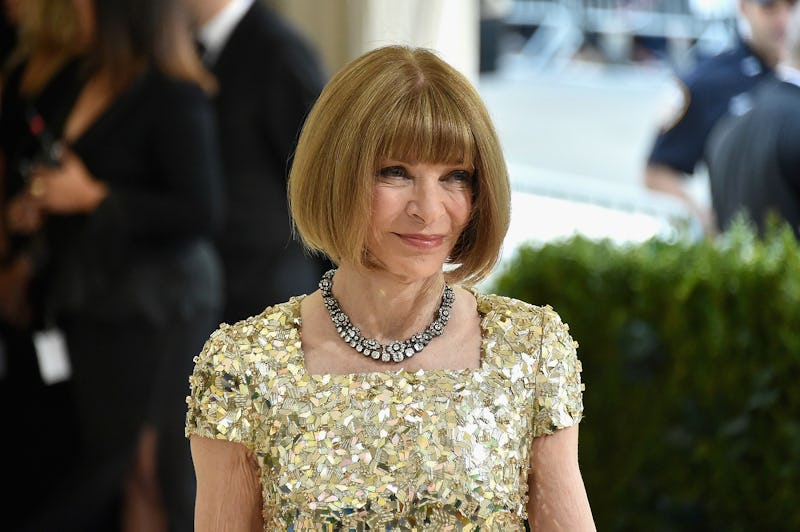 Mike Coppola/Getty Images Entertainment/Getty Images
One minute she's attending the Met Gala, the next she's off to England to receive an extremely high honor. But, what do you expect? That's just a typical week in the life of this Vogue Editor-In-Chief, apparently. Anna Wintour was given the title "Dame" by Queen Elizabeth II, so now there's really no doubting she's fashion royalty.
There was a palace ceremony held to recognize Wintour, who made the New Year Honours list, according to BBC News. Now, I may or may not have had to Google, "what does becoming a dame mean," but hey — not everyone knows the ins and outs of British royalty, am I right? According to Royal.uk, the honors system rewards people for merit, service or bravery. BBC News states that British-born Wintour is receiving this honor for her services to fashion and journalism.
According to ABC News, Wintour's new title is the equivalent of being knighted, so there's no denying that this is a big deal! Although, according to Mental Floss, not much will change for Wintour since acquiring the title. She'll mostly just get to flaunt the fancy new moniker and the badge she was presented by the Queen, NBD. Add this to the long list of classy Wintour accomplishments.
Get a look at the fashionable Dame herself. According to Who What Wear, she was wearing Chanel for the ceremony.
Of course, she was also sporting her chic bob and sunglasses, as per usual.
Most fans couldn't be happier for the fashion legend.
Because, seriously, this is an extremely high honor.
I mean, who other than Wintour to be named a "Dame" for her fashion journalism? Quite right, indeed.
Other people aren't exactly for Wintour's new title, however.
But, to that I say,
Because when it comes to fashion, there's no one quite as iconic as Wintour.
Exactly.