OMG — The 'Scandal' & 'HTGAWM' Crossover Just Officially Started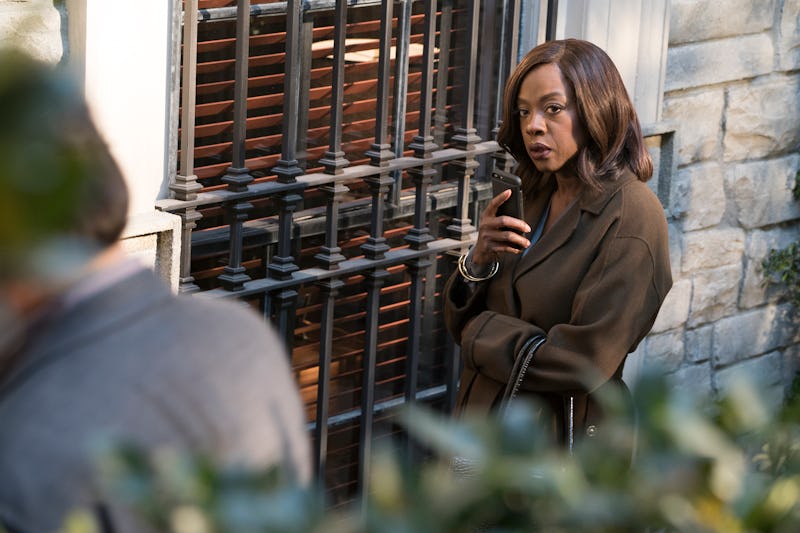 ABC/Eric McCandless
Spoilers for the Feb. 8 episode. Get ready, TGIT fans. Because the Shondaland crossover between How To Get Away With Murder (executive producer: Betsy Beers) and Scandal (executive producer: Shonda Rhimes) has officially begun. After Annalise's class action lawsuit is dismissed by the state, Michaela has the genius idea for Annalise to take the suit to a higher power, i.e. the supreme court and she knows just the woman that can get it there — Olivia Pope. The How To Get Away With Murder and Scandal crossover has begun.
Annalise has been fighting tooth and nail to make her class action suit against the State of Pennsylvania a go. But in true Shondaland fashion, each time Annalise makes some progress getting it off the ground, a kink is thrown in her plans. And Feb. 8's episode proved to be no different.
Even after her due diligence making sure that all of her plaintiffs were ready to hit the stand — Nate's incarcerated father included — it's announced that there will be no trial for the class action suit. Instead the state department wants written reports from Annalise and the District Attorney's office to determine if the case is actually "worth" bringing to trial. Annalise knows at that very moment her chances of winning the suit were shot to hell and unfortunately, she is right.
Connor who's been helping out with the suit since the very beginning, finds himself up against some stiff competition: Michaela. Taking a break from helping Laurel get her baby back, Michaela jumps right in helping Connor and Annalise. And when all hope for the case seems gone, a lightbulb goes off in Michaela's head. In order to win this case, Annalise needs another fighter. Someone else who won't take no for an answer. For a split second I thought it was going to be Tegan — but nope, instead Annalise needs a true "fixer."
The university is hosting a special guest lecturer. The offscreen announcer makes note that the special guest has worked with two sitting presidents, and fans of Scandal knew immediately that it could only be one person. Reminiscent of Season 1 when Annalise first introduced herself to her law class, Olivia writes "How To Survive A Scandal" across the chalkboard, just as Annalise settles into her seat in the audience.
Scandal spoilers! After resigning from her post as Chief of Staff at the White House, it seems as though Olivia has plenty of time on her hands. And being that she managed to go through with the resignation without betraying President Mellie Grant or stirring up more trouble in D.C., it's possible that Olivia still might have some pull in the Oval Office — the kind of pull that could take Annalise's case to the next level.
While Olivia and Annalise run in two totally different circles, both alpha females have a lot in common. Mainly, that they are both big on the underdog coming out on top and on getting what they want by any means necessary. Right now Annalise wants to win that class action lawsuit just as much as Olivia wants to restore her authority on Capitol Hill, which makes them the perfect duo.
The two-hour crossover event has been speculated about for months and was finally confirmed and given an official premiere date of Thursday March 1. It will begin with Annalise appearing on Scandal and ends with Olivia guest starring on HTGAWM.
There's no word yet on how each of the leading ladies' respective teams will be involved in the crossover, but I'm sure they'll all be near. And a word to the wise, a.k.a. Annalise's team — they might want to shape up. Because Olivia Pope isn't someone whose bad side they want to be on.