An Annular Solar Eclipse Is Coming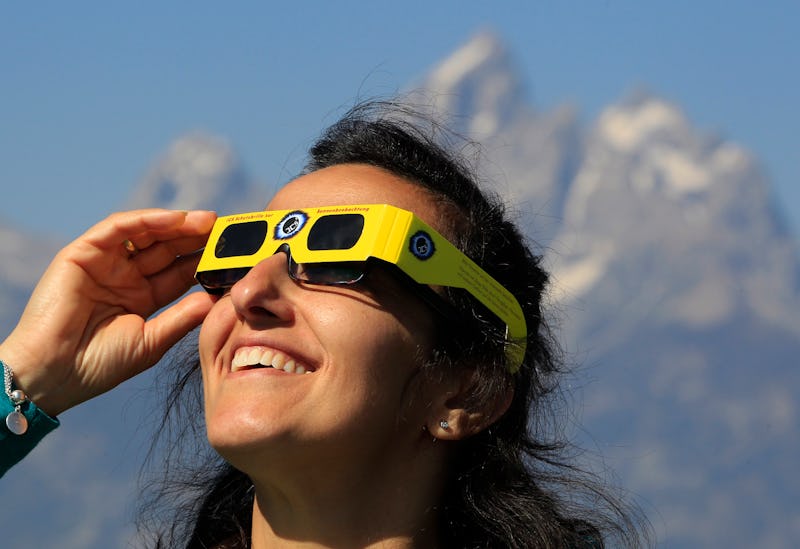 George Frey/Getty Images News/Getty Images
Get ready: There's going to be an annular solar eclipse on Feb. 26, 2017. What's more, it's kicking off the six-month countdown until the total solar eclipse on Aug. 21, the first visible here since 1979. But while this month's eclipse is not visible in the United States, you can still use the annular solar eclipse to manifest your dreams, no matter where you are. And, if astronomy is your jam, you can track the eclipse from NASA's interactive Google map or stay in the know with charts and predictions on sites like Eclipsewise.com.
So what's an annular solar eclipse anyway? When the Moon covers the Sun's center, leaving the Sun's visible outer edges to form a "ring of fire" (Johnny Cash anyone?), or annulus around the Moon, an annular solar eclipse happens. If an annular solar eclipse is visible where you live, it looks like a partial solar eclipse, or a ring of fire, around the new Moon.
Several factors have to be in play at the same time for an annular solar eclipse to occur: It can only happen around a new Moon when the Earth and Sun are aligned on opposite sides of the Moon. Additionally, the Moon and Sun must be near a lunar node — points where the Moon's orbital path around Earth meets Earth's orbital plane around the Sun to form an almost perfect line between the Sun, the Moon, and Earth.
For those of you who ascribe to astrology (like me), this annular solar eclipse is located in Aquarius Constellation. But, due to precession of the equinoxes, the eclipse actually falls within the Pisces sign. Dominated by the spiritual planet Neptune, this particular eclipse can bring good fortune, and lasting happiness, according to Astrology King.
In order to get some of that fortune and happiness for yourself, use this time to focus on what you want to bring into your life and relationships. However, be careful not to fall into the trap of greed or selfishness by seeking things you don't really need, as this could turn your good fortune into bad luck by the time the Aug. 21 solar eclipse arrives.
"Old habits, behaviors and beliefs can be questioned as you search for new and inventive ways to make progress," Astrology King states. "This is the ideal time to make a fresh start by writing a to-do list on a blank sheet of paper."
If you set intentions during the Feb. 10 lunar eclipse, you'll want to draw on those as you make your list because these two eclipses act together to help you manifest your dreams between now and August.
Additionally, Astrology King states that one star and one planet (in this case the star Water Bearer and the planet Neptune) inform how this solar eclipse will shape your life between now and August.
This is a time for adventure, to make new friends, and begin new relationships. If you've been feeling stuck the past few months, here's your chance to chart your course for happiness — but don't forget to keep your wishes realistic, and your intentions pure, or you run the risk of steering your ship astray. Just remember the motto of Friday Night Lights (I find it applies to most things): "Clear eyes, full hearts, can't lose."
This eclipse begins west of Southern Chile and ends over Angola, Zambia, and the Democratic Republic of the Congo in Africa. A partial eclipse (a total of 1 minute and 22 seconds) will be visible over most of South America, Africa, and Antarctica.
The exciting thing is that this is all a countdown for the total solar eclipse, also being touted as the "Great American Eclipse," Aug. 21 that will be visible in the United States for the first time in 37 years.
Images: Getty Images; Giphy (2)