Will Britney & Tinashe Do Another Duet?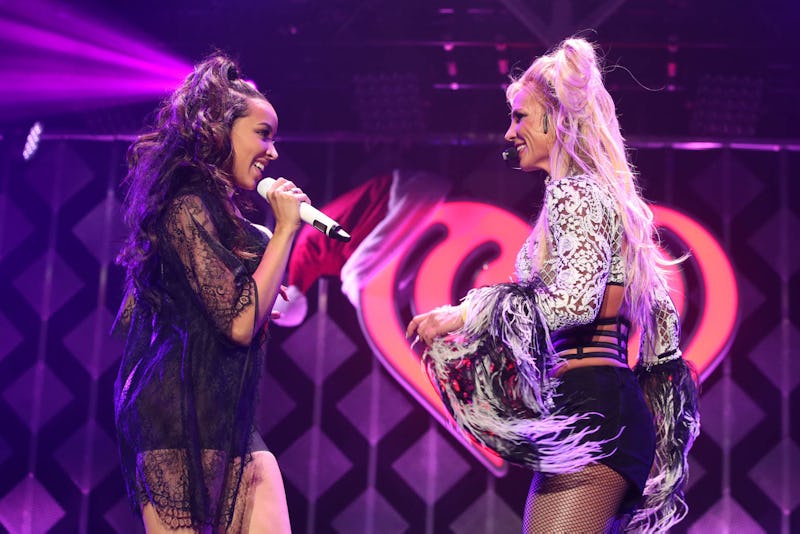 Christopher Polk/Getty Images Entertainment/Getty Images
If you think the Tinashe remix of Britney Spears' "Slumber Party" is a bonafide bop, first of all, you are quite correct. And secondly, I bet you will be stoked to hear that a second Britinashe record may not be out of the realm of possibility. In a recent interview with Rap-Up, the "All Hands On Deck" talked about singing with Spears on the Glory track, performing with Spears, and whether or not another Spears and Tinashe song could happen song. And boy howdy, did Tinashe add fuel to my Britinashe obsession.
Now, before you start frothing at the mouth with excitement, let me make something clear: Nothing's been set, there doesn't appear to be a second collab in the works at the moment, and this is not an official announcement. However, if the opportunity were to present itself, it sounds like both Spears and Tinashe might be game for another duet. I shall cherish that conditional statement with all of my heart.
Tinashe told Rap-Up,
"Britney has been somebody that I've idolized since I was very young, so being able to work with her, being able to share the stage with her is really surreal and incredible. I've enjoyed the experience tremendously. I would love to get Britney on another track. We'll see if it happens. I heard she was open to it, so you know, maybe. I love female collaborations so the more, the better, I think."
Oh, Spears definitely sounds open to it, too. Back in November, the "Make Me..." pop star told MTV,
"Tinashe is so sweet. I always see my fans talking about her online, and it just made so much sense to collaborate on this song. She was amazing, and would love to find another way to work together in the future!"
You hear that? Another Brit Brit and Tinashe tune is not not possible. And yes, when it comes to Britinashe, I will latch onto any morsel of hope that I can find.
Can you really blame me?