Britney's "Slumber Party" Has Only Just Begun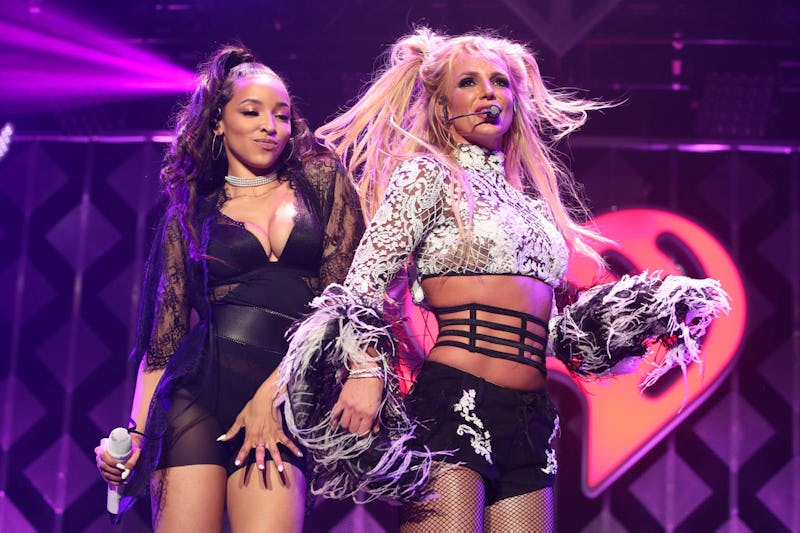 Christopher Polk/Getty Images Entertainment/Getty Images
Struggling to find the perfect Christmas gift for the Brit Brit stan in your life? Are you worried you won't figure something out before next Monday rolls around? Well, you and your sweat glands can take a chill pill, because a brand new collection of Britney Spears remixes will drop just two days before Xmas. Monday evening, Spears tweet-announced that a "Slumber Party" remix EP will be out on Dec. 23. The second single off of Glory is no stranger to the remix game: Earlier this year, "Slumber Party" was revamped to include Tinashe on the track, transforming Spears's scintillating record into a scorcher of a duet.
Though the "Oops!... I Did It Again" legend's tweet did not spill which artists will be featured on the EP, you better believe there's some chatter on the internet about who remixed the Mattman & Robin-produced jam. According to tried-and-true Spears fan sites like Britney-Galaxy and Breathe Heavy, the forthcoming EP will feature versions of "Slumber Party" that have been reworked by Bad Royale, Bimbo Jones, Danny Dove, Marc Stout, Misha K, and DropGun. Grab your sleeping bag and your furry raver boots, because it looks like the slumber party is moving on over to an EDM club.
I realize this is the "Slumber Party" EP, but there is a part of me that hopes this mini album throws us a curveball and includes a remix of "Do You Wanna Come Over?." And not just any remix, but The Remix To End All Remixes (And May Not Actually Exist But Whatever). Nope, I'm still not over that cryptic screengrab that led some fans to believe that a Spears, Christina Aguilera, and La Bouche collaboration might happen one day. I know it seems too beautiful to be real. I know I should let go. And yet, I continue to water that dream seed, hoping it will one day eventually blossom into a real flower of a song.