Another Migrant Woman Is Suing Trump's Admin Because She Has No Clue Where Her Daughter Is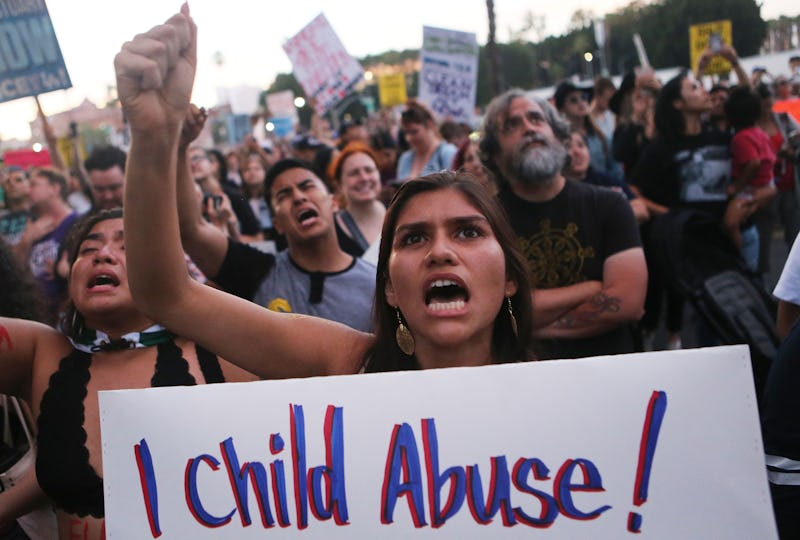 Mario Tama/Getty Images News/Getty Images
For the second time in as many weeks, a Guatemalan migrant has sued the Trump administration in an attempt to be reunited with her daughter, from whom she was split up as part of Trump's family separation policy. In a lawsuit filed in the U.S. District Court for D.C., Perla Karlili Alemengor Miranda De Velasquez says that the administration violated the equal protection and due process rights of her and her child in May, when immigration officials detained the two and then forcibly took Velasquez's daughter from her as they were seeking asylum.
The news comes a week after another Guatemalan immigrant, Beata Mariana de Jesus Mejia-Mejia, sued the administration for separating her from her 7-year-old son at the border. The two have since been reunited. Velasquez is being represented by the same lawyer who represented Mejia-Mejia. In addition, the Daily Beast reported Tuesday that a third Guatemalan woman seeking refuge in the United States was told that her daughter would be put up for adoption if she went ahead with her asylum claim.
According to the lawsuit, Velasquez and her daughter crossed into the United States on May 19th after fleeing the "severe violence" occurring in their home country, and were quickly apprehended. Velasquez says she communicated to the border agent that she and her daughter were seeking asylum, and that the two were subsequently placed in a holding cell. Two days later, Velasquez says, border agents entered their cell and told her that they needed to take her daughter — and that they refused to tell her why.
She also claims to have witnessed other officers separating mothers from their children, and that when one such mother asked why, an immigration officials replied, "because the government says we can."
Velasquez was subsequently transferred to a detention facility in Arizona, then to a different one in the same state, the lawsuit says. She says that after inquiring, she was told by border agents that her daughter was in San Antonio, Texas, but wasn't given any further information.
On June 22nd, Velasquez was released, and she hasn't been charged with a crime. Her 12-year-old daughter, however, remains detained.
[Velasquez] has been released by the federal government, and with her release, there is zero basis for ORR to continue imprisoning her 12-year-old daughter as one of the thousands of children concentrated in ORR's camps across the country," the lawsuit reads.
She says that the Office of Refugee Resettlement "continues to wrongly characterize [her daughter] as an 'unaccompanied' child," as a justification for detaining her, even though the two crossed the border and Velasquez presented border agents with identification proving their familial relationship.
Velasquez names several Trump administration officials in her lawsuit: Attorney General Jeff Sessions, Homeland Security Secretary Kirstjen Nielsen, Acting Commissioner of Customs and Border Protection Kevin K. McAleenan, Health and Human Services Secretary Alex Aza,r and Director of Office of Refugee Resettlement Scott Lloyd.
"These Defendants know that separating children from their parents causes severe trauma to young children, especially those who are already traumatized and are fleeing persecution in their home countries," the lawsuit says. "The resulting cognitive and emotional damage can be permanent. Simply put, the World Community frowns upon the Trump Administration's conduct, having long condemned this type of conduct as violating the rights and dignity of people worldwide."
Over 2,000 undocumented children have been separated from their parents and placed in detention facilities as a result of the Trump administration's "zero tolerance" immigration policy. Footage from the detention centers showed children locked in cages, and some detained immigrant children say they've been beaten and abused by guards. After widespread outrage, Trump repealed his family separation policy on Wednesday.