Anthony Scaramucci Has Officially Been Named The Least Powerful Person In The World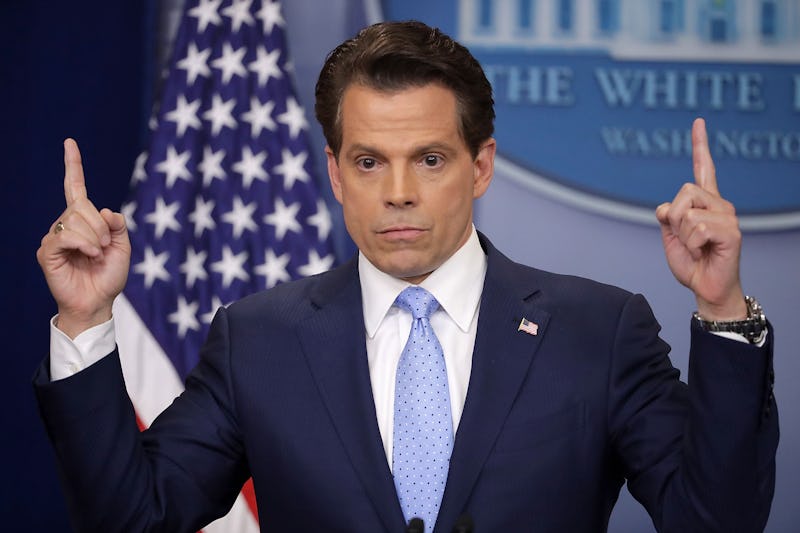 Chip Somodevilla/Getty Images News/Getty Images
Anthony Scaramucci will forever go down in history as the shortest-serving communications director in White House history. On Tuesday, he received another accolade to add to his belt: Scaramucci was named the least powerful person in the world by 24/7 Wall Street, a financial website that decided to give credit where credit is due.
The list was apparently created for the sole purpose of highlighting 50 high-profile individuals who have "recently experienced a precipitous loss in stature." Given Scaramucci's colossal fall from grace after his whirlwind White House tenure — which lasted just 10 short days — it's only fitting that he would top the list.
The site pays homage to the chaotic, yet highly entertaining week-and-a-half (that actually felt like a year-and-a-half) when "The Mooch" was a household name.
Scaramucci's tenure in Trump's cabinet was tumultuous despite being short. The highlights included apparent protocol breaches with the FBI, conflicting statements about his relationship with then Chief of Staff Reince Priebus, and a profanity laced interview with The New Yorker, in which he spoke ill of several other Trump administration officials, including Priebus and Chief Strategist Steve Bannon. In the midst of his brief stint in the White House, Scaramucci's wife filed for divorce.
Yep, that pretty much sums it up.
While it may be lonely at the top, Scaramucci certainly isn't alone in his precipitous fall from grace. Trailing just behind at a close second on the list is New Jersey Governor Chris Christie, one of President Trump's first ardent supporters in the 2016 election who was ultimately not offered a role in the administration. On Fourth of July weekend, Christie had a very public "let them eat cake" moment after being photographed lounging on a beach with his family after closing all public beaches to constituents.
Also on the list are Tiger Woods, whose golf career never recovered after it was revealed that he had multiple extra-marital affairs, Tomi Lahren, who was recently fired from her role as a host for the conservative network "The Blaze" for expressing pro-choice views, and House Majority Leader Mitch McConnell, who ultimately failed at rallying Republicans to repeal and replace Obamacare after promising to do so for the past seven years.
The field of contenders for the title of "Least Powerful Person" was strong. But really, who can compete with a man who was fired from his White House role after missing the birth of his son and accidentally being listed as dead in the Harvard Law alumni directory — all within the span of ten days. Congratulations to the Mooch on this very dubious honor. It was certainly well-deserved.