Anthony Scaramucci Speaks About His Firing For The First Time & Is All About Self-Care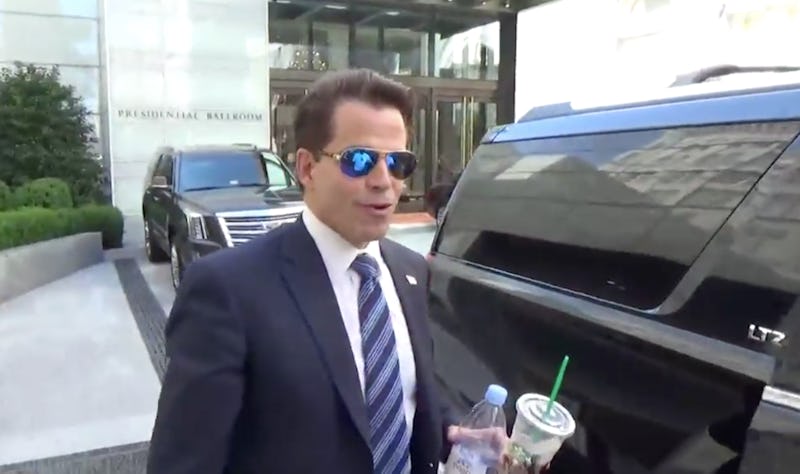 TMZ
On Tuesday, the day after he was let go from his White House position, fast-talking Communications Director Anthony Scaramucci was fired, and he had few words in response to his unceremonious ouster. When asked by TMZ for advice for the next communications director, Scaramucci said it wasn't appropriate to comment on it.
He did, though, answer a question about what he'll be doing next. Scaramucci said he's "working on being the best person I can be, and I want chief of staff Kelly to have an unbelievable opportunity inside the White House." As TMZ pressed for more info, asking if he said goodbye to the president before he left, Scaramucci shut the interview down, though he gave a quick response to Dancing With The Stars rumors, saying he didn't know how to dance.
In his week-and-a-half tenure as communications director, Scaramucci quickly became known for his distinctive and sensational manner of speech. "The swamp will not defeat him," Scaramucci told New Yorker writer Ryan Lizza, referring to himself in the third person. "They're trying to resist me, but it's not going to work. I've done nothing wrong on my financial disclosures, so they're going to have to go f*ck themselves."
Scaramucci even threatened to purge the entire White House communications department — with the exception of Press Secretary Sarah Huckabee Sanders — in order to prevent media leaks, which have plagued President Donald Trump's six-month-old administration.
If they don't stop leaking, I'm going to put them out on Pennsylvania Avenue — it's a very clear thing. You want to sell postcards to the tourists outside the gate or you want to work in the West Wing? What do you want to do? If you want to work in the West Wing, you've got to stop leaking.
It is this style of speaking and interacting with the media that seems to have led to Scaramucci's demise. A White House official told CNN that Trump's new Chief of Staff John Kelly felt Scaramucci was not disciplined enough. Kelly, a retired Marine general and former Department of Homeland Security secretary, was said to have a professional style that did not jibe well with Scaramucci's.
"[Kelly] strongly believes in discipline and a strong chain command," said President Bill Clinton's Chief of Staff Leon Panetta. "He has little tolerance for chaos and people who don't follow orders." (Kelly once served as Panetta's military aide.)
"Anthony Scaramucci will be leaving his role as White House Communications Director," White House press secretary Sarah Huckabee Sanders said in a statement Monday afternoon. "Mr. Scaramucci felt it was best to give chief of staff John Kelly a clean slate and the ability to build his own team. We wish him all the best."
Scaramucci, a New York financier and hedge-fund salesman, says he'll just be working on being the best person he can be, but it's still unclear what he'll do for a career. According to The New York Times, Trump may try to place the loyal employee in another role within the administration.