These Anti-Semitic Threats Need To Be Addressed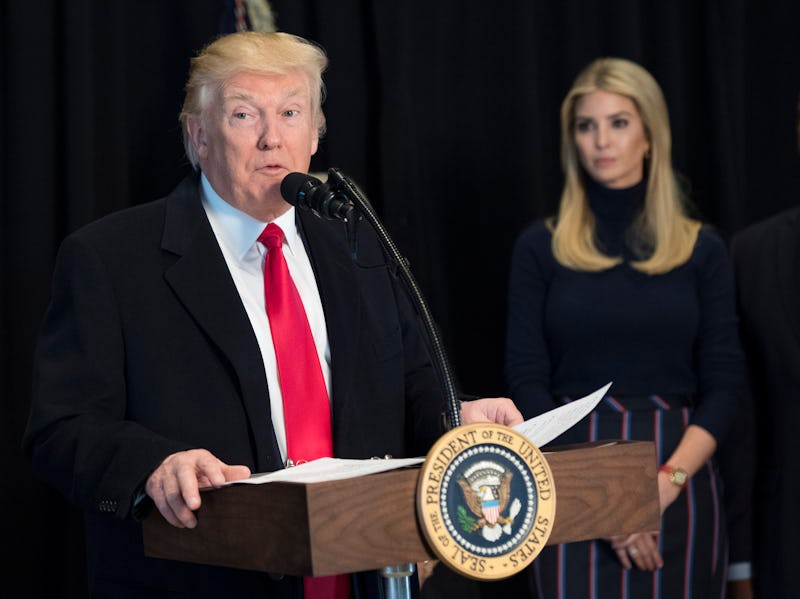 Pool/Getty Images News/Getty Images
For the fourth time in two months, anti-Semitic bomb threats swept across the nation on President's Day. On Monday, 11 Jewish community centers received menacing phone calls with bomb threats. That brings the total to 69 incidents against 54 JCCs in 27 states since the beginning of January.
In one instance from January, the Jewish news agency, JTA, obtained a recording. The caller, using a voice masking technology, claimed a shrapnel bomb made with the explosive C-4 had been placed in a Jewish community center. The language he uses is extremely troubling:
It's a C-4 bomb with a lot of shrapnel, surrounded by a bag (inaudible). In a short time, a large number of Jews are going to be slaughtered. Their heads are going to [sic] blown off from the shrapnel. There's a lot of shrapnel. There's going to be a bloodbath that's going to take place in a short time. I think I told you enough. I must go.
Experts maintain that such a large number of concentrated threats is unprecedented; they are being investigated as hate crimes. Monday's threats occurred in cities as varied geographically as Albuquerque, New Mexico; Birmingham, Alabama; Buffalo; Chicago; Houston; Nashville; St. Paul, Minnesota; and Whitefish Bay, Wisconsin.
The Anti-Defamation League spoke strongly against the threats, and noted that even though there have been no bombs, the calls are "alarming, disruptive, and must always been taken seriously." Jewish community centers often are home to day care centers, and young children have had to be evacuated in these cases while bomb-sniffing dogs search the buildings — a trauma for the kids.
Finally on Tuesday, President Donald Trump finally condemned the threats, after mounting pressure from groups including the Anti-Defamation League and perhaps his own daughter Ivanka, who converted to Judaism and tweeted Monday, "America is a nation built on the principle of religious tolerance. We must protect our houses of worship & religious centers. #JCC." He had previously refrained from answering questions on the matter.
Speaking at the National Museum of African American History and Culture, Trump said:
The anti-Semitic threats targeting our Jewish community and community centers are horrible and are painful and a very sad reminder of the work that still must be done to root out hate and prejudice and evil.
Then he went on, seeming to boast about being accepting. "Number one, I am the least anti-Semitic person that you've ever seen in your entire life," Trump told the reporters. He also said he was the least racist, Reuters reported. The administration had previously come under attack for not mentioning Jews on the Holocaust Remembrance Day.
Some Jewish leaders found Trump's statement lacking. "The president's sudden acknowledgement is a Band-Aid on the cancer of Antisemitism that has infected his own administration," Steven Goldstein, the executive director of the Anne Frank Center for Mutual Respect, said on Facebook, arguing that it was "not enough."
In response, White House press secretary Sean Spicer shot back at the comments:
But I think it's ironic that no matter how many times he talks about this that it's never good enough. Today I think was an unbelievably forceful comment by the President as far as his denunciation of the actions that are currently targeted towards Jewish community centers.
One thing that is true is these threats must be stopped, and Trump must put the full force of the government behind that effort.