Antoni From 'Queer Eye' Accidentally Started A Fierce Debate About Mac & Cheese On Twitter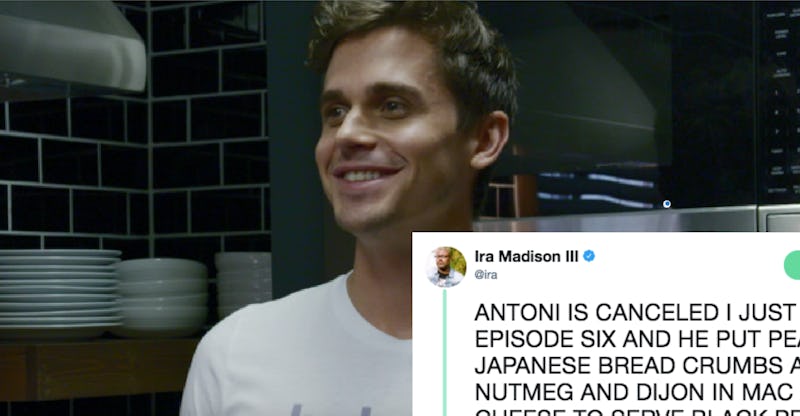 Netflix
When Netflix brought back Queer Eye from the depths of its 11-year slumber, a lot of expectations surrounded it. One thing, however, that I think we can safely say no one expected was for the 2018 edition of Queer Eye to spark a fierce mac and cheese debate on Twitter. And yet, that's exactly what happened this week, and… wow. I mean… just wow. I knew folks tended to feel strongly about their mac and cheese preferences — I know I certainly do — but I had no idea so many were this passionate about them.
A revival of the Bravo hit originally known as Queer Eye for the Straight Guy (later shortened to simply Queer Eye), the new Queer Eye debuted on Netflix on Feb. 7. Like its predecessor, which aired from 2003 to 2007, it features an LGBTQ quintet known as the Fab Five who go around helping people completely make over their lives; however, although the formula is the same, the scope of the show is broader, and as some reviews have pointed out, it's also evolved in some interesting ways to reflect the changing times.
The Fab Five still play the same recognizable roles, though: There's Bobby Berk, the design expert; Jonathan Van Ness, the grooming expert; TanFrance, the fashion Expert; Karamo Brown, the culture expert; and Antoni Porowski, the food expert. And today's controversy centers around one of Porowski's segments.
In episode six, "The Renaissance of Remington," the focus is a fella — the aforementioned Remington, known as Remy — who's inherited his grandmother's home, which maintains the same décor it's had for several decades. Once the kitchen is renovated, food expert Porowski, having spent some time chatting with Remy's mom, Esther, about her favorite recipes, jumps in at about the 33-minute mark to walk Remy through some culinary tricks and tips — including introducing him to a souped-up version of his mom's mac and cheese recipe.
Cottage cheese and whole milk form the basis for the sauce, just as they do in Esther's original; then Porowski adds Dijon mustard, ground nutmeg, and gruyere, parmesan, and sharp cheddar cheeses. All of this gets mixed up with some good ol' fashioned elbow pasta (that is, the best pasta shape for max and cheese) before being topped with more cheese and some panko crumbs… and, although Porowski doesn't specifically call it out, we can also see some green peas scattered throughout the baking dish.
It's funny; I don't usually think of peas as being a particularly controversial vegetable. Personally, I consider them so uncontroversial that they're the vegetable I make when I know I need to eat something green and don't really feel like figuring out anything more complicated — because they just kind of…go with everything.
And yet — somehow — they keep ending up at the centers of these bizarre and hilarious culinary debates. In this case, the inclusion of peas in this mac and cheese elicited some incredibly strong reactions from those watching at home. The Dijon, nutmeg, and panko also got called out — but it was the peas that people really latched onto, bringing to mind the same ferocity with which people responded to the New York Times' attempt to put peas in guacamole back in 2015.
This time, though, the responses haven't been nearly as universal; indeed, the drama today seems to have emerged from the fact that people are either very pro-peas-Dijon-nutmeg-and-panko-in-mac-and-cheese or either very anti-peas-Dijon-nutmeg-and-panko-in-mac-and-cheese. There's not much of a middle ground, and the firmness with which each side is sticking to their principals is threatening to tear the internet apart.
Here's where folks stand:
Many Are Not On Board With It In Any Capacity:
Writer and podcaster Ira Madison III's tweet is, I believe, the one responsible for making this particular moment in Queer Eye go so very, very viral now, several weeks after the show made its debut. And lots of folks from all walks of life agree with him:
Indeed, many consider including peas in mac and cheese to be an actual crime:
Some, However, Take Offense Only To The Peas…
A lot of folks were actually OK with nutmeg and/or Dijon.
Although it's worth noting that the mixing method matters when using mustard and nutmeg; Porowski's, apparently, was not up to snuff:
…While Others Are NOT HERE For The Mustard Or Spices:
Some folks are seemingly OK with peas, interestingly. Or at least, they don't verbally object to them.
Valid point.
Some Refuse To Call The Dish Mac And Cheese At All:
The reasoning for this classification goes back to — yep — the peas:
While Some Are Looking At The Bigger Picture:
That's where the issue really is.
Related:
Show of hands, please!
There Are A Few Other Objections, Too, Though:
Some of them actually have to do with the original recipe Esther shared with Porowski, and which he subsequently used as the base for his riff on it.
This, I believe, is where the whole thing about mac and cheese being "intensely personal" kicks in. Because, as this Twitter user points out:
It's a thing. Doesn't mean it has to be your thing… but it's allowed to be someone else's thing. As long as they don't force-feed it to you, of course.
But Hey, At Least There's This:
Full of surprises, indeed.
And, Well… This:
Pack it up, kids. This one wins the internet for today.
Time to go home.