Apple Might Release New iPhone Colors & The Rumored Shades Are So Unexpected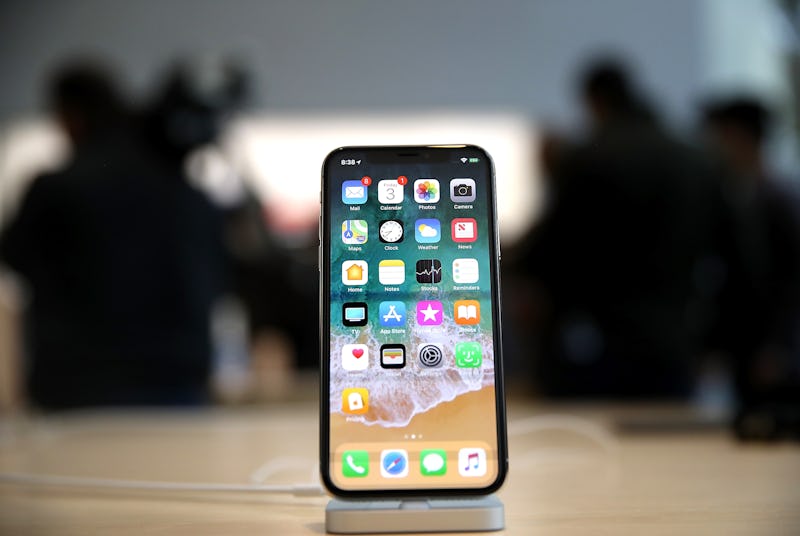 Justin Sullivan/Getty Images News/Getty Images
If you've been anxiously awaiting the news of a new iPhone, this latest report is really going to get you excited for what might be coming in the near future. According to one rumor, not only are there new iPhones on the horizon, but they might be totally different than anything we've seen so far. According to tech blog 9 to 5 Mac, Apple might release new iPhone colors in the next few months, and rumor has it that the colors are totally different to anything Apple has released before. As much as I love the chic-looking metallic and neutral-toned iPhones we've all had so far, these new colors definitely look a lot more fun.
Technology blog 9 to 5 Mac says that, according to Apple market analyst Ming-Chi Kuo, we could be looking at three new iPhones this fall: an iPhone X that is 5.8 inches, an iPhone X Plus at 6.5 inches, and a "slim-bezel" 6.1 inch LCD iPhone. That last one could also be offered in colors like red, blue, and orange, on top of the usual shades we've seen before.
The new 6.1 inch LCD iPhone would retail for around $700 and would debut in "grey, white, blue, red, and orange." As 9 to 5 Mac points out, the gray and white could bed the Space Grey and Silver finishes seen on the current iPhone X, but blue, red, and orange are iPhone shades we likely haven't seen before. To get an idea of what that might look like, 9 to 5 Mac mocked up new finishes by tinting an iPhone X:
Apple iPhones are known for many things, but bright colors aren't usually one of them. iPhones are typically offered in more neutral shades, and the last time we saw anything different was the 2013 release of the iPhone 5C, which came in shades like lime green, pink, and yellow. There has been a red iPhone before, called the (PRODUCT)RED Special Edition. This was a limited edition release of a red iPhone 8 and iPhone 8 Plus as a partnership with (RED), an HIV and AIDS awareness nonprofit.
However, there is one thing to note: if you want these bright colors, you might have to sacrifice some of the features you know and love. The multi-colored iPhones would be cheaper than some predecessors, and could cut out features like the dual-camera and stainless steel frame, although it would maintain the main design elements from the iPhone X line. So you might be saving money, but you're also losing a few things along the way.
According to Kuo, the new 6.5-inch OLED iPhone X Plus would be priced around $1000, similar to the current iPhone X on the market. This means the 5.8-inch iPhone X would become $100 cheaper in a few months. Kuo believes that the higher end models will add gold to their color lineup.
Kuo believes that the new color options and the competitive pricing will raise iPhone sales a decent amount; noting that he expects the LCD iPhone to account for 55 percent of sales.
This isn't the only rumor about new iPhones that we've heard in the last few months. Back in the spring, there were talks of a cheaper iPhone potentially being developed. The belief was that a new, cheaper iPhone SE would be announced at the Apple Worldwide Developers Conference in June 2018, and that it would be the size of an old iPhone 5S but with the inner hardware of an iPhone 6. That announcement never happened, but who knows if it could in the future?
Shortly after that, images from Chinese social media showed the potential for a new iPhone that would also require all new cables, with a headphone jack and a glass back. The leaked images were never confirmed as real.
As always, it's important to remember that these are just rumors. Still, it's definitely an exciting possibility!