Applebee's $1 Long Island Iced Teas Are Back For The Month Of June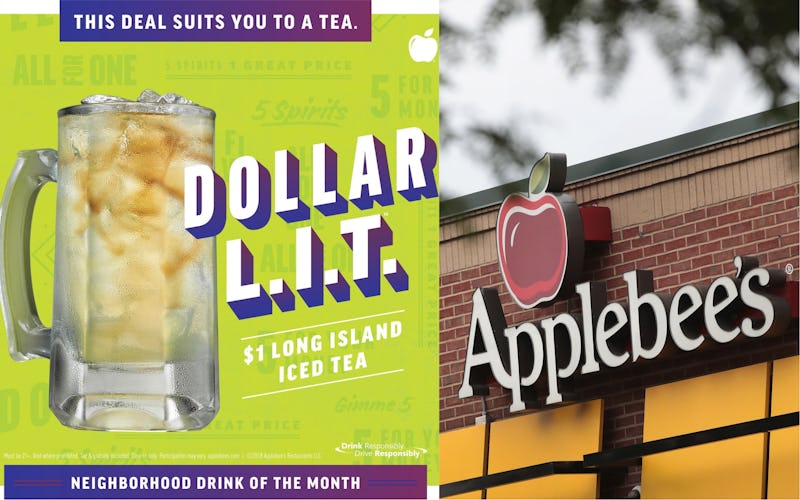 Scott Olson/Getty Images News/Getty Images; Applebee's
Summer is finally here, according to the frizz that's taken over my hair, and with it come drink specials as endless as June daylight. Indeed, beloved chain Applebee's is cashing in on the good summer drinking by relaunching Applebee's $1 Long Island Iced Tea deal, so you can get L.I.T. for a buck for the entire month of June.
According to a press release from Applebee's, the so-called Dollar L.I.T. deal debuts on June 1 and lasts for the entire month. For the uninitiated, the L.I.T. truly lives up to its name — it's a packed, but surprisingly tasty, mixture of vodka, rum, gin, tequila, and triple sec, with a dash of cola and sweet and sour mix poured in, and the last time I had JUST ONE, I ended up drunkenly spending $200 at the Uniqlo across the street, so hooray for alcohol and capitalism.
Anyway, as you might imagine, the Dollar L.I.T. is a pretty popular deal, and Applebee's hopes it'll get folks in the door. "The DOLLAR L.I.T. is a fan favorite in our lineup of Neighborhood Drinks, and we're pumped for the summertime return of this great offer," Patrick Kirk, vice president of beverage innovation at Applebee's, said in a statement. "For only one buck, our guests can get five deliciously mixed spirits in one glass. Now that's a great way to celebrate the season."
Of course, there's more to Applebee's than $1 Long Island Iced Teas. The best deal at Applebee's is, by far, half-price apps, which you can score during happy hour at most locations. Highlights include mozzarella sticks, boneless wings, brew pub pretzels and beer cheese dip (SO GOOD), and stellar grilled chicken wonton tacos, all of which do a pretty good job of soaking up the bold concoction that is a Dollar L.I.T.
If you miss the Dollar L.I.T. deal, or don't live in an area where it's being offered (the deal is only available at certain locations, according to the company), FEAR NOT. There are a whole bunch of other rotating drink deals throughout the year, all of which you can enjoy with a hearty plate of mozzarella sticks placed directly in front of your face. Here are some favorites: