Alden Ehrenreich & Donald Glover Connected Fast — Just Not Over Their Music Tastes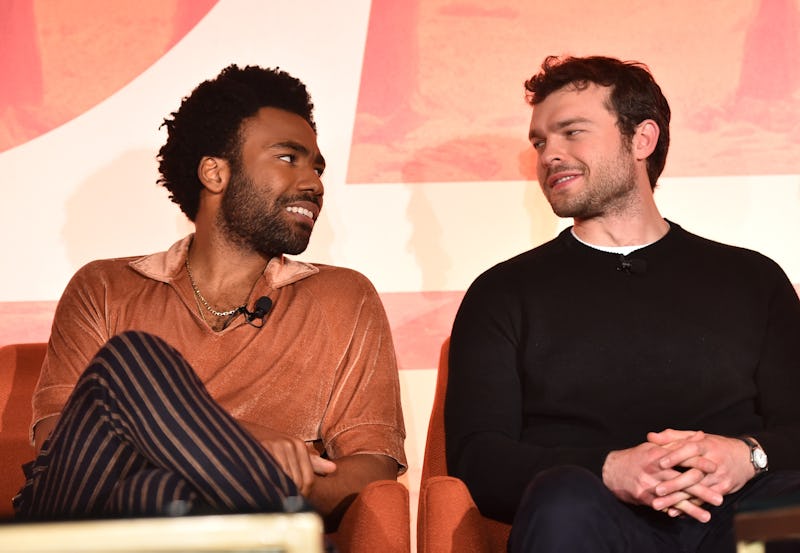 Alberto E. Rodriguez/Getty Images Entertainment/Getty Images
With the release of Solo: A Star Wars Story, you might be wondering about Alden Ehrenreich and Donald Glover's friendship. They play Han Solo and Lando Calrissian, respectively, in the film about a young Han and Lando directed by Ron Howard. The co-stars didn't know each other before being cast in the already popular film, but as soon as they tested together, Glover and Ehrenreich hit it off.
While chatting on The Ellen DeGeneres Show in May, Ehrenreich explained, "Yeah, we met kind of in pre-production. We did a bunch of kind of improvs and scenes together, just to test together, basically."
Despite only meeting before filming even began, both actors knew of one another — and were fans of each other's work. Glover, who also goes by his musical stage name Childish Gambino, said, "I was just like, I don't know, 'I know this guy's good, I've already seen him work. I don't know if he thinks I'm gonna be too silly or whatever.'"
Ehrenreich responded by joking, "Yeah, that was a concern." The Atlanta star and creator said their first round of testing together went great. "It was a really good time that first improv," he told host Ellen DeGeneres. "We just started improvising scenes together and joking."
From that moment on, they formed a bond. However, Glover and the Beautiful Creatures actor don't agree on one thing — music. They have very different tastes.
"We listen to, I think, somewhat different stuff," Ehrenreich told DeGeneres. He also admitted he tried to impress Glover with his musical selection, because, well, that's what one does when it comes to a superstar like Childish Gambino. "I was always in the makeup trailer trying to figure out what would seem cool to play when he came in," Ehrenreich revealed before adding, "I never figured it out."
Unlike Glover, Ehrenreich prefers the Eagles, Bob Seger, and Bruce Springsteen. The former Community actor recalled one instance when his co-star tried to learn more about what music he likes. "One time I was coming to set and out of nowhere he just asked me, 'Do you listen to the Eagles?'" Glover told DeGenres. "And I was just like, 'No.' ... And then you turned to a group of guys and was like, 'See, I'm not cool.'"
Ehrenreich then further explained his Eagles question stemmed from an instance when he was on his way to set and all he could think about was Glover and music. "Well, I was in the car and I was like, 'Oh, Donald's behind us and we're blasting the Eagles,'" the Hail, Caesar! actor said. "But, yeah, so then the people I was in the car with were like, 'He's gonna like the Eagles.' I was like, 'He's not gonna like the Eagles.'"
They may not listen to the same music, but there's no denying the actors who are now part of the Star Wars universe have a friendship and sometimes a competitive one, at least when it comes to movie trivia, as Glover told E! News in May.
They also admire each other greatly. In an April interview with Fader, Ehrenreich praised Glover and said he learned a lot from him. "He's such an interesting guy, and just being around him and his point of view on the culture, it's great," the 28-year-old said.
He then went onto explain how different they are when it comes to the internet and social media. "I tend to be a bit of a hermit. A bit monkish," Ehrenreich admitted. "I like to tune out the context. Not only with something like this, but with anything. I don't have social media and I'm not, I guess, that adept at being on the internet."
He continued about Glover, "We have a very inverted way of approaching these things. He's just so tuned in to everything and he understands contemporary culture in such a specific way. And I think it animates him, to understand it all. It's almost like a puzzle to him. It's how to build things within that context."
It's safe to say Glover and Ehrenreich connected on many levels while filming Solo. Maybe one day they can even go to a concert together, but it probably won't be the Eagles (who, yes, still tour).