Andrew Garfield & This 'Jessica Jones' Star Can't Escape Romance Rumors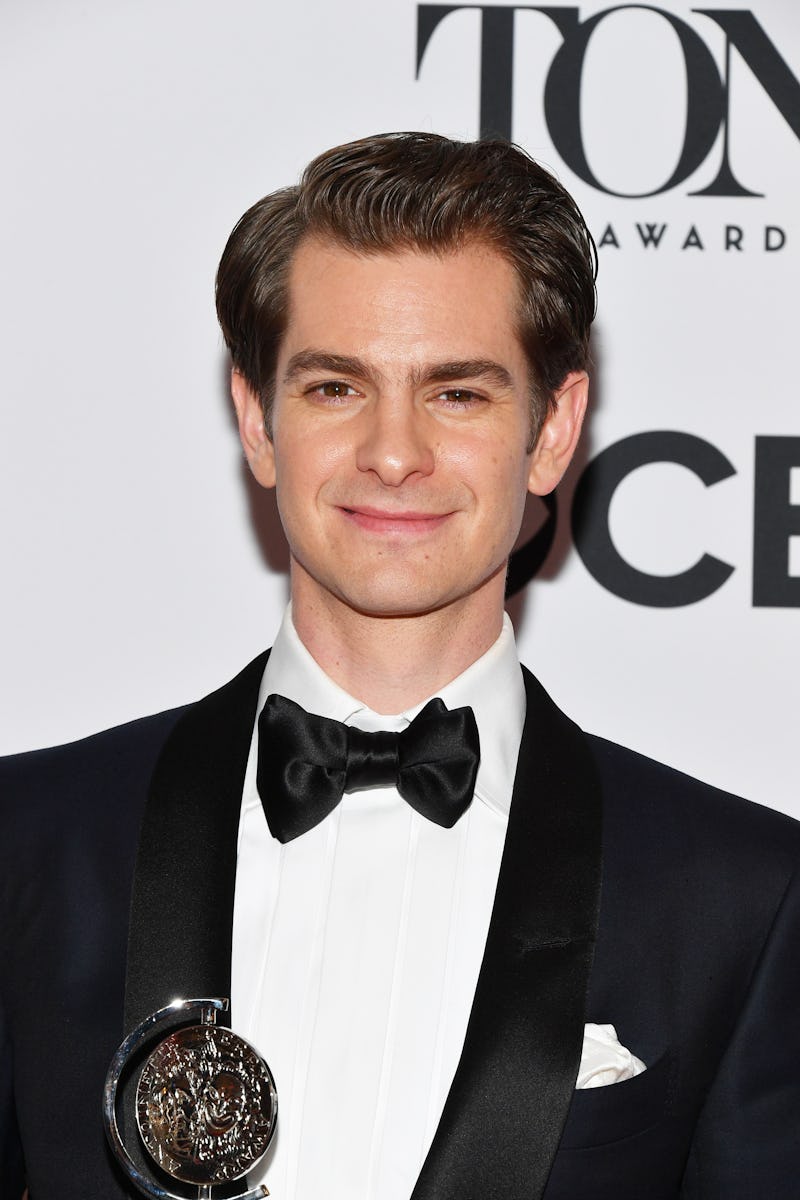 Dia Dipasupil/Getty Images Entertainment/Getty Images
It looks like a new celebrity romance might be brewing. According to Us Weekly, Andrew Garfield and Susie Abromeit are dating. Us reported romance rumors began after the two actors were reportedly seen kissing in Malibu, California. Bustle has reached out to both of their reps for comment, but did not receive an immediate response.
Garfield — known for his many roles, including The Amazing Spider-Man — and Abromeit — known for appearing as Pam in Jessica Jones Season 1 — were also reportedly spotted on Sept. 7 having a "romantic dinner" at Malibu's Inn of the Seventh Ray, a source claimed to Us Weekly.
The insider told the publication about Abromeit, "She had a certain level of glamour." The source also said they "they didn't see too much interaction" between the two.
If that isn't enough, the site also reported the Oscar-nominated actor and Abromeit were seen at Disneyland on Sept. 9. According to an onlooker, the rumored couple were seen by Thunder Mountain, one of the many roller coasters at the park. The source said, "They were laughing about something." They were also reportedly with two other individuals and they all appeared to be "having a fun day."
On Sept. 11, the Daily Mail also shared shared photos of Garfield and Abromeit together at Malibu beach. The website's images show the Hacksaw Ridge star and former Chicago Med actor recently kissing on the beach. This may or may not be the same beach kissing session Us reported about as well. It's unclear whether or not the actors knew they were being photographed. Either way, they couldn't keep their hands off each other.
Garfield is usually one to keep quiet about his personal life. He was super private even when he previously dated Emma Stone. The same can be said of Stone, who rarely spoke about Garfield when they were together. The two reportedly broke up in October 2015 after making their red carpet debut in 2012, according to Cosmopolitan.
In a June 2015 Wall Street Journal profile (via Harper's Bazaar), Stone said about Garfield, "See, I never talk about this stuff for this exact reason — because it's all so speculative and baseless. Once you start responding — once you're like, 'No, that's not true'—then they're like, 'Well, if we push enough, we'll get a comment, so let's see what else we can make up.'"
As Vogue's 2017 November cover star, Stone said Garfield is "someone I still love very much."
In January 2017, Garfield spoke about Stone with Vanity Fair's Little Gold Men podcast, "We care about each other so much, and that's a given, that's kind of this unconditional thing." He continued, "There's so much love between us and so much respect. … I'm her biggest fan as an artist. So for me, it's been bliss to be able to watch her success and watch her bloom into the actress that she is. And it's been wonderful to have that kind of support for each other. It's nothing but a beautiful thing."
It's probably safe to say that Garfield won't be discussing any new relationships, like he did when it came to Stone. If you want to know about Abromeit, well, you may be waiting a long time to hear about her from Garfield. He's just that type of guy. If or when he's ready to talk about his supposed new relationship, he'll most likely do it on his own terms.