Austen May Have Dated Shep's Ex On 'Southern Charm'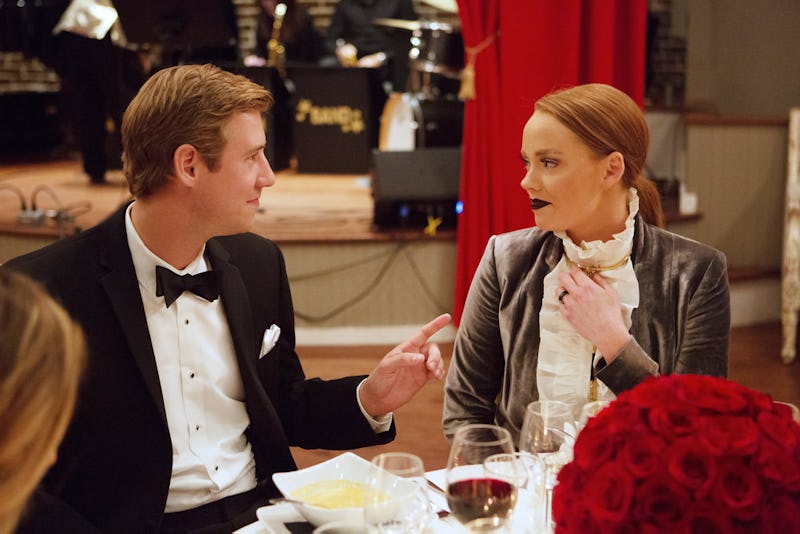 Paul Cheney/Bravo
In the very first season of Southern Charm, Cameran spoke about how the dating pool was very, very shallow in Charleston — to paraphrase, she said that if you were a woman above a certain age, pickings were slim, because most of the men in the town had Peter Pan Syndrome and didn't necessarily feel like growing up. Well, after watching for these many seasons, I can say that Cameran's testimony seems to be true. Pickings are so slim in Charleston that everyone seems to date the same six people. Or maybe that's just within Cameran and Shep's group of friends. Are Austen and Peyton dating on Southern Charm? Austen may have dipped into Shep's dating pool.
Austen hasn't been on Southern Charm long, but he and Shep are buds. In fact, Austen has been called a younger version of Shep, and they love many of the same things — women, beer, and generally doing nothing but having a good time. Shep gets that mailbox money delivered so that he can live a life of leisure, and Austen recently quit his job as a beer rep so that he could "figure out" what he wanted to do. What they're now doing, both of them, is hanging out and drinking, bolstered by the show.
If they like all the same things, it's no surprise that they have the same taste in women. Case in point? In a preview for the next episode of Southern Charm (airing April 26), Shep says something about Austen going on a date with Peyton, one of the runners-up on Shep's dating spinoff, RelationSHEP. Say what?
Well, from the looks of it, Austen and Peyton are not dating even if they did go out once. Peyton's Instagram is not public, but Austen's features no photos of them together — or her at all — and actually has who I assume is Austen's new girlfriend in many of them. She's Madison, not Peyton.
So, while Austen and Peyton may not be an item, it doesn't mean that she's not hanging out with Austen and his boys. When wrapping up RelationSHEP, Shep did an interview on The Morning Breath where he revealed that viewers of his show would be seeing a familiar face on Southern Charm. "It's funny because a girl on RelationSHEP actually moved to Charleston and she's a little bit on this season, too" he said. She gets involved in – I don't want to reveal it, but you'll be like 'Oh I remember her' and you'll put two and two together." Peyton's Instagram bio (which you can see) says she's back on the East Coast (she lived in L.A. before this), and her Twitter bio says she's back in the South. So, given my extreme powers of deduction, Peyton is indeed in Charleston, even if she's not dating Shep or any of his friends.
This is for the best, because Shep and his friends have a record of extreme inter-dating within their group. First, Craig was dating Naomi, and Shep hit on Naomi. And Kathryn has history with a couple of men from the group. Then Austen started dating Chelsea, and later Shep tried to kiss her. Are there so few women in Charleston that everyone has to run for the same one like it's an episode of Survivor?
Fortunately, Austen seems happy with his new lady, Shep is perpetually single, and Peyton could just be one of the gals in their friend group. I would hope that everything stays as calm as this, but on Southern Charm, the gentility is just on the surface — it all blows up eventually. But at least we'll have Peyton to bring a little more life to the group.