Something BIG Happened Between Arie & Becca After 'The Bachelor' — Here's What We Know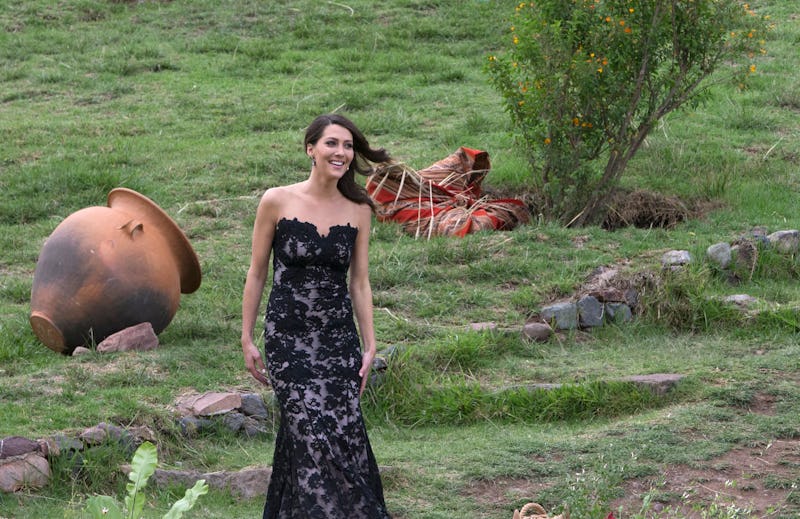 WARNING: Bachelor spoilers ahead. The Bachelor finale for this season has been hyped up more than any other one in the franchise's history and that is because there have been several reports of a surprise ending. No matter what the specific details are, when it comes down to it, people want to know who the Bachelor ends up with. Is Becca engaged to Arie after The Bachelor?
For anyone shipping this relationship, it's not looking good. For those who want Becca to end up with literally anyone else, rejoice because she's a catch and she appears to be single.
Even the people who go out of their way to avoid spoilers probably had a hard time doing so this season. Aside from the usual Reality Steve revelations, mainstream media sources stared reporting a controversial ending after a couple months after Steve's report came out: Arie called off an engagement to the "winner", so he could date his runner-up. Us Weekly reported that a "show insider" revealed "Arie had a change of heart," and even said, "He began to think he'd picked the safer option." The source explained, "Post-split, he flew to the runner-up's hometown to explain himself — with ABC's cameras in tow."
Even without spoilers about a broken engagement, there have been plenty of signs that Becca and Arie are not engaged at this time. But first, we have to look at the fact that Becca and Arie did get engaged in Peru. This means that she is the "winner", who got switched out for the runner-up.
Hulu accidentally posted a video to support tourism in Peru with footage from the finale and it included the proposal. Oops. The video is now gone, of course, but it lives on in screen shots. On top of that, someone managed to nab the Hulu video from the proposal and put it on YouTube.
Moving back to the wildly publicized ending, Becca hinted at her own heartbreak via Instagram story in January. She shared a photo of herself kissing her cat with the caption "At least she still loves me." That is beyond heartbreaking. Given the spoiler, it is safe to assume that she was referring to Arie going back on that proposal and ending their relationship.
Becca also shared a photo of wilting bouquet of flowers with the caption "mood." Maybe those were from Arie? Or maybe they weren't even Becca's flowers and the way they looked was just very applicable to her situation?
There's even more evidence that makes it safe to conclude that Becca is not engaged to Arie currently. During the Women Tell All special, Caroline Lunny confronted Arie, and said, "I know what you did, and I don't know how you could do that. And I just really don't understand, but I really hope you found what you're looking for."
This makes sense because Caroline has been very vocal about her close friendship with Becca on social media and in interviews. She has not posted anything about a friendship with Lauren this whole season. So, if Caroline was going to be angry on anyone's behalf when it comes to the final two women, it has to be Becca. She has to be in the know when it comes to Arie's change of heart since her own close friend had to be devastated.
In an interview with Us Weekly, Caroline continued her Arie bashing when she said, "I think we all want to have that moment where we're like, 'Hey, you f*cked over my friend, f*ck you." And that's the nail in the coffin. There's no way that Becca's close friend would be going out of the way to say things like this about Arie if Becca and Arie were currently engaged.
So, while Becca and Arie were engaged after The Bachelor, sadly she got her heart broken after that. Thankfully, she is beloved by Bachelor fans, her fellow cast members, and the people who have always been in her life. There's no doubt that she will have an overwhelming amount of support once this all officially comes to light. And there's always a hope that she will end up calling the shots herself as the next star of The Bachelorette.