Fans Are Convinced These Clues Mean Beyonce & Kelly Are Working On New Music Together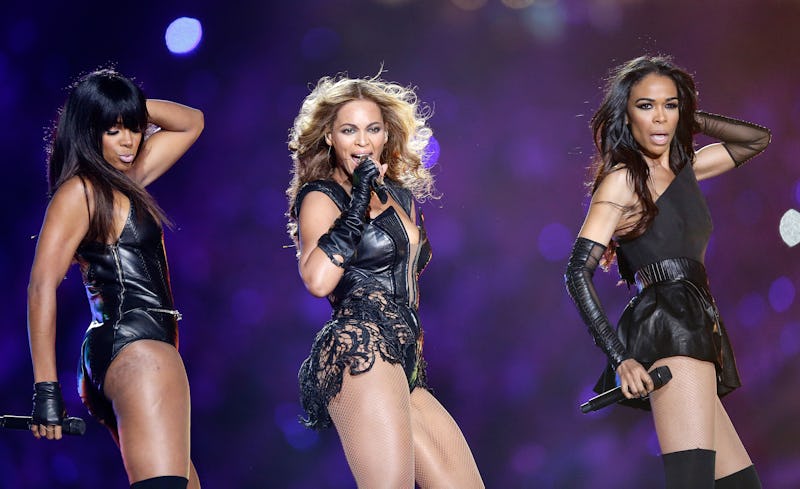 Ezra Shaw/Getty Images Sport/Getty Images
I don't think you're ready for this rumor of a possible Beyoncé and Kelly Rowland collaboration. It seems that the former Destiny's Child besties might be working on a new project together. That is, if you believe the clues the Beyhive is buzzing about that all lead back to a rose. (Bustle has reached out to Beyoncé and Rowland's reps for confirmation about a possible collaboration, and Rowland's publicist had no comment.)
On Tuesday, Oct. 16, Complex reported that a mysterious Instagram account with the name @roseivyou popped up. The account featured snippets of songs, the first of which features a singer that sounds a whole lot like Beyoncé. The caption for the video, which featured a rose in fast-motion bloom, didn't give much away: "Rose IV You." But, it was enough to get fans wondering whether this was a tease for a new song or even an album from Beyoncé and Rowland.
It didn't hurt that the account, at first, only followed Bey, Rowland, and Tidal. Later, it would follow Nicki Minaj and Netflix, perhaps a clue of who else might appear on this project and where it could possibly debut. After all, Bey loves herself a good visual album.
Soon, the @roseivyou account posted another image with Roman numerals written out like, "I.IV," which some guessed was a date. Specifically, the date which this possible Beyoncé and Rowland project could be out: January 4, 2019.
A final post featured an instrumental playing over the word "You" only to flash that same rose, which had some fans guessing that this teasing an album called, A Rose For You. A sign that Beyoncé is heavily involved in whatever this is? An Instagram account dedicated to Bey and Jay-Z's joint album Everything Is Lovefrom earlier this year also reposted this video. Earlier this month, that same account posted a pink rose that isn't featured on the @roseivyou account. Interesting, no?
While some fans are already questioning the validity of this "rose" snippet — some say it's just old vocals from Bey's song "Grown Woman" — other fans were just pleading with Bey and Rowland to give them some answers. "Please this is bad for my blood pressure!!!!!" one fan wrote basically summing up how everyone's feeling right now.
Right now might be the time to take some deep meditative breaths because this Instagram post led fans to reevaluate everything Bey and Rowland had posted in the last few months looking for more clues. No surprise they found them.
Last week, Rowland posted a video of her singing along to what sounded like a new song of hers. The lyrics? "Back up off of me/Back up off of me/Rose petals at my feet." That little wink Rowland gives also can't be ignored. Neither can the rumors that this might all be a way of teasing a new record from Rowland — her last, Talk a Good Game, came out in in 2013 — that Bey is featured on, or, maybe even produced? A girl can dream right?
Another sign these two could be working on something? The fact that Beyoncé posted a photo of her and Rowland together at the City Of Hope gala in Los Angeles over the weekend. And what is Beyoncé wearing? None other than a dress with what looks to be a rose on it. Not to mention, Rowland seems to be wearing a rose gold gown. Perhaps, both of those clues are a stretch, but at this point anything these two do, say, or wear is possible evidence and will be treated as such. Never forget the photos of lemons that Beyoncé posted before Lemonade dropped.
W Magazine pointed out that on Oct. 6 one Twitter user named @LourdeChilds made note of all the rose imagery Beyoncé has been posting. "B7 is coming," the fan predicted. "Beyoncé's whole team has been teasing flowers recently. Beyonce has the rose on her website, one of her dancers posted a rose on her story, and Ashley has a sweater with a rose on it in her story." Only to tweet later, "It's happening."
If it really is happening, no one is expecting Bey to ruin the surprise of whatever this may be. That's why fans will just have to keep a close eye on Instagram for more clues. Oh, and maybe re-up that TIDAL subscription, just incase.