Are Blac Chyna and Rob Kardashian Back Together? Here's What We Know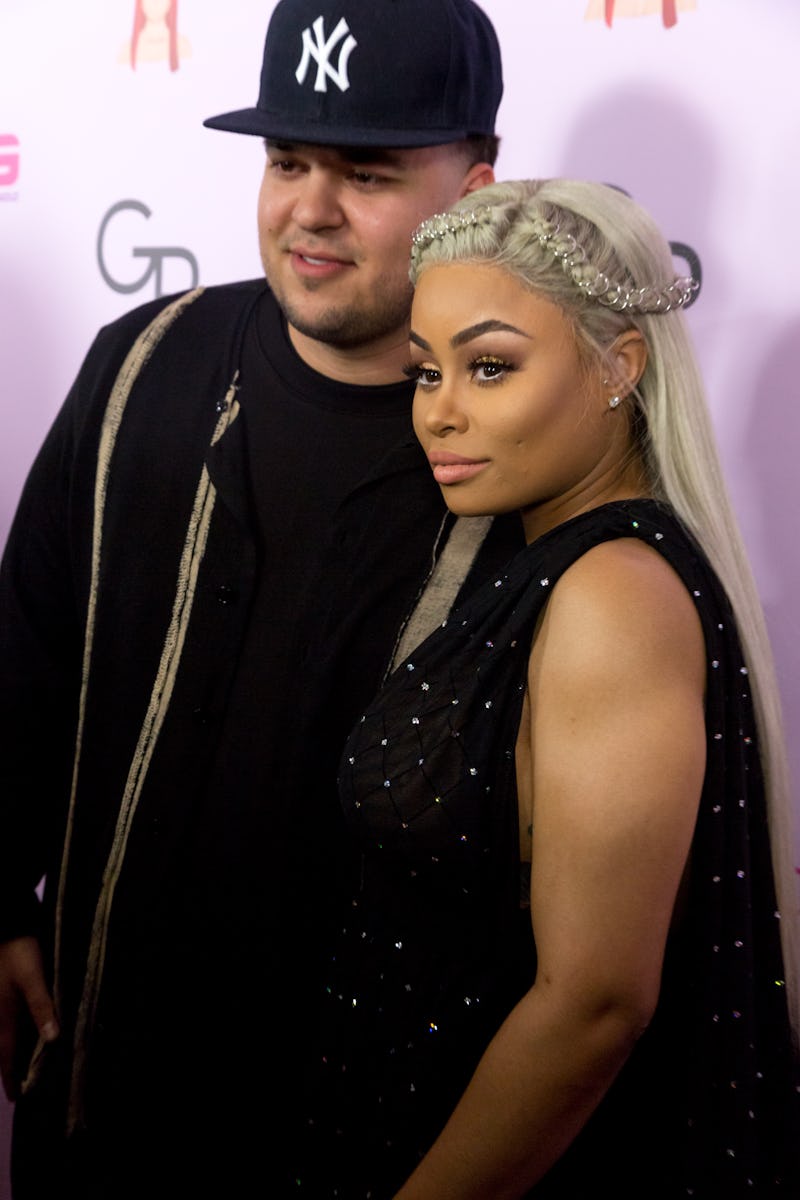 Greg Doherty/Getty Images Entertainment/Getty Images
Following a series of Instagram posts and Snapchat videos uploaded by the two over the weekend, the status of Blac Chyna and Rob Kardashian's relationship has been unclear. No amount of empty nurseries, impassioned pleas, or apologizes have been able to clarify whether or not Kardashian and Blac Chyna are back together, but, of course, reports and rumors about the couple continue to come out.
The latest news from E! comes from a source claiming the on-again, off-again couple had a physical altercation before Chyna moved herself and her children, Dream and King Cairo, out of her home with Kardashian. A source claimed to the entertainment site that Chyna allegedly drunkenly punched Kardashian "in his back and arms" until Kris Jenner's boyfriend, Corey Gamble, walked in on their fight and broke them up. (Bustle has reached out to reps for Chyna and Kardashian, but did not receive a response at the time of publication.)
Previous to this, over the weekend and into Monday, Kardashian and Chyna's drama continued to play out on social media. While Kardashian kept Snapchatters captive opining over his empty nest, Chyna allegedly took to Instagram in a since-deleted tweet to publicly declare that she was "done" with the relationship:
I'M DONE ! This entire year I have done nothing but help Rob! It's so SAD & PATHETIC how low he'd stoop to cover up HIS PERSONAL ISSUES! I have done nothing but help & loved him from the beginning! It's Chy here I got my own!!!
But her alleged declaration didn't stop Kardashian from posting photos of their daughter and begging for her to come home.
Chyna's mother, Tokyo Toni, allegedly commented on Instagram that she believes Kardashian suffers from "personal issues," but the alleged Instagram comment from Toni posted by The Shade Room seemed optimistic for the future of the couple. "At the end of the day, they will still be together, I promise you. Rob just have to get Mr. Insecure off of his back!" she allegedly wrote. (Bustle has reached out to Toni for comment, but has not yet received a response.)
From the looks of it, Kardashian is making strides to salvage the relationship. He apologized to Chyna via Instagram on Monday and promised to get better for the sake of Dream.
This weekend I was in an emotional bad place and did some things that embarrassed myself and my family. I apologize and I'm seeking help to deal with my flaws/issues. Please pray for me and I'm sorry @blacchyna. You are a great mother to our child and I love you.
As for Chyna and Kardashian's relationship status, a source close to the couple told E! News, they are working things out:
"Everything is fine between them now. Rob has promised to get some help for self-esteem and jealousy issues. They are both committed to making this work. Ultimately, they both love one another. As for whether they will last, who knows? But they're both going to try."
Clearly, a lot has happened over the past couples of days, including a lot of unconfirmed claims, so it will be hard to know if these two are back together until they say so themselves. For now, don't be surprised if even more reports come out.