Bonner & Sharna Could End Up Dating During 'DWTS'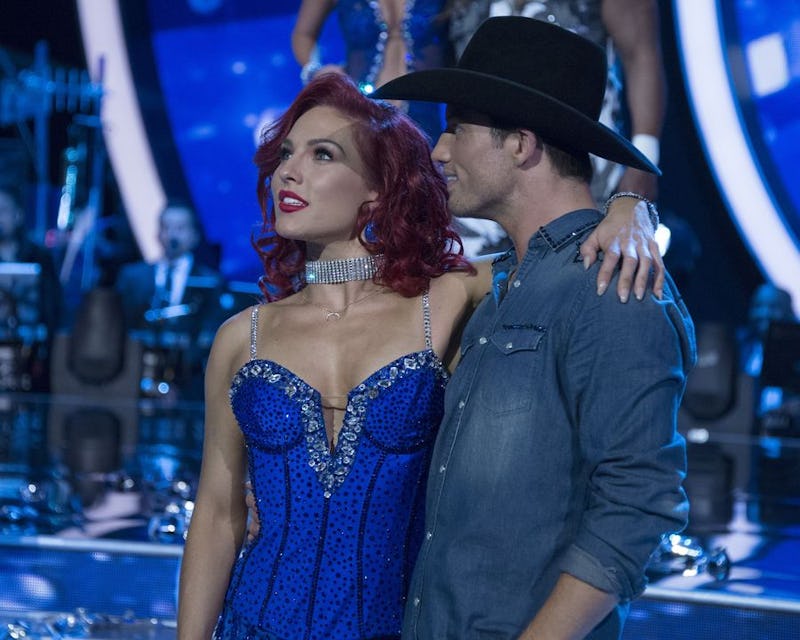 Eric McCandless/ABC
There are always one or two partnerships on every season on Dancing With The Stars that involve rumors of romance, and I totally get it — the stars and their professional dancing partners are usually very attractive people, and they're spending like 100 hours a week together working in very, very close quarters. Sharna Burgess and Bonner Bolton are hot hot hot, and, if their first dance is any indication, they have some serious chemistry. But, are Bonner and Sharna dating during Dancing With The Stars?
The first week of Dancing With The Stars is uh, never that great, but Bonner and Sharna really whipped things into shape. Since Bonner is a professional bull rider, Sharna chose a cowboy-themed dance for his first (obvious call, but OK), and these two will never look back. I almost had to take a shower after I watched their dance because those two are pretty much electric when they're on the dance floor together. That being said, Bonner has vehemently denied that he's involved with Sharna or anybody else, for that matter. In an interview with Entertainment Tonight, Bonner said that he is "100 percent single" and "fully available." Burgess also admitted her single status to the outlet, saying, "I'm not [dating anyone either]. I am absolutely single." Burgess also said that the competition was her and Bonner's biggest priority.
"We have a great chemistry getting to know each other, but obviously we're three weeks into this thing of having met each other on his ranch and we're having a lot a lot of fun. But our priorities obviously are getting Bonner through this competition as far as he can possibly go. So in the mean time, we're having a lot of fun getting to know each other and we do have great chemistry."
That's all well and good, but I'm thinking that the lady and Bonner doth protest too much. The constant talk of "I'm single, he's single, we're not together" is a little too much for my taste. A short "we're not together and we're just here to dance" would suffice. I mean, later, Bonner said of Sharna, "She's really good to get along with. We actually have a lot in common. I think our personalities are real similar, but that can make it kind of challenging to sometimes."
Let's look at the facts here. So they're both admitting that they have great chemistry, get along really well, like spending time together, and aren't dating anyone outside of Dancing With The Stars. While I don't think it's wise to date your Dancing With The Stars partner — it would be so awkward to have a breakup and have a miserable dancing season — I think that these two are on the fast track to Loverville, party of two. Sharna and Bonner may not be dating right now, but they could be together by the end of the season.