Caroline Flack Might Be Back With Her Ex But It's Still None Of Your Business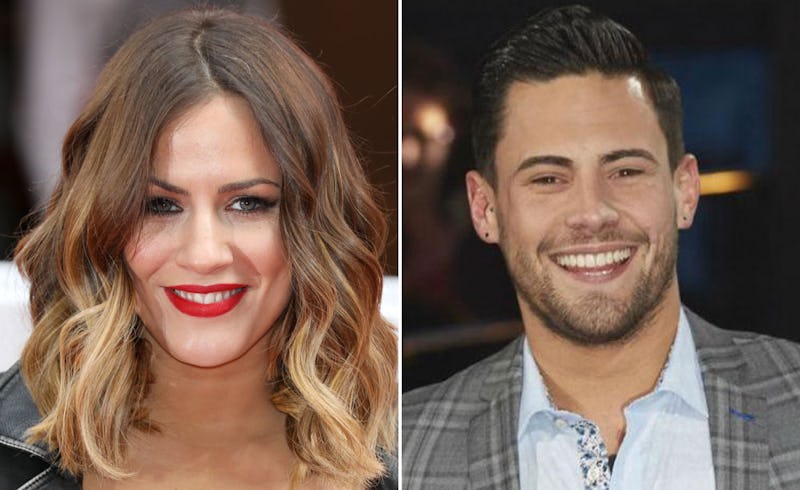 Tim P. Whitby/Getty Images Entertainment/Getty Images/Channel 5
It's been nearly a month since the couple split. But now, people are wondering whether Caroline Flack and Andrew Brady are getting back together, thanks to the rumour mill and some cryptic Instagram posts recently uploaded by Brady. The last two pics he published (which were so adorable) showed him posing with her French Bulldog Ruby, calling her his "daughter" and "baby kangaroo". So how did get access to the pooch?
Well, it turns out, the pup is actually jointly owned by Brady and Flack — the couple welcomed Ruby to the family on June 8. According to The Sun, the couple have agreed to share custody of the pooch, following their break-up.
Getting custody of a family pet is actually a bigger problem than you may think. Solicitor Deborah Baker explained to MailOnline how detrimental relationship breakdowns can be when it comes to deciding on who will be keeping the pet. "The Dogs Trust conducted a survey which found out that a quarter of all couples divorcing or separating believe that their dog would be the most important thing for them if they split up," she told the website.
However, according to The Sun, little Ruby may very well be back in the custody of both of her parents. The paper claims that the pair are trying to give their relationship another go and that she is even wearing her engagement ring again, albeit on the other hand.
A source told the tabloid: "He's been back at the house they previously shared and they're slowly working through things. Nothing is set in stone, but it looks as though things are getting back on track. All any of her friends wants is for her to be happy, whatever that involves."
I reached out to both parties about the possibility of a reconciliation. A rep for Flack tells me: "We don't comment on private life." And to be honest, he makes a good point. Why are so many people obsessed with every detail of her love life? Shouldn't we all just cut her some slack?
During an interview with Ponystep Magazine, Flack admitted she understood the interest in her relationship status. She said: "I have this real conflict of my love life being constantly talked about, but at the same time, that's my job, to talk about other people's love lives. I can't really moan about it. I see the fascination."
While Flack has chosen to keep the exact details of the break-up private, which she is well within her right to do, Brady has been slightly more vocal. On Sunday, he posted a lengthy statement to Twitter and Instagram, hinting he is far from over the split.
"Since our relationship began we have been under constant scrutiny," he wrote. "Our friends and family have had to endure the lies printed in the media that have affected us deeply and ultimately played a role in the breakdown of our relationship."
Clearly he's not happy with the way everything ended. So could a reconciliation be on the cards? Well, possibly, but to be honest, it's not really any of our business.
All the best you two, whatever you decide to do.