'Bachelor Winter Games' Stars Courtney & Lily Just Gave An Adorable Relationship Update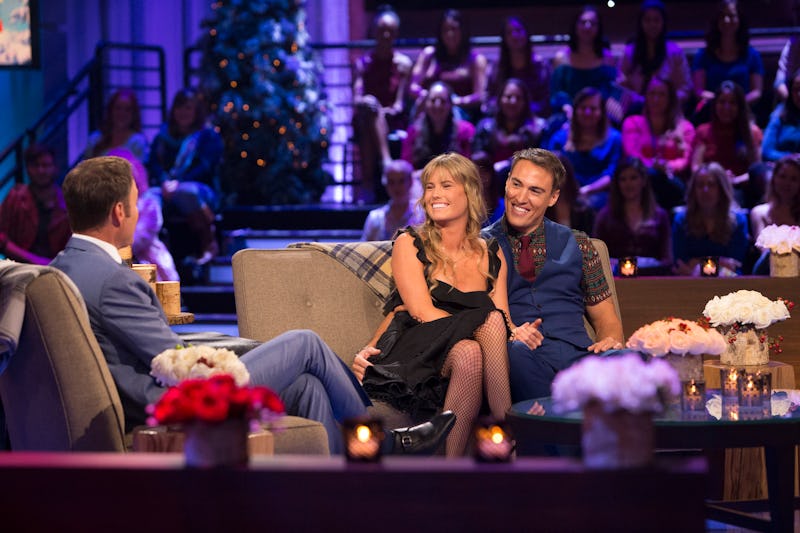 ABC/Paul Hebert
Courtney Dober and Lily McManus are exactly as chill as you think they are. They're the last couple standing after this year's Bachelor Winter Games, but they don't sweat that statistic — they've spent the time since filming wrapped traveling, enjoying each other's company, and cultivating a proper relationship, expanding on the foundations formed while cameras were rolling. Speaking over the phone to Bustle in two separate interviews, Bachelor Nation stars Courtney and Lily share the secrets to staying together after the show — and every show couple is going to want listen up for this.
Since filming wrapped, the duo has trekked across the country in an RV, documenting the entire thing on video, headed back home to New Zealand and Australia, and eventually made their way back to the States. They've since relocated to the Los Angeles area, but they've made a conscious effort to maintain the boundaries that any new relationship tends to have.
"I'm in West Hollywood, she's in Santa Monica, which is a decision we both made — that we weren't going to jump into it and just start living together [after Winter Games]," Courtney says. "I think that would probably be a bit of a silly move on both of our parts, and fortunately we were both on the same page with that. I think it's pretty evident in these kind of relationships that you do need to almost take a step back into the real world, and put everything into reverse."
Lily echoes his sentiments, saying that they were never in the Bachelor experience for TV — they wanted something real, and now that they have it, they're not going to put too much pressure on it to move too quickly. "I think we kind of both are very normal people, so I think we just really wanted to start again and have that normal relationship. So, we've been just kind of doing that. We like road trips and driving around and not really having any direction, so we've been doing a lot of that. [Courtney] was actually just here this morning. He bet me I couldn't swallow a whole grape, and I did, and I almost died," Lily says with a laugh. "That's a good summary of what's been going down."
"I think that's what's kept us going — being realistic and being like 'Yeah, it feels like we've known each other for years, but we shouldn't move in yet,'" Lily continues. "We've really only known each other for four months, so let's just relax and enjoy it for what it is, you know?"
Courtney brings up the fact that many of the couples who threw themselves into heavy commitment after appearing on Winter Games and the Bachelor franchise as a whole are American. "I think the Americans definitely do it in a far different way," he says, noting that he thinks people from his and Lily's home countries tend to be more relaxed about those types of things. "I don't think they're as grounded — this is not speaking generally about Americans — but I just think that on the show and stuff, I think they put a lot of pressure on their relationships."
Lily says that even if they are the only couple remaining from Winter Games, she thinks that's still a pretty good outcome for a group of nearly total strangers. "I mean, [on] these shows, you don't know the person, you spend a limited amount of time with them, and you're just expected to kind of know," she says. "And I think the odds are just really slim. I think for me and Court, those slim odds were just there. It's probably the only time in my life it's going to happen that easily, but it happened."
It's clear from speaking with both of them that they truly are the laid-back, "go with the flow" kind of people they were made out to be on Bachelor Winter Games, and they look back fondly on their time on the show. They both say that the fan response to their relationship has been nothing but positive. Courtney says he thinks fans realized that he and Lily were simply along for the ride. "I think what you saw on the show was everyone else sort of pouring their hearts out in this emotional manner, and then you'd cut to Lily and I who were like, 'Let's drink beer from a shoe!'" he says with a laugh. "I think the fans of the show sort of respected that."
Lily says people come up to them on the street or comment on their social media saying that they seemed like the most genuine couple on the show, and she appreciates that kind of support. "It's really, really sweet, because we like to think that we're genuine, and it's nice that that comes across," she says.
Courtney and Lily have been officially finished with Winter Games for a while now, but they've got plenty more adventures up their sleeves. Courtney teases that he and Lily are headed to Japan for another RV trip that he plans to make into a web series for their YouTube channel, and aside from big, planned outings like that, he says every day with Lily is an adventure.
"We're in a new country. We're always experiencing new things. We do do the touristy stuff. We've been riding down in Venice and around Santa Monica," he says. "We're sort of exploring America and Los Angeles. We're just here, having fun, and we'll see how long our bank accounts last, but the relationship itself is very strong." This all goes to show that even if a couple's time on a Bachelor season doesn't end with an extravagant gesture like an engagement ring, that doesn't mean the relationship is any less successful. As the last couple standing post-Winter Games, a show that saw several ill-fated proposals at its reunion, Courtney and Lily know that better than anyone.