This News About Dani & Jack Being Engaged Didn't End The Way I Expected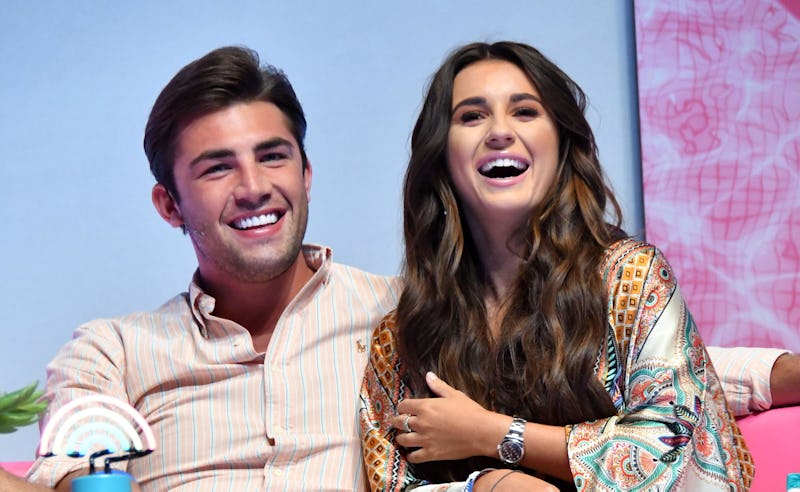 Nils Jorgensen/Shutterstock
Well, here's a roller coaster of emotion to start off your morning. Everybody's fave Love Island 2018 couple have announced a major development that had me nearly in tears — for a good reason, this time. Dani Dyer teased an engagement to Jack Fincham when she posted an image of herself wearing a ring to her Instagram stories, which instantly made headlines. HOWEVER, sadly the engagement isn't real. It turns out she pulled a fast one on us, as it was revealed that Capital FM were the masterminds behind a Dani Dyer engagement ring prank.
During an interview with Roman Kemp on Capital Breakfast, a viewer rang the show and dared Dani to prank her Instagram following by making a fake engagement announcement. Dani's never one not to play ball and she actually did it — which quickly sent the internet and my little heart into a frenzy.
Dani posted a picture to her Instagram stories of what appears to be her hand placed over Jack's — flashing an engagement ring. Her caption left no room for doubt though as she wrote, "I SAID YES! my soulmate."
It was also accompanied by a few emojis, because when a life-altering event like this happens only a couple of monkey emojis can do it justice.
As we know now though, Jack wasn't even at the interview. In fact, according to Capital, Jack was "fast asleep" when the prank happened. Safe to say, he'll be in for a major surprise this morning when he wakes up.
The pair were always everybody's favourites on the ITV show and from the moment they got together, they really resonated with viewers because they truly just seemed to be head over heels in love with one another. Unlike many in their cycle of Love Island, Dani and Jack have solidly forged ahead and proved that it's actually possible to find real romance on a reality TV show. Even before they'd left the villa, Jack had already asked her to move in with him and just weeks after the show wrapped up — they made things official.
He revealed on Instagram stories that they had moved into a gorgeous flat with a view over London and told Charlie Sloth on Radio 1 that they were "getting a nice little gaff near Canary Wharf way."
TBH can you blame anybody for believing the engagement ring prank? Dani and Jack are a couple that definitely go at full speed.
Honestly, there was a good twenty minutes this morning where I well and truly thought they were engaged. (I also just wanted more than anything for the news to be real, TBH.)
Jack hasn't posted anything about the fake engagement yet, but I reached out to his rep, who told me the pair are "very very much together." He added: "A prank Dani pulled this morning on Capital breakfast was of course fake — nothing else to report on that." That said, Jack has said before that they're definitely going to get hitched — further down the line, anyway.
He told The Sun, "We're getting married next year, 100 percent. Like my mum said to me so many times, 'When you know about someone, you just know.' And now I know what she's talking about. I just know that's what we want to do."
Even if this isn't the proposal he had planned, there's no doubt we're probably going to see one pretty soon. 2019's just a few months away now.