Kristina & Dean Are 'Bachelor' Nation's New Obsession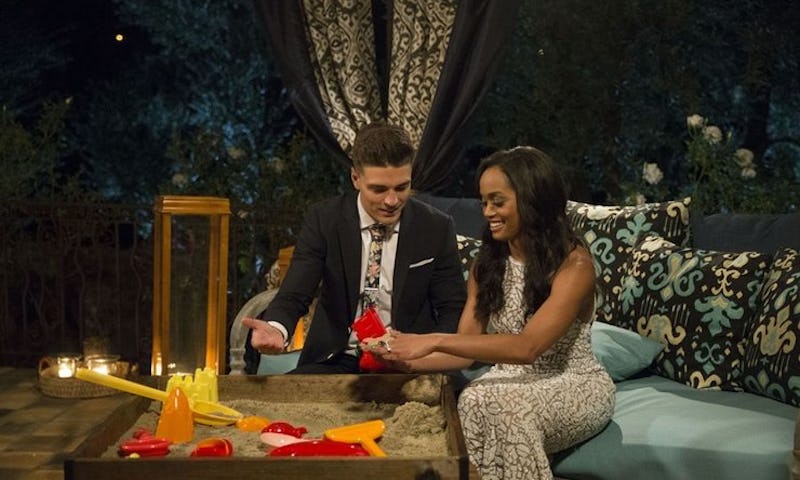 ABC
Though Rachel and Dean appeared to be building a pretty strong connection on The Bachelorette this week, it looks like things may be heating up between Dean and another person as well: former Bachelor contestant Kristina Schulman. On Monday, rumors that Dean and Kristina might currently be dating began to fly, and Bachelor fans can't seem to get enough of the idea.
It all started with a tweet. Kristina was live-tweeting Monday night's episode of The Bachelorette in which Rachel and Dean went on a pretty intense one-on-one date. Dean took his alone time with Rachel as an opportunity to open up to her about losing his mother to breast cancer when he was just a teenager. Later on, Rachel brought up Dean's age, a topic that the other men in the house can't seem to let slip since Dean is 25 and Rachel is 32. Kristina responded to this bit with a cryptic tweet about his maturity. "Age does not define maturity or life obstacles, much respect #theBachelorette," she wrote.
Obviously, one general tweet isn't the key that will reveal whether or not the two of them are dating. But, according to Elite Daily, the official Bachelorette Twitter account posted a silly gif of Dean later on in the night, and Kristina favorited it. Again, this confirms nothing, but you know how the internet works. Once other Bachelorette fans took note of this, it didn't take long at all for them to start shipping Dean and Kristina.
Again, all of these are just rumors that obviously have yet to be confirmed by Dean and Kristina themselves. They both appear to have a bit in common given that they've now both spent some time on reality television, but the internet might just be looking a little too far into this. Either way, it's still too early to tell what the future holds for Rachel and Dean, let alone Kristina and Dean.