Here's The Current Status Of Dorit & Teddi's 'Real Housewives' Feud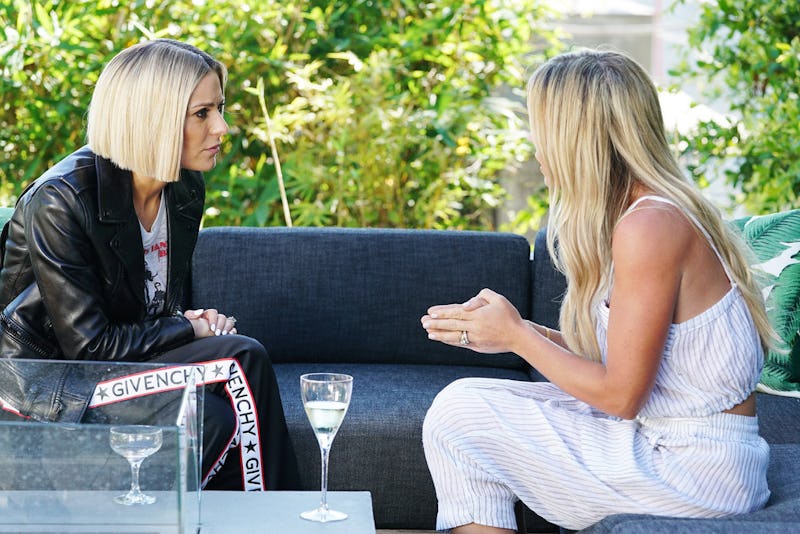 Nicole Weingart/Bravo
Friendships have ended over more trivial things, but the feud between Dorit and Teddi on The Real Housewives Of Beverly Hills started with something little - Dorit being very, very late for a get-together with Teddi. (This is understandable, because nothing can enrage planners like people who don't stick to their own schedules, even if you have plans with them.) But what could have been smoothed over with a big "I'm sorry, I'll never do it again" has snowballed into something bigger. Are Dorit and Teddi friends after RHOBH?
The fight all started because Teddi and Dorit were supposed to meet for a drink and, 45 minutes after the scheduled time to meet, Dorit phoned Teddi to tell her that she would be on her way soon. That didn't fly with Teddi, and to be honest, it wouldn't fly with me either. People who are late all the time are just not respectful of your time, and that was Teddi's argument. Dorit later dug herself in deeper by squawking about how she was served champagne in the wrong glass at a party Teddi threw at her house. It is apparently a war crime to have something bubbly served to you in the incorrect glass.
The most well-mannered people are the people who make their guests and peers most at ease — manners are about making people feel comfortable. In that regard, Dorit is pretty poorly mannered, considering she made Teddi feel insecure not once, but twice. All Dorit needed to do was apologize (for the lateness) and not say anything (about the glass), and she couldn't do that. She couldn't accept blame, and considering that Teddi is an accountability coach, she was not having Dorit's attitude.
It ended with Dorit telling Teddi that she was "psycho." Yikes. But the episodes were filmed so long ago that Teddi and Dorit could have very well made up since the cameras were turned off. If social media can be taken seriously (the jury is still out on that one), Teddi and Dorit… do not seem to have buried their hatchets. They're not talking about each other in the press or anything, but there's nothing on Dorit's Instagram about Teddi. Instead, her feed is mostly about her new swimwear line and her super-sweet kids (which is really all Instagram should be for, anyway). There are some friends there, namely Kyle Richards. But no Teddi sightings.
Teddi's Instagram is very similar — it's work, and it's family, and it's a few pals, like Lisa Vanderpump and Kyle Richards. I guess Kyle makes it work to be friends with both ladies, even though they still seem to be feuding, or at least avoiding one another.
Teddi is a new addition to the Real Housewives franchise, and she's still trying to figure it all out. In a recent interview with Entertainment Tonight, Teddi said, "There's highs and lows. But isn't that life? I'm learning a lot about myself. I get very in my head ... it plays out on camera. When people are talking, you can see me actually processing what they're saying and I'm like, 'Oh my gosh! Stop making those faces, Teddi! What are you doing? They can see you making those faces.'"
But Teddi seems to be adjusting to this new experience well. "There's such a big dynamic of strong women in this group that no matter what, whether you like it or not, you're learning something from somebody," she told ET. "I hadn't watched the show prior to joining the group … I really had no idea what to expect. I went in with zero expectations. And I think some of the women were so welcoming and fun. And I don't know that I expected that."
The Real Housewives Of Beverly Hills has been a learning curve for Teddi, but as long as she has pals like Lisa Vanderpump and Kyle Richards, she won't have to worry about not getting along with Dorit. Bygones and all that.