Don't Lose Hope About A 'Drake & Josh' Reunion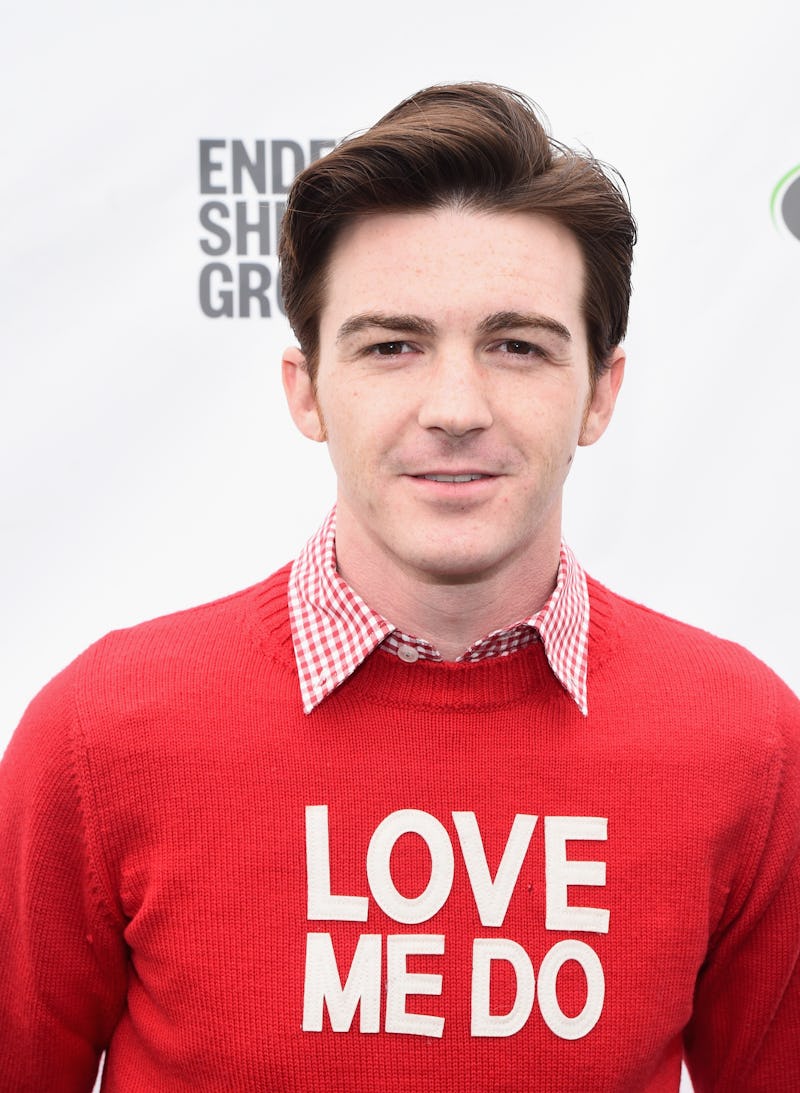 Michael Buckner/Getty Images Entertainment/Getty Images
From Charmed to Full House to Gilmore Girls, it feels like every show that '90s kids grew up watching is making a comeback. And nope, I'm not complaining one bit. If you've been sitting around, twiddling your thumbs and hoping for a reunion of a certain Nickelodeon series (ahem, Drake & Josh), I've got a glimmer of hope to keep your dreams alive. When speaking to Drake Bell over the phone — in his pajamas, he mentions — the actor talks fondly of his time on the series. After I ask if Bell would ever be up for a Drake & Josh reunion, he doesn't miss a beat, telling Bustle, "110 percent. Absolutely."
It may be nearly a decade since the show ended, but Bell still has a knack for playing rebellious characters on screen. For his latest role, he stars in Bad Kids of Crestview Academy, hitting theaters Friday, Jan. 13. The movie is based on the graphic novel Bad Kids Go To Hell, and the 30-year-old admits his character Ben is unlike any role he's played before — including being more "crass" and "perverted" than the actor is IRL. (An entirely accurate description, considering Ben's nickname in the movie is the "Naked Wizard." Yes, really.) Yet Drake & Josh still ties in; Bad Kids' lead character, Siouxsie, is played by Sammi Hanratty, who Bell recalls appeared in an episode of Drake & Josh, when she was just a kid in 2005. Very full-circle, huh?
After I ask if he intentionally chooses more mature roles nowadays, Bell says he's not conscious of it. Instead, if he "digs" a role, he goes with it. He also acknowledges that Drake & Josh doesn't have a set fan base, meaning it wasn't just for kids. "It's more of a Full House," he explains. "I get people who are 6 years old, who weren't even alive when the show came out. Then I get people who are college kids or older people. There really is no certain demographic for the show. It's loved by everyone."
Not only did the show factor into the adolescence of many '90s babies (myself included), but it was part of Bell's formative years as well. Speaking of his closeness with the Nickelodeon cast, he says, "Josh [Peck] and I talk all the time. Miranda [Cosgrove]. Everyone from Drake & Josh, we're like a family." Since he and Peck starred on The Amanda Show before getting their spin-off, they've been pals forever. "We've been together since we were 12 years old," Bell says. "It would be kind of weird being together from 12 to 22 or 23 — whenever we finished — and being like, 'OK, cool, see you later.'"
As for where Bell thinks the characters would be today, he leaves the door wide open. "The great thing about the Drake & Josh universe is that they could be anywhere," he says. Still, he proceeds to list off some plot possibilities. "Drake could have gone on tour, became a success. Josh could've gone along with him and helped manage his career," Bell offers. "Josh could've gone off and gone to college, he could've done something and moved to New York now." As he points out, the TV show's plot ranged from "completely outlandish" to "completely practical," which means, "honestly, it could go anywhere."
If you weren't sure whether the fan base is still going strong, have no fear. Bell recently — and inadvertently — sparked a wave of Drake & Josh nostalgia when he posted a video with the hashtag #WheresWalter, claiming that Josh's character's dad, Walter, the beloved weather man, is missing. When asked if there's more where that came from, he kept things amusingly vague. "Let's just leave it a mystery for now," he says. "Hashtag 'Where's Walter?' Help us find him."
And while you're at it, you should probably go start a petition to make a real Drake & Josh reunion happen. After all, Bell is down — so that's already a solid start.