'Love Island's Ellie Is Reportedly Dating This 'TOWIE' Veteran & What A Match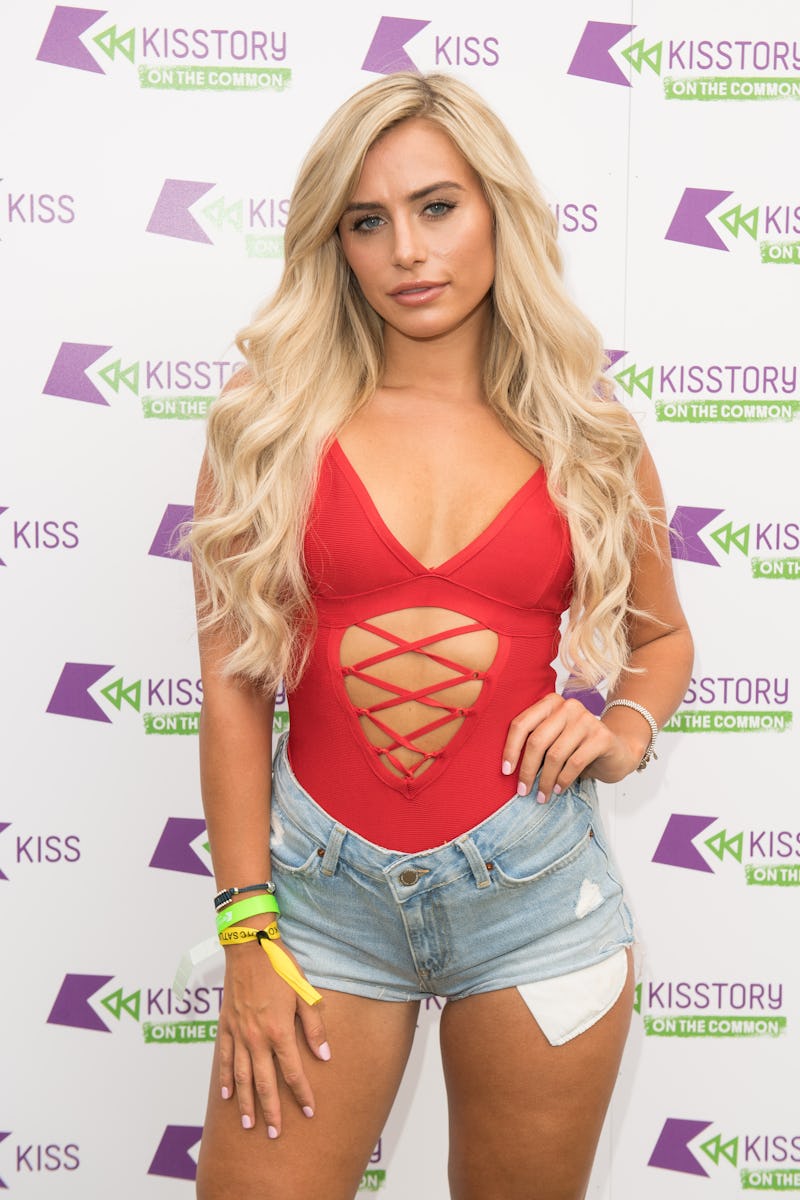 Jeff Spicer/Getty Images Entertainment/Getty Images
Love Island 2018 saw its fair share of romance and heart break, but fans were shocked when Ellie Brown announced her split from villa boyfriend Charlie Brake in Sept. 2018. However, it hasn't stopped her making the most of life on the outside. Whilst she may no longer be on the island she may have found love. So are the rumours true? Are Ellie Brown and Joey Essex dating? She may have found her match with the reality TV king.
It would appear that Brown confirmed that there is something going on between herself and Essex after she posted an Instagram story of them kissing on Oct. 31, the Daily Mail reports. Essex was appearing on Ben Hanlin's Live And Deadly: Drowned which aired on Halloween. Hanlin and Essex were locked in a container filled with water and Essex had to unlock himself to escape before Hanlin could. He was essentially putting his life in the hands of the TOWIE star. Needless to say they both got out alive much to Brown's delight. She shared an Instagram story cuddled up to Essex with her one million followers and said, "absolutely smashed it! I'm very proud" before giving him a quick kiss. How adorable.
Whilst the Instagram video shows the pair getting super close and cuddly I reached out to a representative for Brown and Essex to confirm whether they are dating, but have not received a response. Interestingly, the pair are seemingly repped by the same company, Neon Management.
This might not be the first time the pair have shared a moment. A source told The Sun that they had been seen kissing at fellow Love Islander Amber Davies' birthday party. They said, "Ellie and Joey were all over each other at Sheesh — kissing and flirting together. They met for the first time there on Wednesday and immediately hit it off drinking and partying until the early hours." So maybe romance is on the cards.
However, some are saying it may be a little too soon to be linking Brown and Essex. The Sun also reported that Brown had got on pretty well with another famous face from TOWIE, Pete Wicks, at an ITV Gala London's Royal Festival Hall. A source told the publication "Ellie and Pete were together towards the end of the night and were flirting like mad. They didn't seem to care who could see them and seemed really keen on each other."
This all comes after Brown split from Love Island boyfriend Charlie Brake back in Sept. 2018, as Cosmopolitan reports. Whilst nothing is confirmed, I am happy Brown seems to be having the best time now she is out of the villa. Recently pictured on holiday in Ibiza with close gal pal and fellow love islander, Zara McDermott, she is living the reality TV dream. Speaking to The Sun she said, "Personally I am spending a lot of time with the girls at the minute. A lot of people ask if Love Island friendships are real friendships because you haven't known them that long but they're the only people who truly understand." It just proves that your friends can solve just about anything.
Whilst all fans have got to go off at the moment is an Instagram video I would watch this space. Nothing in reality TV land stay hidden for long so keep your eyes peeled, I know I will be.