Emma Roberts Got Blunt Baby Bangs & She Looks Completely Different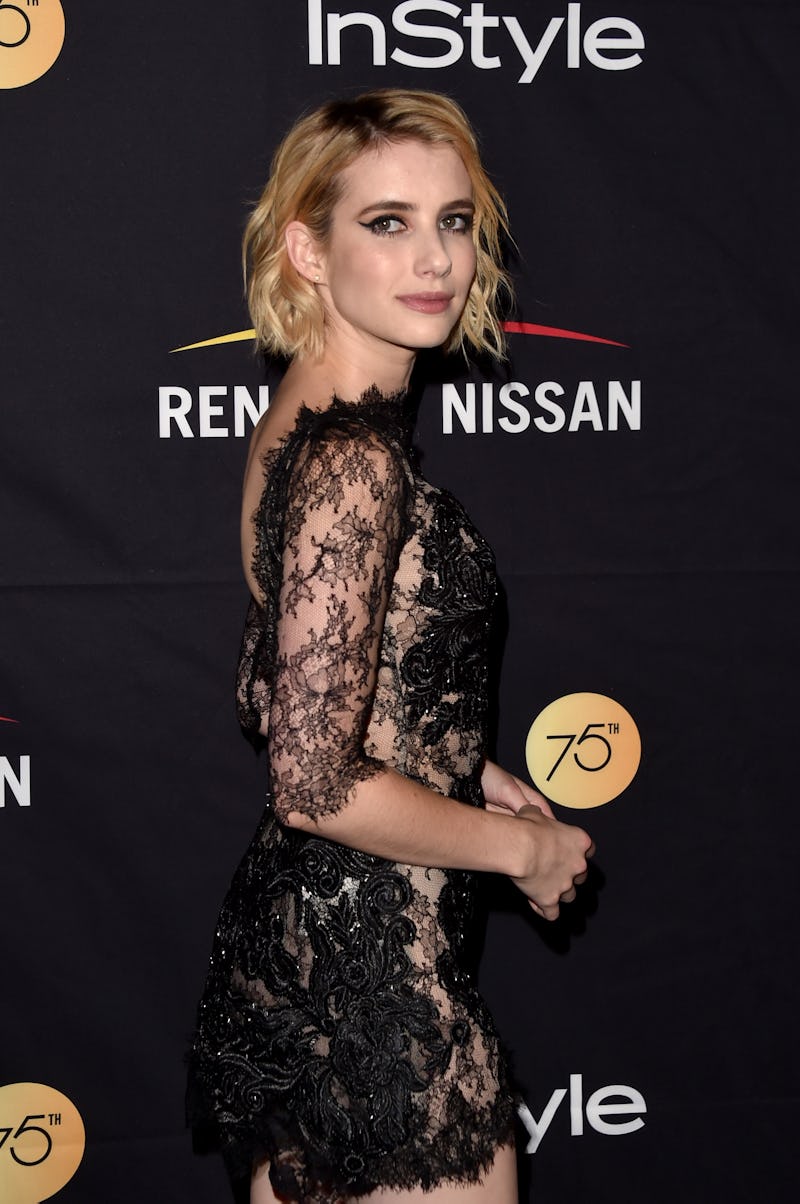 Alberto E. Rodriguez/Getty Images Entertainment/Getty Images
Vibrant or dramatic hair color changes often garner the most attention when it comes celebrity beauty shifts. However, style changes are often what mark the oncoming of a trend — just look at the number of celebs rocking long bobs. Now, Emma Roberts' baby bangs could be the sign of a new hair look rushing in as the new "it" look. Only time will tell, but as far as Roberts is concerned, the new cut looks perfect on the American Horror Story and Scream Queens star.
On Thursday night at the Critics Choice Awards, Roberts walked the carpet with longtime beau and nominee Evan Peters. While Roberts wasn't nominated herself, she still had a major moment thanks to a totally on-trend hair change. Roberts appeared on the carpet with new baby bangs, but are they real?
While Roberts' hair change certainly doesn't seem like a wig, it is completely possible to create faux bangs without a wig. As usual with celebrity hairstyle shifts, there is always the possibility that the bangs are a temporary look for Roberts. However, the actor took to her Instagram to showcase the new look and may have debunked the faux bang theory.
Roberts captioned her post, "He got nominated. I got bangs. #criticschoiceawards." From the sound of the comment, it seems as though Roberts did take the plunge and cut her hair. Bravo if she did because the shorter length is totally on trend and match perfectly with her existing cut.
In a close up image of the look, the bangs most definitely look real. Either this is some sort of magic or Roberts will be sporting baby bangs for some time to come.
Honestly, another great feature of the new look? Her brows. Hello, brow game strong and totally visible.
The hairstylist behind Roberts' look? Nikki Lee. The artist took to her Instagram page to showcase the new 'do, captioning the image with "FRINGE" with a pair of scissors on either side of the word and going on to explain that Roberts rocked the look.
While the scissors could be a clue that her hair was actually cut, there's also a comment regarding the bangs not being a "look we typically do." A phrase that could insinuate that it's simply a look and not a permanent change.
As for fan reactions, well, they haven't been kind. The consensus on Roberts bangs seems to insinuate that a temporary change would be more welcome by Twitterverse.
Rough, right?
Fans aren't in love.
Others are comparing her decision to those of her Scream Queens character Chanel.
But not all is lost, some fans think the bangs are chic.
Her classic white gown paired with the bangs was modern to others.
Roberts is not alone in her choice of bangs, though. Back in October, Arianna Grande also rocked baby bangs, but her look was markedly more wispy than Roberts' look.
Then, there was Emma Watson's Golden Globes baby bangs. The short, choppy look was totally on display with her hair pulled away from her face.
Whether or not you hate of love Emma Roberts' baby bangs, the cut certainly seems to be gaining steam with more than just the AHS star. From Roberts to Watson to Grande, baby bangs seem to be making more and more appearances just in different styles.
Whether you hate Roberts' blunt look and love Grande's wispy bangs, you may need to get used to seeing the shortened bang because they certainly seem to be on-trend.