Emma Watson Wore All Black To The Golden Globes & It's Just Her Latest Activist Move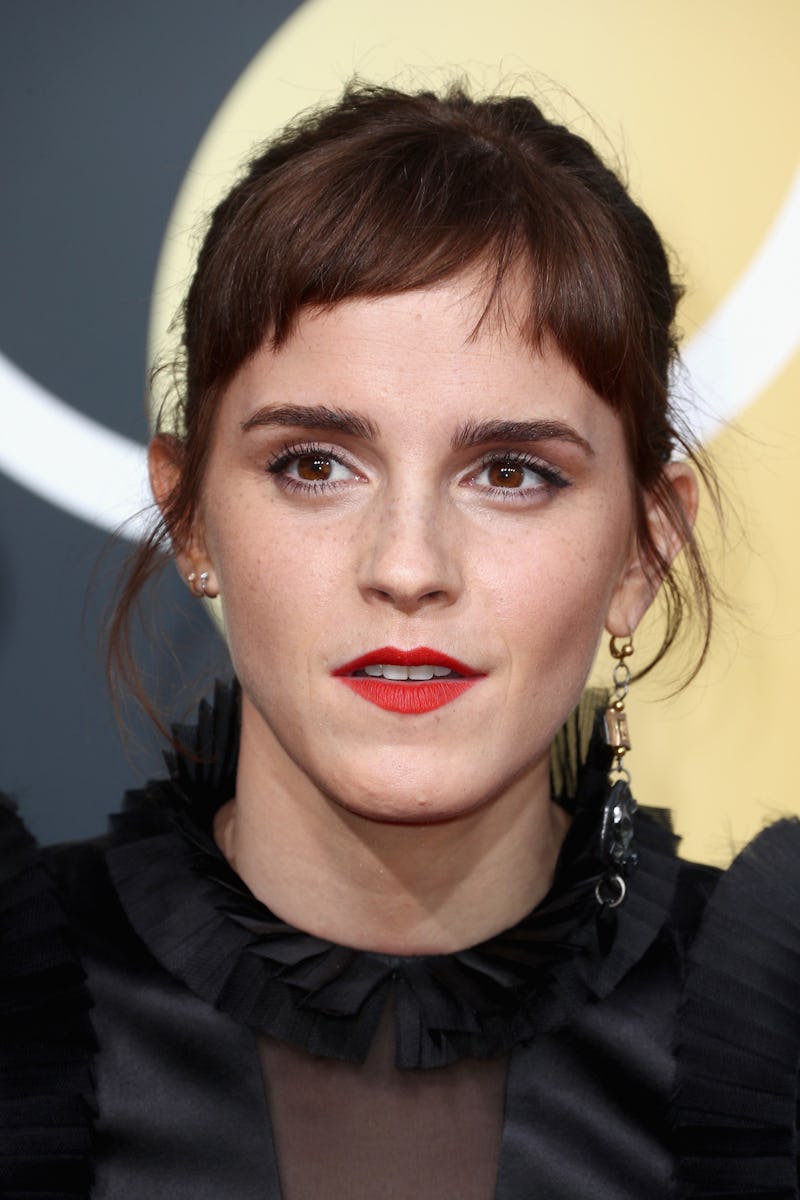 Frederick M. Brown/Getty Images Entertainment/Getty Images
Emma Watson is one to always use her platform as an actor to make a vocal activist statement. Whether it's her work as a United Nations Goodwill Ambassador or her unapologetic feminist stances, Watson never fails to let her activism take center stage. And her gorgeous black gown at the 75th Annual Golden Globes was no exception to the rule.
Watson further asserted herself as an unapologetic activist in her outfit selection for the big night. The Beauty and the Beast actor wore a black gown with two front slits, which featured a frilled collar and sleeves. The show-stopping dress boasted a straight cut silhouette with satin and mesh panels on the bodice and a defined waist. The choice was elegant and classic, with a funky frilled twist that added some undeniable interest. Her hair was pulled back into a simple bun which showed off her short choppy bangs, a new addition for the actor.
At first, the gown seems like a fashion-forward sartorial choice that wouldn't be an obvious activist move for the actor. But it's the color of the dress that makes a statement at this particular time in Hollywood history.
In wearing black to the awards show, Watson stood hand-in-hand with fellow women in Hollywood who vowed to wear black to the Golden Globes in protest of sexual assault and harassment in the industry. The past year has seen a flood of women come forward with accusations of assault against some of the most powerful men in Hollywood, prompting the show of sartorial solidarity. In fact, the carpet at the night's event was a sea of mostly black ensembles, with the majority of actors and guests of all genders making the symbolic fashion choice in support of women's rights.
Watching the red carpet at the Globes, which is considered the kick-off to awards season, it was obvious almost all of Hollywood decided to make a statement of support for survivors by wearing all black, often considered a color of solidarity, mourning, and sadness.
In the aftermath of the allegations, Watson has been an integral voice for change and a vocal member of the Time's Up movement. Time's Up is an organization started by women in Hollywood to call for tangible change in Hollywood. The group serves as a legal fund and awareness initiative to assist those who experience sexual assault and harassment in Hollywood. Some attendees of the Globes also wore Time's Up pins on their frocks in a nod to the movement and organization.
Watson's dedication to promoting women's rights during her appearance at the Globes didn't stop with her black gown and participation in Time's Up. The actor also brought black feminist activist Marai Larasi, who is the executive director of UK-based black feminist organization Imkaan, to the Golden Globes as her guest. During red carpet interviews, Watson introduced Larasi and her organization to interviewers during live conversations, allowing Larasi's work to also reach countless viewers at home.
In 2017, Watson starred in both Beauty and the Beast and The Circle, though both films weren't up for major nominations at the Globes. Watson, however, is a presenter at the ceremony and a fixture at awards ceremonies regardless.
Everything about Watson's appearance at the Golden Globes was a statement, which is no surprise for the impactful actor. From her head-turning gown to the meaning behind it to the guest she brought along for the ride, Watson used the Globes to show she's equal parts actor and activist. And women in Hollywood and beyond are undoubtedly lucky to have her as a voice for change.