You Will Not Guess What 'Love Island's Georgia & Sam Are Up To Now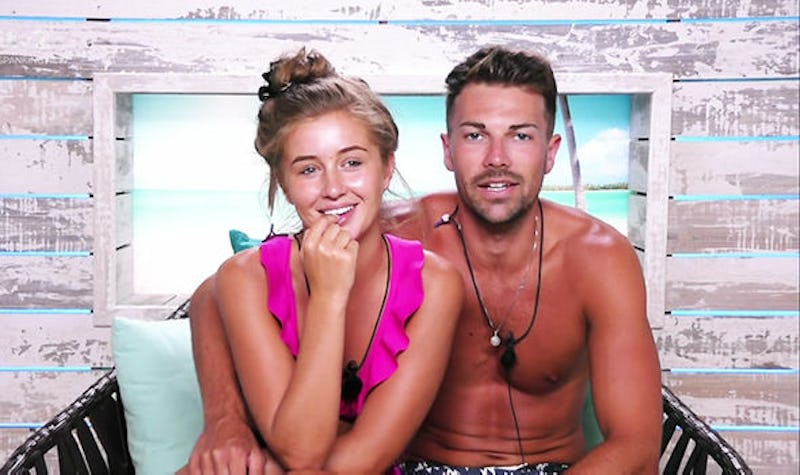 Love Island/ITV
Love Island Season 4 has proved a success for many couples, with strong bonds remaining in the villa along with some dumped couples maintaining their love outside the house. Who doesn't remember with a heavy heart, the devastating scenes after Georgia Steel was binned by Josh Denzel after another caught his eye. Ugh. Girl, we have all been there. So, when she found another chance of love in the shape of Sam Bird, everyone rejoiced. However, TV land is one thing, reality is quite another. So, since leaving the show, are Georgia and Sam still together?
Georgia, who has maintained that she is super loyal despite maybe not always acting so loyal, found love with Sam, a personal trainer in the villa and the pair were cute AF. Well, at least I thought they were. Unpopular opinion, I know.
There was some drama, of course, when she went on a date with fellow Love Islander Jack Fowler and even went on ahead and smooched him, causing huge upset to her friend and his then partner, Laura Anderson. Then there was even more drama for the pair when they were forced to split in order to stay in the villa. Although this raised a few eyebrows, the pair showed their loyalty in the end when they chose to quit the show instead of re-coupling with other people.
Leaving the show because they can't bear to be apart is super romantic, right? Well, Georgia sure thinks so. She was very open about their departure leading to lusty interactions, when she spoke to The Sun. During the interview, she spilled the beans on how she and gym owner Sam finally had sex once they had their own privacy, as they had chosen to wait until after leaving the show. She said:
"It was natural. We're now living with my friend in South London, she loves it. We spend all our time together."
Wow. Well, all I can say is said friend must have some awesome ear plugs to be OK living with a loved-up couple.
Since leaving the villa, Georgia and Sam have been doing the rounds at events, making appearances at nightclubs, and looking very loved up while holding hands and smiling for the cameras. But is this real romance or just a showmance?
In my humble opinion, it genuinely looks like they really are an item and just to make it even clearer, Sam surprised everyone by asking Georgia to be his girlfriend, live on Good Morning Britain.
So now that it's official, they are living together, and trying to make a go of things, has fitness fanatic Sam found the right gal for him? In his pre show interview he described the type of woman he was looking for. He said "I wanna find a girl that's got the energy like me, loads of attitude, tame me when I'm being a bit naughty, that's what I'm looking for."
Georgia also opened up about her ideal men before she waltzed into the villa. She said in a press release issued to Bustle UK: "If I met someone on there that I have a connection with and I think 'What a lovely journey we've shared together,' and we come out and the relationship is just as strong as it was in there, then I've obviously met my soulmate."
Time will tell if it lasts, but for now, Georgia and Sam are absolutely still together.