Things Aren't Looking Great For Jax & Brittany In The New Season Of 'Vanderpump Rules'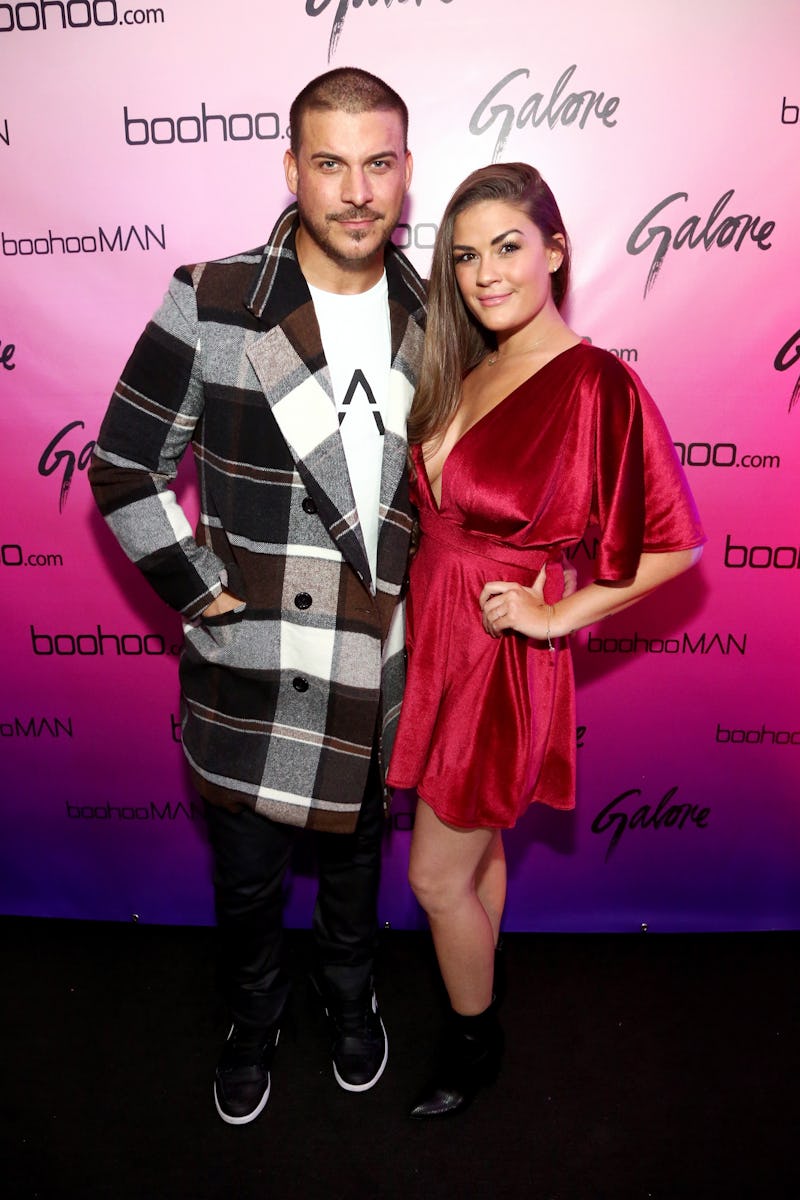 Tommaso Boddi/Getty Images Entertainment/Getty Images
If you're an OG Vanderpump Rules watcher, you've seen Jax Taylor date a lot of women. And yet, fans seem to think that none of them have been as good for him as Kentucky miss Brittany Cartwright. After they met in Vegas, their relationship developed quickly — before long, they were moving in; thinking about marriage; etc. But it wasn't until their spinoff, Jax And Brittany Take Kentucky, that the cracks in their relationship really started to show. Sure, they had fought before, but their own series was decidedly not all roses and chocolates. Are Jax and Brittany still together in 2017, after their spinoff? The new season of Vanderpump Rules is coming on Dec. 4, and 'shippers need to know.
Like I said, these two first crossed paths in Vegas, and faster than you can say "Pumptini," they were living together and playing parents to a couple of cute dogs. But Brittany comes from a more traditional background than Jax does, and Jax can't decide on whether or not settling down is something that he wants to do. His indecision was apparent on Jax And Brittany Take Kentucky.
Brittany's parents and extended family asked "when y 'all getting married" like four times an episode (and they were only 30 minute episodes, so if you factor in commercials, that's that question roughly every six minutes). Jax felt cornered, and I can't blame him for that — it's hard to make up your own mind when everyone is trying to get up in your biz. But where Jax went wrong was in telling Brittany's whole family that he couldn't propose to her because he thought she had "lost her spark" and he couldn't move forward until she was OK. You can see Andy Cohen grilling him about it on Watch What Happens Live below:
Everyone — Brittany included — had no idea what Jax was talking about, and were obviously upset. Jax And Brittany Take Kentucky ended with Jax dumping all over Kentucky (it may not be your cup of tea, pal, but respect these people who have been mostly nice to you) and Brittany's family and then heading back to Los Angeles alone, Brittany deciding to stay put for a little while longer. While Jax And Brittany Take Kentucky did make me wonder if these crazy kids would even bother to try to stay together. In the preview for Season 6 of Vanderpump Rules, it doesn't look good — the only footage the reel has of Brittany and Jax is them screaming at each other. Not a great look.
In terms of their respective social media accounts, both Brittany and Jax have been posting far fewer photos of themselves together than they used to — that's not a scientific study or anything — just a nice, deep, scroll back. However, the two are still hanging out, and possibly double dating with Ariana and Tom Sandoval. Ariana and Brittany seem particularly close, which is nice:
Anyone who has ever used social media knows that it's extremely easy to curate your image, and it seems like Brittany and Jax are posting enough photos together to make it seem like they're a couple, whether they are of not. If they split cold turkey now, it would blow a huge storyline for Season 6 of Vanderpump Rules — that goes against the laws of reality television.
In August 2017, Jax denied the breakup rumors in an interview with HollywoodLife.com. "I think us being on a television show — I think it kind of magnifies if you get in an argument or anything, or if you have some kind of tiff," he said. "What I'm trying to say is if you get into an argument like that, us being on a show just magnifies it, so… we're not broken up. We get in arguments just like anybody else." In October 2017, Ariana poked fun at the breakup rumors on Twitter.
That's all well and good that Ariana wants to defend her friends, but she probably doesn't want to ruin the new season, either. Fans will see whether or not Jax and Brittany have already called it quits on the upcoming season of Vanderpump Rules. But it already seems, despite social media appearances, that this relationship may have run its course.