'Jax & Brittany Take Kentucky' Is Going To Be A Real Test For Jax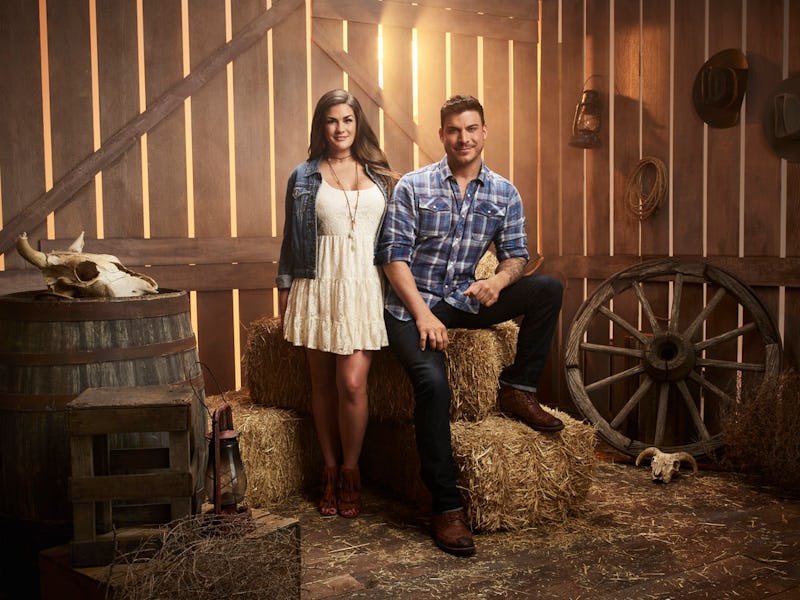 Tommy Garcia/Bravo
Spinoffs can be a delightful thing, but the history of the practice has produced mixed results, ranging from Fraiser to, say... every single Real Housewives wedding spinoff. But Vanderpump Rules: Jax & Brittany Take Kentucky is hoping to wind up on the entertaining side of that divide by taking the newly formed couple and putting them in an absurd situation: Visiting Brittany's rural Kentucky home and forcing Jax to fit in on the farm. If you've ever watched him tend bar at SUR, you'll know he's not much of a country boy, so the number of episodes Vanderpump Rules: Jax & Brittany Take Kentucky will have can't be too many.
So if you're worried about the time commitment you'll need in order to keep up with this couple, it seems clear it will be a lot shorter than the typical season of Vanderpump Rules. Think of it as a snack to whet your appetite between seasons of the Bravo series, with a premiere date for VR Season 6 still unannounced. Bravo tells Bustle the spinoff has six episodes. It's designed to help bridge a short gap in Bravo's schedule, and there's no guarantee that it will even return for another season next year.
After all, this has been one eventful year for Jax and Brittany. After Brittany started working at SUR, Jax said to The Daily Dish that things got more complicated. "The idea of her working with me, at the beginning was good, but when you live together and you work together [and] you hang out together it gets to be a bit much," Jax said. "I love my girlfriend very much, but you know when you spend that much time you start to get some wear and tear." Those conflicts might explain a report from Radar Online claiming Brittany broke up with Jax in early August, just a few weeks before Vanderpump Rules: Jax & Brittany Take Kentucky was due to premiere. However, Jax took to Twitter to claim that those rumors were untrue, and that the couple may fight, but they're still together.
The Radar Online report claimed that marriage was the reason that Brittany allegedly decided to break up with Jax, since both she and the rest of her Southern family place a high priority on the institution. But as Jax said to The Daily Dish, "Before Brittany, I was not about marriage ... I just didn't believe in marriage ... I'm starting to open my mind about it a little bit more because I do love her and that's something she wants. And I'm willing to bring the idea back. We'll see."
But while Jax may be evolving on his rules about marriage and relationships, I doubt he'd be willing to give up his LA bartending gig for a home out in the country. The first season order of Vanderpump Rules: Jax & Brittany Take Kentucky won't be trying to replace the original series' long seasons, but for its tenure, the spinoff series will be an entertaining diversion between check-ins with the rest of the staff at SUR.