The First Couple Of 'Flipping Out' Are Weathering A Major Change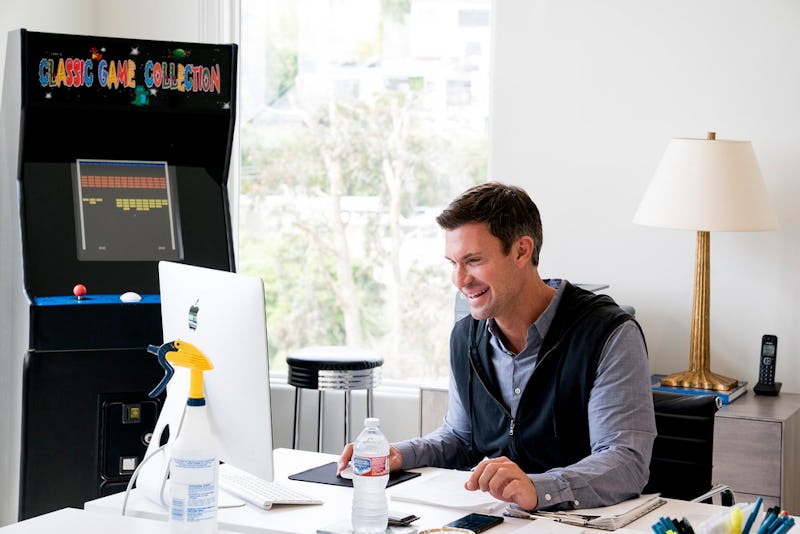 Nicole Weingart/Bravo
Flipping Out star Jeff Lewis' relationship with Gage Edward has weathered eight years of disagreements, reality television cameras, and working side-by-side for long hours, which can't be easy. The trailers for Season 10 the Bravo show, premiering Aug. 17, could make fans of the couple a little nervous. But it certainly looks like Jeff and Gage from Flipping Out are still together, and the couple just reached a brand new stage in their relationship: parenthood.
Jeff and Gage's daughter was born in October 2016, and while it's totally changed Lewis' priorities, it certainly hasn't changed his commitment to his longtime partner. In an interview with Parenting OC, Jeff described how the birth of Monroe Christine Lewis shifted the way he thought about everything. "I'm obsessed. I used to be very Jeff-centric, now it is all about Monroe. And I love it that way," he said.
The couple have argued on camera before, about everything from having a baby to their DVR preferences; and Jeff, never one to mince words, refuses to keep even their most intimate decisions aware from the cameras. The audience has been let in on moments like the time Gage considered breaking up with Jeff and, coming up this season, Monroe's birth and longtime housekeeper Zoila's retirement. And while the couple are still in love, they're all about their daughter right now.
We can't work the hours we were working," Jeff said to Parenting OC in the same interview. "As a parent, you just can't do it all ... It forced Gage and I to reevaluate." One thing they have not reevaluated is their particular brand of showing affection. Jeff clearly still loves to tease; in a recent selfie with Styx's Tommy Shaw, he captioned it "two of my favorite people... and Gage."
But while Jeff certainly likes to poke fun at Gage, he clearly both loves and respects him. In 2015, Jeff compared Edward to a Kardashian in AdWeek. "Gage is very bright, very advanced beyond his [years], very mature. I call him "Kris Jenner," because he's kind of the Kris Jenner behind this whole machine," Jeff said. He told The Huffington Post that Gage is a great father, saying, "Gage is one of the most amazing hands-on dads I've ever witnessed. He's so nurturing and the primary caregiver. I take his lead ... I just let him make most decisions. For major decisions, we consult each other, but really he's a natural."
According to his comments in another AdWeek piece, one of the few occasions Jeff requested Bravo edit Flipping Out was for Gage's protection. "We had a disgruntled employee that was really, really especially nasty, like mean and unnecessary, and it really hurt Gage's feelings when we saw the rough-cut," he said. While Jeff may take advantage of Gage's softer-spoken side to boss him around at work, off-camera, he can be quite protective.
And the two have such strange inside jokes, like any other couple. Jeff makes a habit of photobombing sleeping travelers at the airport, and Gage is the primary photographer. So while Jeff Lewis might seem like the ultimate tough boss, fans can see that the master of renovations loves his growing family.