This Is The Real Reason Dianne & Joe Won't Rule Out Those 'Strictly' Romance Rumours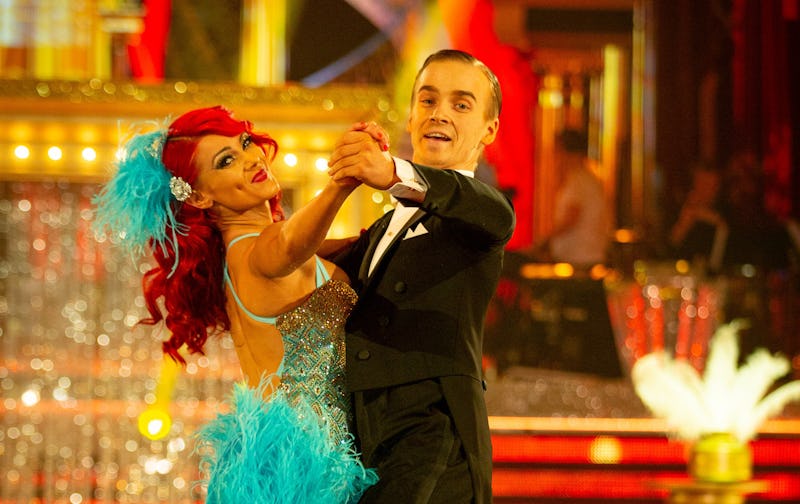 BBC/Guy Levy
Youtube sensation Joe Sugg is currently waltzing his way through the current series of Strictly Come Dancing. In addition to his moves on the dance floor, some viewers have begin to speculate over romantic rumours surrounding the 27 year-old and his current dancing partner. But are Joe Sugg and Dianne Buswell in a relationship?
As it stands, the pair have not confirmed the current status of their relationship — I have reached out to their representatives for comment, and once the information becomes available I'll let you know right away. However, during an appearance on ITV's This Morning, Sugg refused to deny that there was a romantic relationship between himself and Buswell, reports Hello. After claiming that he would be "too busy" for any romance whilst rehearsing for each live show, host Philip Schofield asked further questions about the dating rumours. Sugg addressed the host by stating "Here we go. Do you know what, it's so nice, I've met such a good friend in Dianne." This response prompted Schofield to ask "Is that a no?," before the Strictly star replied "We're so busy dancing. We haven't got time."
The Youtube star's professional partner on the BBC show originates from Australia, and recently confirmed she had split with Emmerdale star, Anthony Quinlan. Although many blamed the couple's break up on the infamous "Strictly curse," Quinlan dismissed this as the reason for their split. Speaking to the Daily Star, he said "We're still really good friends. it's just distance played a part There were all these rumours about the Strictly curse but it wasn't that."
Whether or not the pair are actually dating, they appear to be extremely fond of one another. And as reported by Hello, Buswell has praised her Strictly Come Dancing partner. She said: "He is an absolute dream to teach," and continued "Everything I tell him he takes on board. Not only is he such a hard worker, he does it with so much fun. We haven't had a day in the studio where we haven't laughed continuously. I've had the time of my life."
Last month, rumours of romance between the two were fuelled after they were spotted heading back to the Youtuber's flat. However, in a video posted on the star's Youtube channel, which boasts a massive 8.2 million subscribers, the pair appeared to make fun of the ongoing speculation. Speaking in the video, Sugg jokingly said "Dianne's around my house, I can't believe it. That can only mean one thing, Dianne's around my house for a YouTube video, it must mean we're going out with each other," before Buswell added "It must mean that. Hello, boyfriend." The humorous clip concludes with the Youtuber stating "If a girl comes round a boy's house for a YouTube video, definitely boyfriend and girlfriend."
This young Strictly pair would certainly make a lovely couple, and if the rumours turn out to be false, I'll still be rooting for them as they approach the all important 2018 final.
Strictly Come Dancing continues at 6.35 p.m. this Saturday on BBC One.