Here's How JoJo & Jordan's Wedding Planning Is Going Post-'Bach'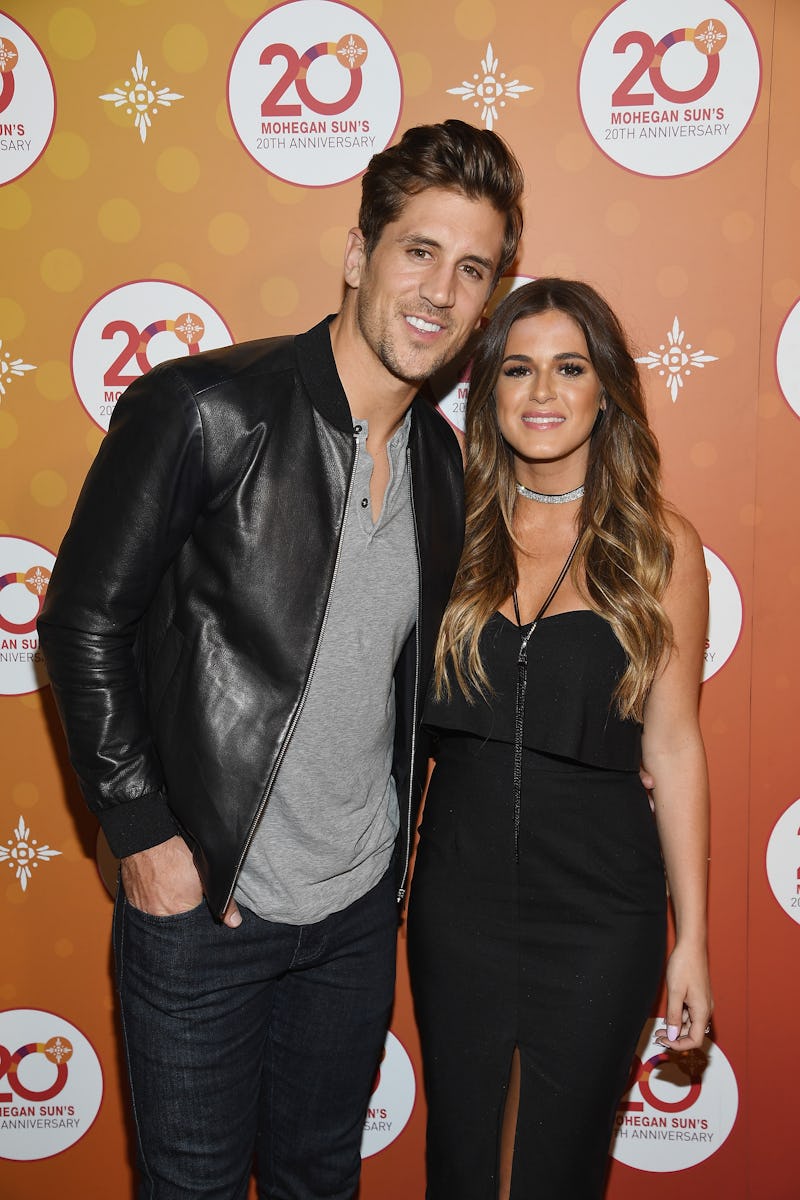 Dimitrios Kambouris/Getty Images Entertainment/Getty Images
JoJo Fletcher's season of The Bachelorette seems like ages ago. But, just last year, the Texan beauty was wooed by a handful of handsome men who pretty much all sported the same hairstyle. JoJo ultimately fell for the dashing Jordan Rodgers and ended the show with a ring on her finger and a fiancé ready to move in. The couple has taken many major steps in the year since. They live together in Dallas, share their love daily on Instagram, and seem to have truly built a life together. So, in 2017, will JoJo and Jordan get married? All signs point to a televised wedding in the future, but maybe not any time soon.
Despite the odd way JoJo and Jordan met, everything about this couple seems traditional. Their connection was instant, their ideas about the future lined up, and there was no hesitation about starting a life together after the show. Fans will always root for a Bachelor world couple to end up tying the knot, hopefully in front of Chris Harrison himself. And, these two seem headed that way. JoJo and Jordan have been a real team since the end of The Bachelorette, standing together against scrutiny and defending their love. Here are all the reasons it's likely that JoJo will walk down the aisle soon... but not too soon.
Teamwork Makes The TV Love Dream Work
JoJo and Jordan had a bit of a rocky beginning as a couple in the public eye. The controversy had little to do with the couple and more to do with the drama surrounding Jordan and his brother Aaron Rodgers. Through it all, JoJo and Jordan remained a team united against the headlines.
Dancing Off Camera
JoJo and Jordan post happy, dancing couple videos that make even a skeptic start to believe. It seems that the fun hasn't stopped, even if the cameras have. Some Bachelor couples don't make it through the months or years after the show. For JoJo and Jordan, the magic seems to live on even without the helicopters and roses.
As Jordan explained to US weekly, he has a desire to court his lady before settling down.
"We're enjoying this time of being engaged, continuing to date and court each other, and getting to know each other even more. And then when the time is right, we're absolutely going to sit down and start planning that. But we're definitely taking our time. We want everything to be right and make sure we're in the right place."
Career Stability
Many critics of the Bachelor franchise say the couples don't stand a chance in the "real world" because they built a foundation in a fantasy bubble. While this is a fair critique, it's clear that JoJo and Jordan are crushing this "real world" thing. And, with their careers at the forefront, it seems like wedding planning has hit the back burner for now. Nothing wrong with that.
Bachelorettes Do It Better
It's pretty simple: Bachelorettes have better success statistics than Bachelors. Desiree Hartsock is married to her winner Chris Siegfried and just had their first child, Ashley Herbert married her pick JP Rosenbaum and they have two kids, Kaitlyn Bristowe continues to travel the world with her fiancé Shawn Booth, and the first Bachelorette Trista Sutter has been married to Ryan Sutter since 2003 and they have two kids. Women kick butt at being the lead and finding happiness after the show.
Sporty Love
JoJo and Jordan share a lot of interests outside the show. It's one thing to connect in front of the cameras, but post-TV love takes similar passions and shared hobbies. Both JoJo and Jordan love sports, football especially. It's those small connections that lead to lasting romance.
Dallas Darlings
The reason their Instagram is filled with so much love and cute couple photos is because they actually share a life with one another. The two bought a home in Dallas and have been living it up in Texas. It's a big step to live with a partner and the two are enjoying taking that leap. Jordan talked about the move to US Weekly saying,
"We just moved to a different place in a great neighborhood close to JoJo's family. We're getting settled and moving everything in — there's clothes everywhere and we're getting our closets together right now. But we love our little neighborhood that we're in."
No Pressure To Set A Date
While a 2017 wedding is a possibility, the couple is putting no pressure on themselves to set a date. The pair spoke to Extra recently and Jordan said,
"We're enjoying this… When you think about this kind of relationship, we got to know each other very quickly. We're still getting to know each other and feeling out life, we're trying to figure out where we're gonna be next, so we're enjoying the ride — no pressure, no rush to set a date yet"
Whether they marry in 2017 or 2018 or sometime after that, this Bachelorette couple seems to be in it for the long haul.