JoJo & Jordan Are Planning Their Post-'Bach' Lives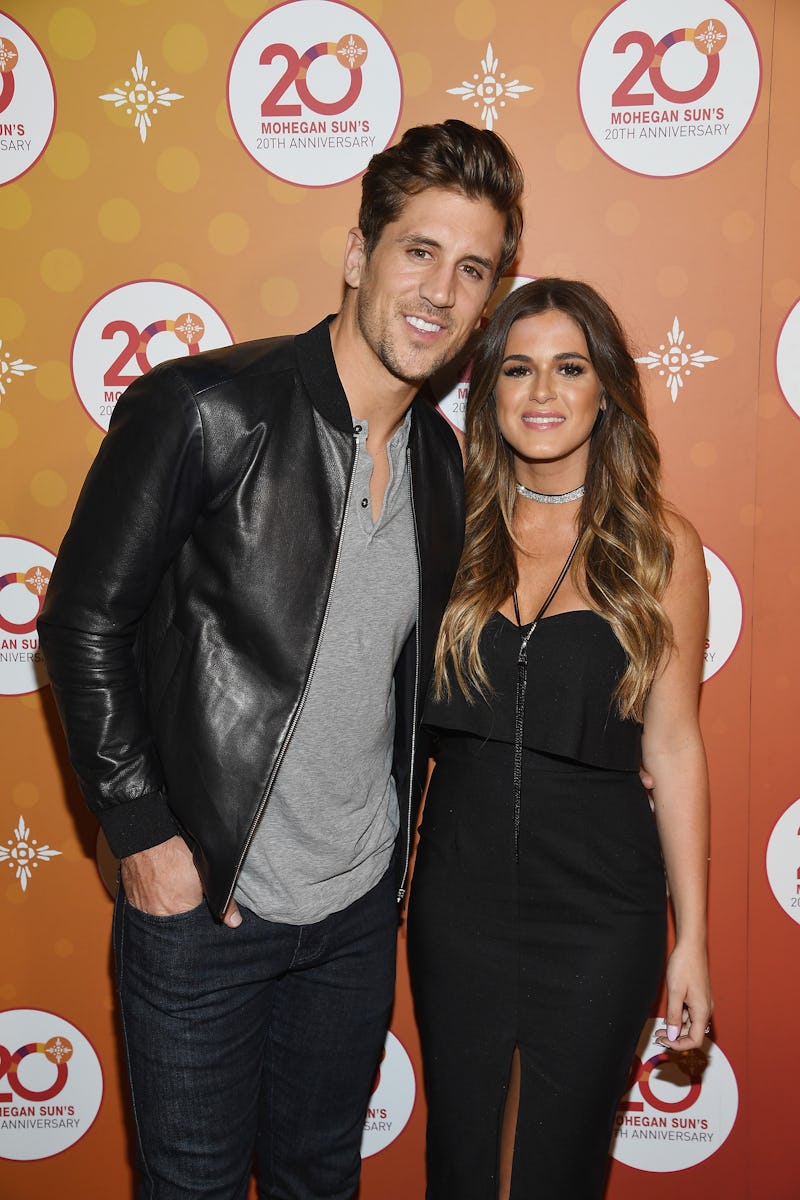 Dimitrios Kambouris/Getty Images Entertainment/Getty Images
I know that everything Bachelor-related is about Nick Viall, but if I may, just for a moment, I'd like to go back in time. Back to simpler days, when an ex-football player fell in love with a pint-sized Texan with long, flowing locks and her own sunglasses collection. Yeah, I'm talking about JoJo Fletcher and Jordan Rodgers. I know it feels like JoJo's season of The Bachelorette was ages ago (it has not even been a year since the finale), but since we're knee-deep in everything Bachelor getting ready for this year's last episode, let's check in on these two. Are JoJo and Jordan still together after The Bachelorette?
JoJo started her season off with 20-something viable male contestants, but Jordan was always the frontrunner. I saw it, you saw it, she saw it — from as far back as his limo arrival. These two had instant chemistry, so much so that I had to just look up who JoJo's runner up was because I'd already forgotten (it was former competitive swimmer Robby Hayes, if you wanted to know). I knew that Jordan would win from the start; from Pennsylvania to Uruguay, Thailand to Argentina, Jordan and JoJo had something special. They even survived the reality television show hurricane that was Chad Johnson, so that's really something to say.
On their After The Final Rose special, JoJo and Jordan announced that they were moving in together as soon as possible, and in the beginning of 2017, JoJo and Jordan gave People a special tour of their new Dallas digs together. Their house is pretty unbelievable, and it's a testament to the bond these two clearly have, which might be surprising to some fans who thought they wouldn't last. After all, the first few months are really make-or-break for Bachelor couples, and the odds are just stacked against them. JoJo and Jordan made it through what seems like the hard part — when you're getting used to the cameras and the publicity IRL — and came out the other side.
Now, from a glance at their social media accounts, it seems like Jordan and JoJo are doing normal couple things, like hanging out on date nights and going to friends' weddings.
JoJo is now passing the Bachelorette torch onto Rachel Lindsay, and according to Extra, the star has some great advice for the new woman in town. "She's a lawyer — she thinks a lot, she's always in her head. I was gonna tell her try not to be in her head that much but also listen to that mind of yours because you're smart, and don't let you heart get carried away with the looks and the lust, 'cause it happens," JoJo told Extra.
Seems like pretty good advice to me – JoJo found her man on The Bachelorette, and now it's Rachel's turn. It must be nice for JoJo to be able to sit back and relax and watch The Bachelorette herself — there's no pressure now, and she can drink wine and enjoy watching the newcomers just like the rest of us.