So... Will Katy Be Bringing Orlando Bloom To The VMAs?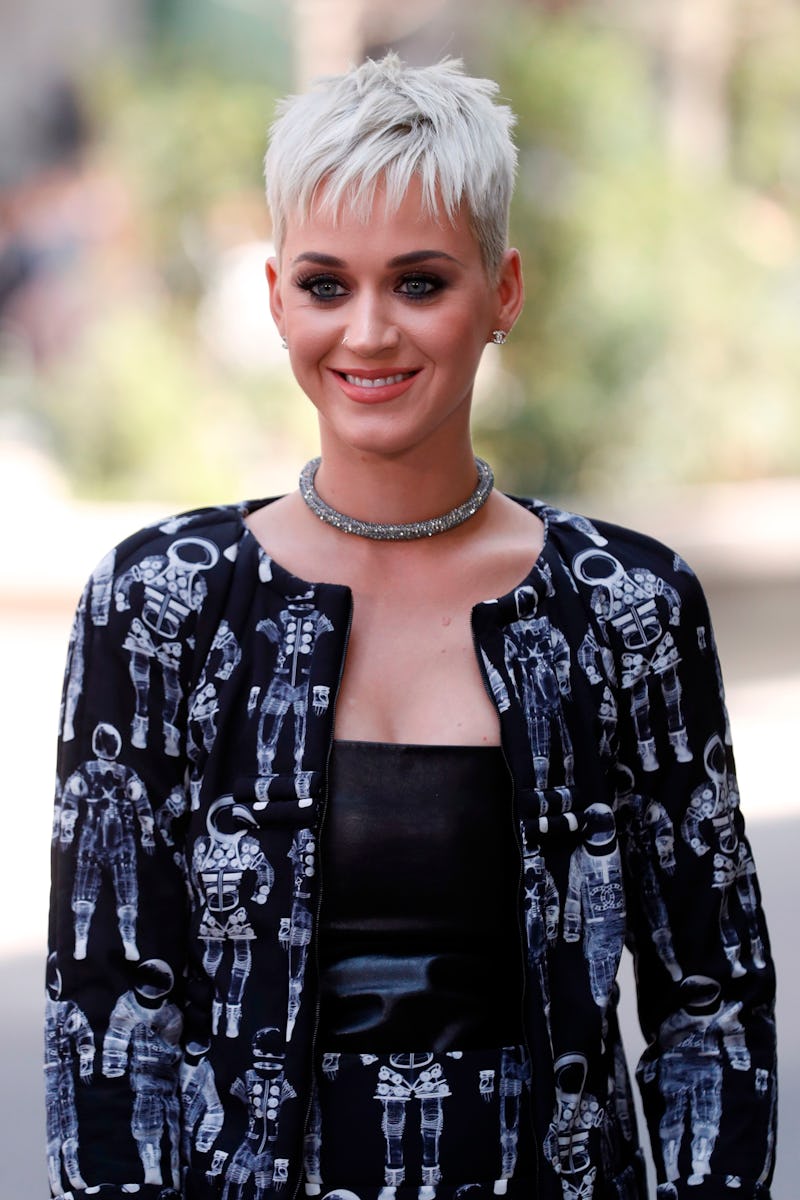 PATRICK KOVARIK/AFP/Getty Images
The 2017 MTV Video Music Awards, hosted by the talented Katy Perry, are airing this Sunday, Aug. 27. The show will feature performances by the likes of Miley Cyrus, The Weeknd, Fifth Harmony, and Perry herself will take the stage for a performance of a medley of her hits. Although she and Orlando Bloom announced they had separated a while back, they've recently been spotted together. So, are Katy Perry and Orlando Bloom back together or not? And if they have rekindled their romance, is it possible that Perry and Bloom might walk the red carpet together at Sunday's VMAs?
Technically, Perry and Bloom were first spotted together at an event together back in 2013, while they were each in separate relationships. However, it was the 73rd Annual Golden Globe Awards in January 2016, when rumors of Perry and Bloom flirting with each other first started circulating. They then were seen on a Hawaii getaway together just a month later.
Cut to earlier this year, when, in March, their reps released a joint statement to People saying, "Before rumors or falsifications get out of hand, we can confirm that Orlando and Katy are taking respectful, loving space at this time." Perry also addressed the topic with a tweet saying, "HOW BOUT A NEW WAY OF THINKING FOR 2017!? U can still b friends & love ur former partners! No one's a victim or a villain."
Rumors quickly began circulating that the two had gotten back together after Perry and Bloom were spotted together at an Ed Sheeran concert in August. According to Perry, however, the answer to the question as to whether or not she and Bloom are in a relationship is more complicated than a simple "yes," or "no."
On Aug. 22, the singer was asked about Bloom by Sirius XM's The Morning Mashup and said, "Well, you know, I think people are in and out of your life. It's nice to keep people you love around you." Which seems to imply that Perry and Bloom are still in each other's lives, but not necessarily in any official capacity.
"When you get older, lines get blurred," Perry continued, "and you know what, I'm really busy. I'm about to go on tour for another year." Headlining a world tour is no easy feat, so it's understandable that Perry would want to focus all of her attention on that endeavor.
Whether or not Bloom will be at the 2017 to VMAs to support Perry, it's definitely going to be a big night for her. And whatever the details of their relationship, it's good to see that things are still friendly between them.