Why Luke Thinks 'Bachelor Winter Games' Is Better For Romance Than 'The Bachelorette'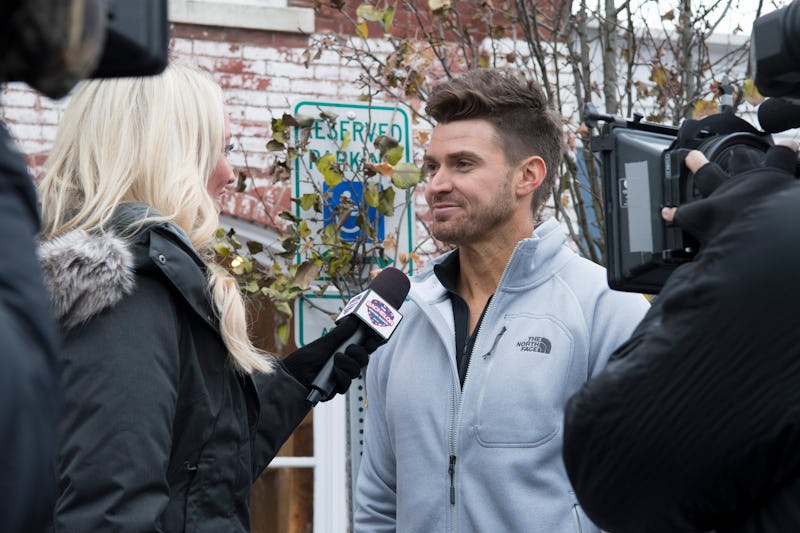 ABC
Is it fair that The Bachelor and The Bachelorette drone on for weeks and weeks but we, as dedicated Bachelor Nation viewers, just get a measly few weeks of Bachelor In Paradise or The Bachelor Winter Games? The answer is no. It's not fair. Mostly because I think the couples on the spinoff shows are so much more interesting, and the competitions are so much more entertaining. For example, Luke Pell and Stassi Yaramchuk are a fascinating couple on Winter Games. They seemed to come out of nowhere, and yet are pretty instantly smitten. But, are Luke and Stassi together after Bachelor Winter Games? Their relationship may have blossomed into something more.
Luke was first introduced to the Bachelor world on JoJo Fletcher's season of The Bachelorette, and he came in fourth. Womp, womp. Stassi was on The Bachelor: Sweden, and she didn't take things home with that Bachelor, either. So, now, they're on a different show, looking for love and a little bit of fun. It wasn't necessarily love at first sight with these two — there was a definitely attraction, but Stassi and Luke didn't hit it off as quickly as, say, Lesley and Dean or Clare and Benoit. In fact, Rebecca and Luke went on a date first before Stassi and Luke even showed interest in each other. But eventually, these two were feelin' it (and each other), but since the course of true love never did run perfectly straight, there is a good chance that this couple didn't last long after The Bachelor Winter Games wrapped.
So why even go on a show like The Bachelor Winter Games? Luke got his heart broken on The Bachelorette, but he was into switching it up for something else. "The coolest thing about [Winter Games] is that you've got a pretty equal number of guys and girls, so people are kind of just hanging out. The schedule's not as strict as maybe it is for those other shows," Luke told Metro. "There's not as much pressure … so it's just kind of like you're hanging out. You have this normal group dynamic of just making friends. It's a big family environment."
Basically, it's like a group of pals getting together on vacation and just chilling.
"Your relationships are able to be a lot more natural than they are in the other main two shows, so that part was the best for me," Luke continued.
There, Luke makes it seem that a relationship — if he is indeed in one — is able to sort of grow nicely and organically, leading to something a little more real than what's on The Bachelor or The Bachelorette — when time with the lead is so limited and a lot of the couples break up. This could be a sign that Luke and Stassi are together following the show. When asked if he would do another Bachelor show, Luke said, "Right now, I'm living everyday just where it's at and just for that day and not trying to think too hard or plan too hard of my expectations or where I might be [with relationships]." So you're saying that you're in a relationship and that you're just taking things slow, huh, Luke?
Of course, neither Stassi nor Luke's Instagram accounts have any reference to each other. Stassi's is basically selfies of her and her friends or modeling shots.
Luke's Instagram is promoting his own music (he's a country singer) or, like any good Bachelor star, selling HelloFresh boxes.
Right now, it's hard to say if Luke and Stassi are still enjoying their fling. If they were together, they'd be keeping things pretty mum until after the finale — unless they were Dean and Lesley, who are all over social media with their love. That's the whole point of having a finale, after all — so the audience can have a big wrap-up of everyone who fell in love. The jury is out on Stassi and Luke, but since I'm a romantic at heart, I'm leaning into this love story. It certainly had all the ingredients for success.