Meghan Markle & Posh Spice Might Be Friends & It's Too Perfect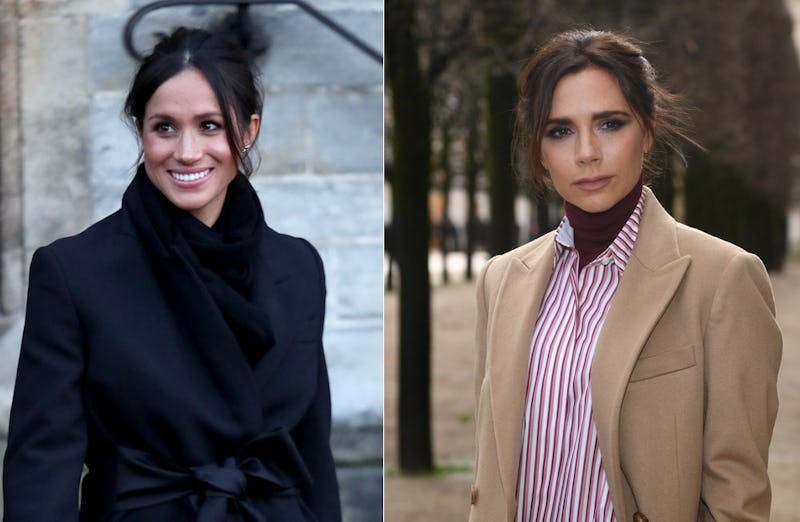 Chris Jackson/Getty Images Entertainment/Getty Images; Pascal Le Segretain/Getty Images Entertainment/Getty Images
Meghan Markle is getting used to her life in London, and it sounds like she has at least one very "posh" new pal to help her get settled in. Apparently, Meghan Markle and Victoria Beckham are becoming friends, with Markle turning to Beckham for fashion advice. Vanity Fair reported Friday that Beckham is helping Markle create a "working wardrobe" for her various public engagements. And who better to help Markle adjust to fashion in the U.K. than the iconic British designer?
Of course, Markle was already wearing designer looks as an actor, but there's a stricter dress code for those connected to the royal family. Still, reportedly their relationship is more than just a working one — an unnamed source told Vanity Fair that Beckham is "proud" of the budding friendship. The pair may have connected over fashion originally, but it sounds like they've become close after Markle and Prince Harry's engagement.
"Victoria's quite proud of the fact that she and Meghan have become chummy and seems to want people to know they are friends," a source said to be a friend of Beckham's told Vanity Fair. "Of course, if Meghan wears one of her outfits it will be great for business."
"They get along well and have been in touch recently. Meghan really likes Victoria's style and was keen to pick her brains about pulling together a working wardrobe," the same source told Vanity Fair. "She loves Victoria's elegant but smart dresses, so expect her to wear one very soon."
The Sun also reported in December that Markle and Beckham had bonded over their love of beauty treatments, with Beckham reportedly giving Markle advice on what salons to visit in London. According to the reports, Beckham introduced Markle to A-list facialist Sarah Chapman. The beauty news also gave way to rumors that Markle and Beckham were considering starting a beauty business together, that were lated denied in a report from TMZ.
A friendship between Markle and Beckham would also make sense, given the Beckham family's close connection with the royal family. David and Victoria Beckham's daughter, Harper, celebrated her sixth birthday at Buckingham Palace, with Princess Eugenie as one of the guests at the celebration, according to Newsweek. And in 2016, David Beckham was one of Queen Elizabeth II's guests at Buckingham Palace's annual Young Leaders Awards event, as E! News reports.
David is also friends with Prince William, and the two have done advocacy campaigns together for various issues, including the anti-poaching movement, according to Vogue. Given the Beckhams' ties with the royals, it's not surprising that Beckham and Markle are getting to know each other, too. The Beckhams also attended Prince William and Kate Middleton's wedding, so it wouldn't be a surprise if they were in the audience during Harry and Markle's wedding ceremony, too.
In fact, some people are already speculating about whether or not Beckham might design Markle's wedding dress, though there's no evidence yet that will be the case. Between the wedding dress speculation and the beauty rumors, though, it's clear that people love the idea that Markle and Beckham have formed a bond.
It sounds like Markle and Beckham have quickly hit it off, and Beckham is the perfect person to advise Markle about London fashion and beauty topics. The only question now is whether Markle is a Spice Girls fan. Given her status, maybe she already has some inside info about the reunion.