Corinne & Her Fellow Contestants Are On Good Terms Now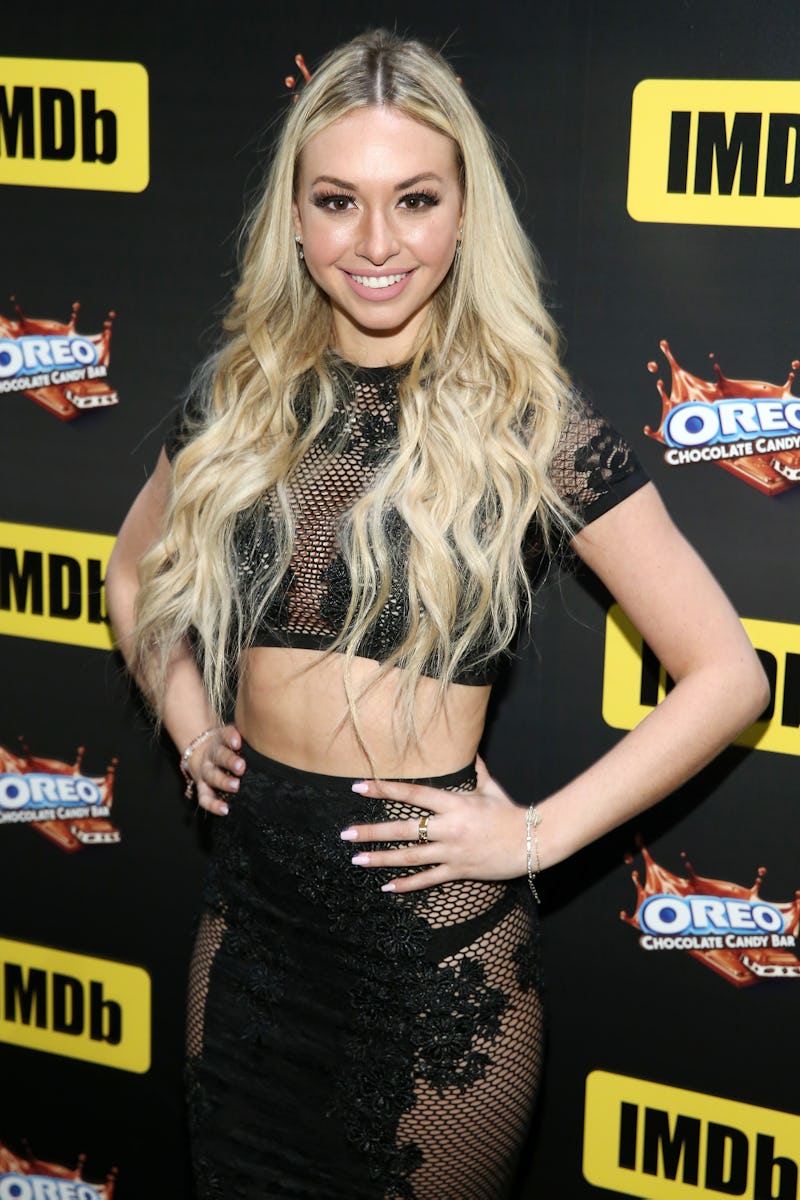 Joe Scarnici/Getty Images Entertainment/Getty Images
Personally, I was always a member of #TeamCorn. Still, I get why it took some members of The Bachelor fandom a little while to come around to my girl Corinne Olympios. Initially, she had most of her competitors against her, but things seem to be different now. It really seems like Nick Viall's Bachelor contestants are friends with Corinne.
I totally understand because I, too, want to be friends with Corinne. (Corinne, hit me up on Twitter if you're reading this.) Like the super fan that I am, I have been following all of the Bachelor Season 21 contestants on social media so I know that Corinne actually has a lot of solid friendships with her fellow contestants. Nevertheless, I'm sure that there are some fans with more of a life than I have who are going to be super shocked when Corinne returns to reality TV to give some advice to Rachel Lindsay during the season premiere of The Bachelorette.
Not only is she tight with Rachel, but Corinne also shows up with the rest of Rachel's Bachelor squad including Raven Gates, Alexis Waters, Kristina Schulman, Astrid Loch, Whitney Fransway, Jasmine Goode. Corinne did get the villain edit during the beginning of the last Bachelor season, but trust me when I tell you that she is loved by the women from Nick's season. And if that's not enough, I'll show you too.
She Hangs With Raven
Even though Raven complained about Corinne not knowing how to "wash a spoon" during a conversation with Nick last season, these two actually hung out multiple times since filming wrapped. Raven even referred to Corinne as one of the "loves of my life" in another Instagram caption.
She Went To Coachella With The Cast
Coachella is a huge music festival, so if there's someone you want to avoid, you can do so very easily. In fact, I feel like it's pretty difficult trying to meet up with anyone in such a hectic settin, ,so the fact that Corinne ended up hanging with the other women from Nick's season says a lot to me.
She's Tight With Fellow Jersey Natives Alexis & Jasmine
As a Jersey girl myself, I get that there's an inexplicable affinity for us to stick together. Plus, Alexis, Jasmine, and Corinne were the funniest girls of the season — of course they are friends. They even refer to themselves as the "slayers," which could not be more accurate.
She Has Love For Kristina
Everyone adores Kristina, so I get why Corinne would want to be friends with her. Their friendship didn't get any screen time last season. Thankfully, the fans can see them hanging via social media.
She Is Close With Jasmine
Based on the show, I would have never expected Jasmine and Corinne to be friends. Not only did Jasmine question her for having a nanny on a group date, but she also pushed her during a volleyball game. Thankfully, they are all good and are actually really close. Corinne wrote on Instagram "We're friends I swear." Jasmine even modeled for Corinne's clothing line. If anyone is #TeamCorn, it's Jasmine.
She Gets A Lot Of Love From Josephine
Josephine didn't get a ton of screen time on Nick's season, but she was there for Corinne, eating snacks at that Wisconsin elimination while she complained about Taylor Nolan. And Josephine really got a lot of attention when she went to bat for Corinne during the Women Tell All special. She definitely has Corinne's back.
She Has A Special Bond With Rachel
This is obvious since Corinne does appear on Rachel's season to offer advice and support, but it still deserves a mention. When Rachel was announced as the Bachelorette, Corinne said, "This woman right here...So so proud to call her our new bachelorette and my very good friend. You've always been there for me and I love you more than words can describe you're gonna kill it baby!" Plus, Corinne is one of the first people Rachel hung out with when she returned from filming The Bachelorette.
At this point, I feel like we are all a part of Team Corn.